Synopsis: A five-year-old Indian boy gets lost on the streets of Calcutta, thousands of kilometers from home. He survives many challenges before being adopted by a couple in Australia; 25 years later, he sets out to find his lost family.
Release Date: December 23, 2016     MPAA Rating: PG-13
Genre(s): Drama,
Film Review

When he was five years old, a young Indian boy named Saroo ended up getting lost on a series of trains, ending up on the streets of Calcutta, thousands of kilometers from his home. When his family could not be located, Saroo was adopted by an Australian couple and given a pretty posh life of affluence and education. Twenty-five years after he was lost, the adult Saroo went on a quest to find his birth mother and his lost family. If you think this true-life story would make a good movie, so did Australian director Garth Davis (P.I.N.S). The movie is called Lion.
Lion is divided quite neatly into two halves. The first half of the movie is the young Saroo (Sunny Pawar) heading off with his brother, Guddu (Abhishek Bharate), for a day of begging and foraging. They get separated, and Saroo winds up accidentally riding a train to the city where he is forced to live on the streets, at least until the authorities catch him.
The second half of the movie is about the grown Saroo (Dev Patel), who, after growing up in the home of John and Sue Brierley (David Wenham and Nicole Kidman) beside another adoptive brother named Mantosh (Divian Ladwa), begins to wonder what has become of his former family. With the help and support of his parents and girlfriend, Lucy (Rooney Mara), Saroo decides to travel to India in an attempt to reconnect with his biological family.
Saroo Brierley's real-life memoir "A Long Way Home" was adapted into Lion by screenwriter Luke Davies (Life), who seems to follow Saroo's true story pretty closely, from lost little boy on the streets of Calcutta to tech-savvy amateur detective using the internet to research his own genealogy. The movie is just as fascinating as it sounds, and Saroo's story is both unbelievable and compelling to watch as it unfolds.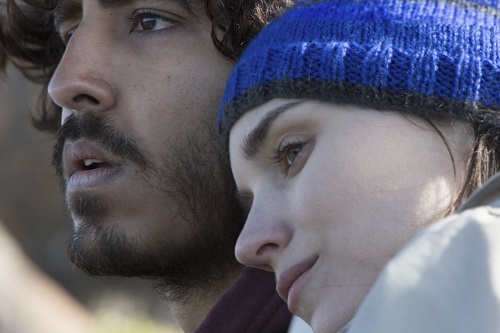 Although it all obviously fits together in an organic and seamless way, Lion is two different movies. The half of the movie that depicts Saroo's childhood is very different in tone and style than the half that shows him as an adult, and that's a good thing. On the streets of Calcutta, Saroo's life is tough and grimy as opposed to his privileged life in Australia. Truth be told, the young Saroo section of the film is much more engaging than the adult section, but Lion needs its second half to bring the audience back up; it's the feel-good redemption side of the story, the one that lets the audience leave the theater with a good taste in its mouth.
There are no lead actors or roles in Lion. Even the main character is played by more than one actor. Hollywood A-listers like Nicole Kidman and Rooney Mara have less screen time than little unknown Sunny Pawar, and Pawar himself leads the way for the dashing Dev Patel to take over in the second half. The film is a textbook example of an ensemble movie, with all of the actors unselfishly working together to create something that is greater than the sum of its parts.
The conclusion of Lion is a bit heavy-handed. Without giving away the (obvious) ending, there are photographs of the real Saroo Brierley and the other parties involved shown over the closing credits in poses that their characters in the film were just in a moment before, as if to remind the viewer that yes, this all really happened. And that's fine. If your movie is based on a true story as amazing as Saroo's, you'd want people to be reminded of its authenticity, too.

Lion was shot on location in both India and Australia, and cinematographer Greig Fraser (who also shot Rogue One: A Star Wars Story) presents both locales in way that lets them become additional characters in the film. Fraser's camera creates (or captures, as the case may be) a stark contrast between the dirty, gritty streets of India and the clean, sunny comforts of Australia. The differences in Saroo's life experiences are echoed by Fraser's photography. It helps that both locations are strikingly gorgeous in their own ways (yes, Calcutta looks breathtaking, even as Lion is painting it as a slum). Fraser lets the scenery breathe for much of the movie with extended shots of the landscape, so even as Saroo feels confined and isolated, the audience is buoyed by the natural beauty. Lion is a great looking movie.
Cast and Crew
Director(s): Garth Davis
Producer(s): Iain CanningAngie FielderEmile Sherman
Screenwriter(s): Luke Davies
Story: Saroo Brierley
Cast: Dev Patel (Saroo Brierley)Rooney Mara (Lucy)Nicole Kidman (Sue Brierley) David Wenham (John Brierley)Sunny Pawar (Young Saroo)Abhishek Bharate (Guddu)Priyanka Bose (Kamla)
Editor(s): Alexandre de Franceschi
Cinematographer: Greig Fraser
Production Designer(s):
Costume Designer: Cappi Ireland
Casting Director(s): Tess JosephKirsty McGregor
Music Score: Volker Bertelmann and Dustin O'Halloran
Music Performed By: 
Country Of Origin: Australia