Synopsis: A young man unexpectedly inherits a property with a mysterious curse.
Release Date: May 13, 2016     MPAA Rating: PG-13
Genre(s): Fantasy, Mystery
Film Review

Fairy tales seem to be in vogue right now. Whether with traditional tellings, such as Cinderella or Into the Woods, or using revisionist slants, like Snow White and the Huntsman or Maleficent, children's stories have been all over theaters and home video for the last couple of years. No matter how many of these modern classics you've seen, you've probably never seen one interpreted quite like The Curse of Sleeping Beauty.
The Curse of Sleeping Beauty is about a young reclusive painter named Thomas Kaiser (Ethan Peck from the television series "10 Things I Hate About You") who is plagued by night terrors that accompany a recurring dream he has about a "sleeping beauty" in the woods. When his uncle dies under mysterious circumstances, Thomas inherits a mansion – and all of the ghosts and demons that come with it. When he goes to check out his new estate, he is once again visited in his dreams by the sleeping beauty. He learns that her real name is Briar Rose (India Eisley from "The Secret Life of the American Teenager"), and that the house is the key to them being together for all time. Thomas just wants to sell the place and be done with it, so he enlists the help of a real estate agent named Linda Coleman (Natalie Hall from "All My Children" and +1). Linda has other plans for the house, however, as she blames the mansion for her own brother's death. With the house slowly possessing him, Thomas enlists the help of Linda and her friend Richard (The Lords of Salem's Bruce Davison) to solve the mystery before it's too late.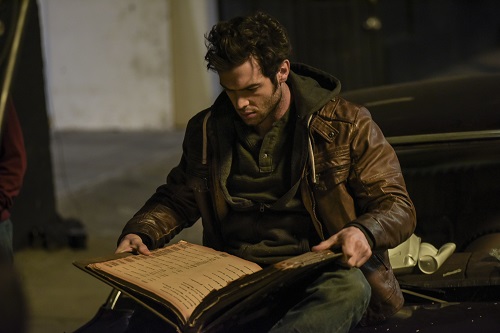 As one could probably figure out from that synopsis, the actual Grimm Fairy Tale about Sleeping Beauty doesn't factor into The Curse of Sleeping Beauty very much. The movie was adapted for the screen by director Pearry Reginald Teo (Necromentia) and screenwriter Josh Nadler (his first feature) from a comic book by Everette Hartsoe (Vampire Call Girls) that was loosely inspired by the household children's tale that everyone knows and loves. Essentially, it could have been any girl in the dreams; The Curse of Sleeping Beauty is just a run-of-the-mill haunted house movie, with all the typical trappings and stereotypes of the genre. Only without the scares.
There's plenty of potential for The Curse of Sleeping Beauty to be a gripping movie. There's a suspenseful feeling that simmers throughout the movie, but that simmering never boils over into any real emotion or energy. As the film wears on, the characters' decisions get dumber and dumber, and Briar Rose's British accent gets worse and worse. Honestly, by the end, The Curse of Sleeping Beauty is more annoying than anything else.
Okay, maybe that's not entirely fair. The Curse of Sleeping Beauty does have some redeeming qualities. As mentioned earlier, there's a definite feeling of palpable suspense for much of the movie. In keeping with the Fairy Tale Theater element, there's a gothic atmosphere to the film that's not unlike that of Crimson Peak or Sleepy Hollow. As predictable and conventional as it is, The Curse of Sleeping Beauty could still raise some goosebumps if there were just a handful of good scares in it. But, there are not, so it doesn't.

There's nothing to really be afraid of in The Curse of Sleeping Beauty. To be fair, the movie is not technically billed as a horror film; it's categorized as a fantasy mystery thriller. But, if a movie has ghosts and demons, it should at least be a little scary. There are a few places in the film where the potential for scares is there, such as one scene in which Thomas has to make his way through a room full of mannequins when he knows that a bald demon-thing is stalking him. But even that scene is all buildup and little payoff – which is also a great way to describe the whole movie. Add in the miniscule actual body count, and there are few-to-no scares in The Curse of Sleeping Beauty.
Cast and Crew
Director(s): Pearry Reginald Teo
Producer(s): Ehud BleibergPearry Reginald Teo
Screenwriter(s): Josh NadlerPearry Reginald TeoEverette Hartsoe
Story: Jacob and Wilhelm Grimm
Cast: Ethan Peck (Thomas)India Eisley (Sleeping Beauty/Briar Rose)Natalie Hall (Linda) Bruce Davison (Richard)James Adam Lim (Daniel)Scott Alan Smith (Billings)Zack Ward (Nathan)Mim Drew (Braxton)Dallas Hart (Luke)Madelaine Petsch (Eliza)
Editor(s): Damian Drago
Cinematographer: Christopher C. Pearson
Production Designer(s):
Costume Designer: Erin Layne
Casting Director(s): 
Music Score: Scott Glasgow
Music Performed By: 
Country Of Origin: USA