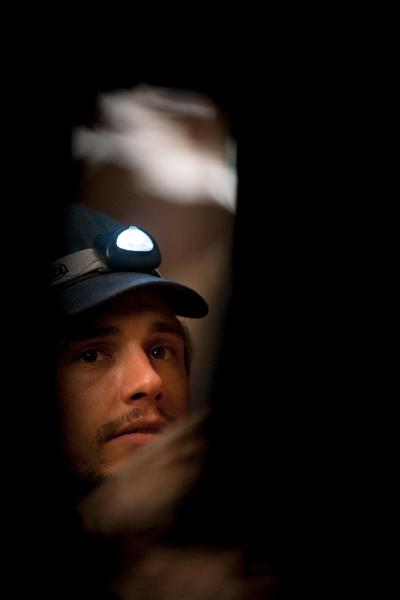 When Aron Ralston (James Franco) left his home on a Friday evening he planned on a weekend of carefree mountain climbing. What he got was the most horrifying, soul searching, and eye-opening experience of his young life over the next 127 hours. Based on the novel "Between a Rock and a Hard Place"
by Aron Ralston, 127 Hours is the true story of how Aron Ralston struggled against all odds when trapped by a boulder during a hiking trip in the Utah mountains. All alone in a desolate landscape he overcame every element imaginable, of body, mind, and nature, to choose life and survive the harrowing ordeal. This is Aron's story, as envisioned by Director Danny Boyle, and it is an absolute showcase as to the power of the cinematic language.
The opening titles are an array of split screen scenarios of life. The frenetic pace of people going about their daily activities, the rat race personified on film. The music matches the almost wild animal-like images as everything passes quickly before our eyes leaving little room for thought or contemplation. Within these split screens we meet Aron for the first time in his apartment as he is preparing for his hike.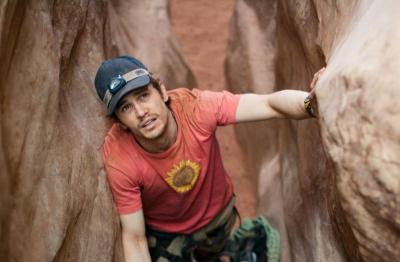 The camera focusing on the individual items he is packing, and the one item he forgets that would have changed everything had his hand found it in the back of the cupboard. We do not need to be told anymore about his character, there is no need for dialogue, or a voiceover introduction. Aron is a climber, he is prepared for a couple days of camping, and his adrenaline junkie self is more than ready to escape the rat race and venture into the quiet and beautiful Utah mountains. Even as Aron is heading into the desolate wilderness when he arrives he brings with him the fast pace of city life. Using his video camera he is more than happy to share his adventure, and how his pace will be faster than the map assumes it to be, or how even a nasty fall from his bike is simply a token moment for a picture. Aron is fearless, and when he meets a couple fellow female hikers along the way, his craziness is catching. Before long he goes off on his own, oblivious to the flirtations of the girls; he is in his own world, and nothing appears to be able to break him out of his solo existence. The need for another person is unbeknownst to Aron, he has his video camera to capture the memories and has told no one of where exactly he is going.
As the camera swoops along with Aron climbing up and over mountains, in small gorges and caverns, it is a fluid molding of man and lens. The camera's eye is one with his movements, it sees what he sees, and gives the viewer a clear view of what he is encountering or about to.
The pivotal scene, when everything changes for Aron and his life-changing journey begins, is caught from below. His legs are rooted in a small crevice between two mountains, he is preparing to climb down into the crevice, mere feet away from the side of the mountain he wishes to propel down. His entire trip has been leading up to this climactic moment and his anticipation and excitement is at the highest peek. Then, in a haunting twist of fate, a loose boulder changes everything, and his body is sent sliding down into the cavern. His arm is wedged between the boulder and the mountain side and he cannot free himself. The camera zooms out from Aron's dark claustrophobic cavern to the wide, lonely, and uninhabited expanse of desert/mountains. Aron is completely alone. The clock now begins to tick.
It does not ruin the story to say that Aron lives through this ordeal as it is based on a true story. Nor is it wrong to reveal how he frees himself: by cutting off his own arm. None of this matters in Danny Boyle's 127 Hours. What does matter is the journey Aron takes to get to the point where he is able to cut off his arm with a dull knife. The trials he goes through trying to free himself. The physical and emotional pain he endures as the time ticks by and his mortality is questioned. This is where James Franco's performance makes all the difference and Boyle's perfect imagining of this type of situation through the camera lens.
Combining avante-garde techniques with the standard continuity style of filmmaking Boyle is able to capture both the physical challenges Aron faces as well as the changing mind state of the character as the hours pass.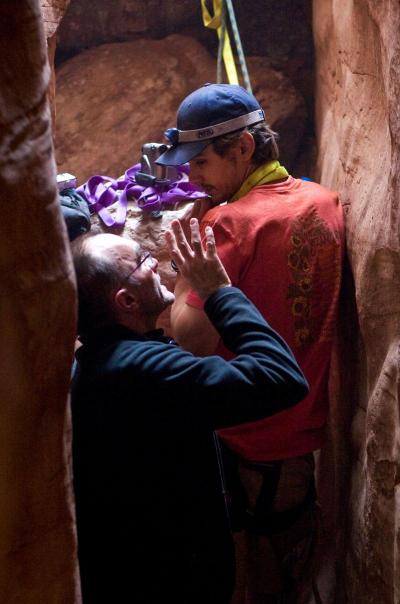 As his food and water supply run out, his body weakens, and his mind hallucinates we, as viewers, are given a more introspective look into the ways such a situation can affect a person. As well as no matter how difficult the situation appears Aron never gives up. In front of our eyes, thanks to the perfect performance by Franco, we see Aron change. The selfish, loner part of his life is shown through memories of his past relationships with his family and ex-girlfriend. As Aron's life becomes more and more threatened he comes to realize the mistakes he has made, and the possibilities the future holds. When he makes a video for his parent's it is a gut wrenching and emotional tirade against himself and his own actions, yet done with such composure a mere seconds before an anxiety fueled rant occurs.
The film progresses further into the hallucinatory as Aron's mind and body weakens. He has premonitions of his future. Sees his family and speaks to them, only to hear nothing in response. Aron faces the decision to choose life, at any cost, or to die alone on the mountain; with the hope that someone will find his body. His decision is not easy, nor is it unchallenging to watch as he breaks the bone of his arm and cuts the cartilage. Boyle does not hide this from you, it is in full view as the final, most important cut is made. It may be difficult to watch but the flood of empathy you feel as he performs this act of self mutilation for self preservation is an unbelievable level. Making matters deeper, and far more exploitative, is the sound during the scene. The foley artists of this film deserve an award themselves.
As Aron's personal and traumatic journey ends it is a triumphant moment. He not only finds his freedom from the grip of nature but also from his own solitary existence. The most emotional, and freeing moment, being when he proclaims to those who inevitably help him, "I need help". Hearing those words from Aron Ralston is the greatest transformative phrase for a character possible. It is also the moment that will more than likely bring tears to your eyes. Tragedy befalls happiness and self discovery in Aron's 127 hours, and for the viewer the film is an incredible journey with a man with such a great force of will it will have you believing in the unstoppable capabilities of the human mind and body.
I still get goosebumps, and a slight case of the shivers, when I recall the final minutes of this film. The visuals have engraved themselves in my brain for eternity, and the performance by James Franco as Aron will forever be one of the most challenging and unforgettable I have ever seen on screen. 127 hours is not for the faint of heart. It is a film that will undoubtedly beseech you with emotions far beyond the normal grasp of the filmgoing experience. Aron's story is more than just one of choosing life or death, it delves far deeper into the human subconscious, the id and the ego, and the impossibility of surrender. 127 hours is an example of the immense power of filmmaking. It is absolutely astounding in it's creativity while being that rare film that further defines the craft as an art form.
Credits:
Directed by: Danny Boyle
Screenplay by: Danny Boyle & Simon Beaufoy
Based on the book "Between a Rock and a Hard Place"
by: Aron Ralston
Produced by: Christian Colson, Danny Boyle, John Smithson
Executive Produced by: Bernie Bellew, John J. Kelly, François Ivernel, Cameron McCracken, Lisa Marie Falcone, Tessa Ross
Cast: James Franco, Amber Tamblyn, Kate Mara, Clémence Poésy, Kate Burton, Lizzy Caplan
Check out the soundtrack, it is excellent: 127 Hours (Music from the Motion Picture) – Various Artists