Earlier this year Film Independent announced a new screening series partnership with The Los Angeles County Museum of Art (LACMA). For members of Film Independent, as well as frequent visitors to the LACMA year-round film program this new partnership was intriguing, and wanting to know more details on the partnership much desired. With today came the first announcement of what the Film Independent at LACMA Film series first slate of events would contain.
The new program "will present classic and contemporary narrative and documentary films, artists and their influences, emerging auteurs, international showcases, special guest-curated programs, in addition to conversations with artists, curators and special guests. Film Independent at LACMA is under the curatorial leadership of esteemed film critic Elvis Mitchell in collaboration with LACMA Film Coordinator Bernardo Rondeau and Film Independent's programming team."
Starting October 13th, 2011 the Film Independent at LACMA Film Series, presented by The New York Times, will kick off with the World premiere of The Rum Diary. Film/Event Details: Director Bruce Robinson (Withnail & I) returns to the screen with an adaptation of Hunter S. Thompson's novel "The Rum Diary"
, a gonzo-eye's view of a world first charted by Graham Greene. Writer Paul Kemp hits the streets of Puerto Rico only to find true emotional instability at the newspaper where he works. The Rum Diary is a passion project produced by its star, Johnny Depp, and co-stars Amber Heard, Aaron Eckhart and Richard Jenkins. Director Bruce Robinson and actors Johnny Depp, Amber Heard and Aaron Eckhart will be in attendance. FilmDistrict will open the film nationwide on October 28, 2011.
The series continues each Thursday after in October with other special events from classic cinema, new independent films and old favorites.
October 16th at 8:30pm – Martha Marcy May Marlene: Writer-director Sean Durkin's arresting first feature film was the winner of the Directing Award at the 2011 Sundance Film Festival. The film follows a struggle to reclaim the soul of a young woman (Elizabeth Olsen) by her sister (Sarah Paulson) and the charming and coercive cult leader (John Hawkes) that seduced her away. This will be a special members-only screening for Film Independent, LACMA Film Club and New York Times Film Club members. Writer-director Sean Durkin and actress Elizabeth Olsen will be in attendance.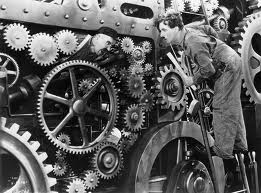 October 18th – Modern Times
(1936): Is there a better time to show a restored print of Charlie Chaplin's hilarious and potent commentary on the swing of labor conditions? Set during the Great Depression, Chaplin's Little Tramp battles for his survival in an ingeniously conceived series of tableaux that display the comedian's ability to make audiences laugh and sigh. Modern Times will be preceded by the 1922 short Pay Day, one of the most ferocious tests of his physical wit and aplomb. Talent to be announced.
October 20th – Live Read of
The Breakfast Club
, directed by Jason Reitman: In the debut of this new series, creator Jason Reitman has selected John Hughes' classic The Breakfast Club
(1985). With a carefully cast selection of actors reading the script together for the first time, it's a rare chance to see these artists shape start-to-finish performances on the fly, while responding to well-known (and loved) material. Surprise cast!
October 27 – Accattone
(1961): Director Pier Paolo Pasolini's film is an absorbing view from the gutter that forever changed the definition of Italian Neorealism. The film stays on the heels of the hustler Accattone as he preys on one young woman after another. Franco Citti, one of the many non-professional actors discovered by Pasolini, hauntingly embodies the lead role, abetting Pasolini's creation of a somber and unforgettable tone poem—which was later fittingly saluted by Morrissey in his song "You Have Killed Me." Talent to be announced.
More events will be announced in the coming months as the series will run throughout the year. From the first slate of events it looks to be a great addition to the already outstanding programs LACMA and Film Independent provide individually. This may end up being a film-lovers dream partnership.
For more information on Film Independent, and to become a member, please visit its website here.
Ticketing Information:
Tickets to attend Film Independent at LACMA are $10 for the general public, $7 for LACMA members, and $5 for Film Independent, LACMA Film Club and New York Times Film Club members. In addition, there will be at least six free members-only screenings for Film Independent, LACMA Film Club and New York Times Film Club members throughout the year. Tickets go on sale September 15 to members of Film Independent, LACMA Film Club and New York Times Film Club, and September 22 to the general public. To purchase tickets, please visit www.lacma.org or call 323-857-6010.