Synopsis: After his mother disappears, a young boy is sent to a foster home with other orphans his age where he begins to learn the meaning of trust and true love.
Release Date: March 3, 2017     MPAA Rating: PG-13
Genre(s): Animation, Family
Film Review

The Academy Awards have come and gone, and guess what? Disney's Zootopia won Best Animated Feature. And for good reason, as Zootopia is a well-made movie with something important to say. But a lot of people were pulling for the underdog. The underdog this year was a Swiss-French stop-motion movie that hadn't even had its American debut at the time of its nomination called My Life as a Zucchini.
My Life as a Zucchini is about a young boy, nicknamed Zucchini, who is sent to an orphanage after his mother suddenly dies. The orphanage is a shock to Zucchini, but after a period of adjustment, he makes friends with the other kids there, including a know-it-all bully named Simon. He even becomes smitten with a new girl named Camille who is brought in. But, as happy as Zucchini is with his new friends, he still misses his mother and having a real family. With the help of his new pals and a friendly policeman named Raymond, Zucchini learns to feel love and trust again.
Adapted by screenwriter Céline Sciamma (Girlhood, Tomboy) from the Gilles Paris novel Autobiographie d'une courgette, My Life as a Zucchini is charming and funny, not too sappy, with just the right amount of heart. It has a dark side to it – the reasons that Zucchini's pals are in the orphanage range from mildly irritating to absolutely heartbreaking – but as a whole picture, it's a cute movie. What starts as a coming-of-age tale turns into a caper flick, and even though parts of the caper are contrived and improbable, they're still unexpected enough to keep the audience thoroughly engaged for the seventy-minute running time of the film.
It's worth noting that there are two versions of My Life as a Zucchini, the difference being the soundtrack. In the original French language version of the film, a group of mostly unknown Swiss and French actors are used for the dialogue while the English language version has a set of voices that includes heavy hitters like Will Forte, Ellen Page, Nick Offerman, and Amy Sedaris. What it boils down to is how much the reading of subtitles bothers you, but if you don't mind the captioning, the original French language version is highly recommended. The youthful innocence of the voices in the film's native language is enough to make you want to adopt each and every one of the orphans. Each and every one.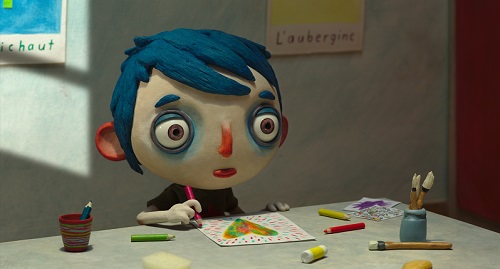 Although it's an animated feature, My Life as a Zucchini may be a bit much for younger kids. It's not risqué or horrifying or anything like that, but there are some disturbing backstories behind the kids in the orphanage. It's rated PG-13, and that's about right; it's only a family picture if the youngsters in the family can deal with depressing stories of criminally neglectful parents. For those who can take that, however, the rest is a blast. My Life as a Zucchini tugs at the heartstrings while it tickles the funny bone.

It takes a nation to bring a movie like My Life as a Zucchini to life, and director Claude Barras is able to bring it all together brilliantly. As mentioned earlier, the movie is a stop-motion picture, shot with real cameras on miniature sets with articulated puppets, and Barras and his team worked tirelessly for months on the animation. The ten-inch-tall puppets were made of painted latex and resin and changed clothes as a real person would. The sets were dressed with painstaking attention to detail, with a few green-screen effects filling out the bigger backgrounds. All of this meticulous work translates into a magical experience with My Life as a Zucchini. It's easily as good, of not better, than anything that fellow stop-motion studio LAIKA has done. My Life as a Zucchini is not only a charming story, but it's flawless in its execution.
Cast and Crew
Director(s): Claude Barras
Producer(s): Marc BonnyArmelle GlorennecPauline GygaxMax KarliKate MerktMichel Merkt
Screenwriter(s): Céline SciammaGermano ZulloMorgan Navarro
Story: Gilles Paris
Cast: Gaspard Schlatter (Courgette)Sixtine Murat (Camille)Paulin Jaccoud (Simon) Michel Vuillermoz (Raymond)Raul Ribera (Ahmed)Estelle Hennard (Alice)Elliot Sanchez (Jujube)Lou Wick (Béatrice)Brigitte Rosset (Tante Ida)Monica Budde (Mme Papineau)Mr. Paul (Adrien Barazzone)Natacha Koutchoumov (Courgette's Mother)
Editor(s): Valentin Rotelli
Cinematographer: David Toutevoix
Production Designer(s):
Costume Designer: Christel Grandchamp
Casting Director(s): Marie-Eve Hildbrand
Music Score: Sophie Hunger
Music Performed By: 
Country Of Origin: SwitzerlandFrance