Danny Boyle is no stranger to stylish thrillers. From Shallow Grave (1994) to 28 Days Later (2002), Boyle is a master of mystery and suspense. His latest film Trance (2013) takes many cues from film noir, incorporating a conflicted anti-hero, Simon, whose principles are rattled all the more by his memory loss. The psychological neo-noir thriller deftly juggles issues of memory, dreams, and the repeated reconstruction of identity. As Simon's memories are progressively unraveled, one plot twist after another sees the lines between truth and manipulation begin to blur. With so many questions, the biggest unknown in the film is its femme fatale, Elizabeth Lamb (Rosario Dawson). Trance is the first time Boyle has put a woman at the heart of one of his films, and here, Elizabeth holds all of the film's secrets. With every new twist, Elizabeth becomes more and more the classic, vicious femme fatale but with a surprising backstory of emotional damage and victimization.
Trance stars James McAvoy as Simon, a fine art auctioneer working at a renowned London auction house. During an attempt to steal a valuable Goya painting, Simon suffers a blow to the head. Waking up in the hospital, he realizes that he has no memory of where he hid the painting, which he had removed from its frame. This heist had been a joint operation between Simon and a gang led by crime boss Franck (Vincent Cassel), meaning that Simon inadvertently double-crossed violent and dangerous criminals. Unable to get answers from Simon with physical threats and elaborate torture, Frank decides to try hypnosis. Simon randomly chooses hypnotherapist Elizabeth Lamb (Rosario Dawson) to probe his memories and try to discover the location of the lost painting. The more Elizabeth explores Simon's subconscious, the more intricate and convoluted the mystery of the painting and Simon's broken memories become.
Much of the film draws on noir tropes, from the crime portion to the femme fatale. What is evident from the beginning is a special connection between Simon and Elizabeth, despite his belief that he has never met her before. The structure of Trance is such that as Simon, Elizabeth, and Franck discover elements of Simon's missing memories, so does the audience. These lost memories, however, are the heart of the story because they hold the key not only to the location of the Goya painting but to Simon's reason for hiding it. As Simon and Elizabeth's past is revealed bit by bit in Simon's hypnosis, she works her way into the core of the group. Once part of the group, she plays them off one another, telling Simon there is no reason he wouldn't be killed after the painting is found and stringing Franck along with endless accommodations for Simon's sense of security. Very much like a cunning femme fatale, she manipulates Simon and Frank with her allure and sensuality. With Franck, she seems to do so for the sake of solidifying her stake in the proceeds of the painting's sale. But Simon is deliberately blocking his memories so that he can spend more time with her, obsess over her. To find the painting, she seduces him and hypnotizes him.
The final revelations of the film, however, cast a different light on Elizabeth's seemingly cold-hearted, manipulative actions. Rather than being a cunning hypnotherapist taking advantage of an amnesiac and a group of criminals, she turns out to be a woman running from a violent relationship. She had met Simon before. They had been in a very serious, very sexual relationship until Simon became obsessive and extremely jealous. His jealousy turned violent, and Elizabeth was repeatedly abused. Afraid that one day Simon would kill her in jealous rage, she began hypnotizing him to forget her. Knowing this backstory, it's easy to imagine the fear she felt when Simon appeared in her office again, using a different name and asking for treatment. In this light, her eagerness to help him remember what happened makes her all the more sympathetic and her manipulations even forgivable.
After this revelation, Elizabeth cannot be said to be a classic femme fatale but rather a victimized woman using all of her skills to protect her life. She hypnotizes an abusive boyfriend to forget her and goes so far as to try to help save his life from dangerous art thieves. This is by no means the whole story, though. Certainly, Elizabeth was a victim, but she went further than erasing herself from Simon's memory for the sake of self-protection. She actually programed him to steal the Goya painting and bring it to her. Elizabeth is therefore the one who set the entire film's events in motion. Subconsciously following her instructions, Simon asked his former cocaine dealer if he knew of someone who could help him steal a painting. So, Simon plans a joint operation with Franck. Simon's painful torture and imminent death at the hands of Franck is all Elizabeth's fault. It could even be argued that her reconstruction of his memories contributed to his memory loss after the robbery. This shows that while her damaged backstory is largely redemptive, she is guilty of seeking elaborate revenge against Simon.
Why Elizabeth programs Simon to steal the Goya painting is an interesting question and one that is never answered in the film. It is clearly her way of getting revenge for what he did to her. Beyond that, her desires are unclear. She could want the painting purely for money, but the final scene in the film shows her gloating over her gorgeous painting that she has no intent to sell. That could lead you to believe that she merely wanted a beautiful work of art, but why specifically Goya's "Witches in the Air"? The best explanation is that she wanted to destroy Simon. By stealing the Goya painting, she would gain a valuable, beautiful work of art, and Simon's career would be ruined. If Simon were involved in stealing a painting from his own auction house, that would be the end. He would probably be caught, meaning that he could never work in the art world again, and he would be sent to prison for robbery. Revenge this complex is not so uncalled for in Elizabeth's situation but does seem over the top. Through the many layers of deceit, Elizabeth is revealed to be one of the most conniving femme fatales in noir.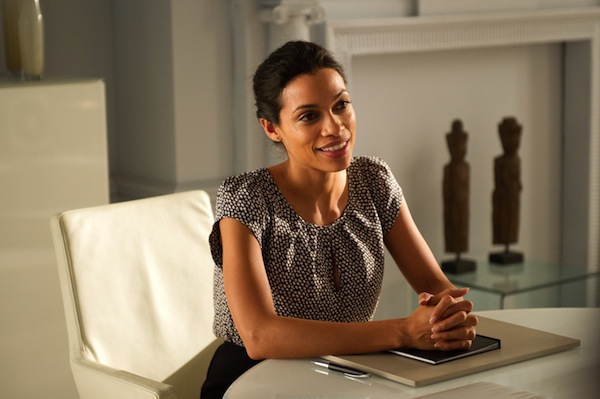 As stylish as ever, Boyle weaves an intricate psychological thriller, full of twists and deceptions in Trance. Couched in the mystery of the stolen painting's location, the film's central focus is the mind-boggling femme fatale, Elizabeth, who is as cruel and manipulative as they come but haunted by a damaged past. Elizabeth is seen from so many perspectives throughout the film – as a friendly and sympathetic hypnotherapist, a seductress, a victim of jealous obsession, and back again to a vengeful manipulator. The film passes no judgment on her actions. If anything, it turns a scheming woman seeking revenge into a sympathetic victim.