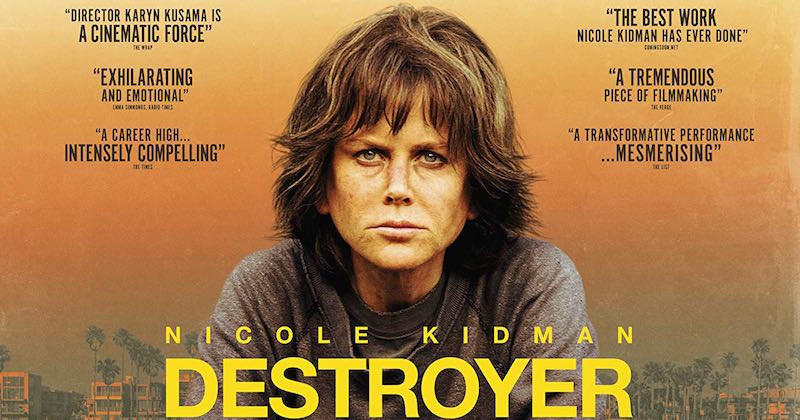 'Destroyer' Review
Karyn Kusama's Destroyer offers up the same old thrills and chills.
Release Date: December 25, 2018
A police detective reconnects with people from an undercover assignment in her distant past in order to make peace.
Director: Karyn Kusama
Screenwriters: Phil Hay, Matt Manfredi
Producers: Fred Berger, Phil Hay, Matt Manfredi 
Cast: Nicole Kidman (Erin Bell), Sebastian Stan (Chris), Toby Kebbell (Silas), Tatiana Maslany (Petra), Scoot McNairy (Ethan), Bradley Whitford (DiFranco), Jade Pettyjohn (Shelby), Beau Knapp (Jay), James Jordan (Toby), Toby Huss (Gil Lawson), Shamier Anderson (Antonio), Zach Villa (Arturo)
Editor: Plummy Tucker
Cinematographer: Julie Kirkwood
Production Designer: Kay Lee
Casting Directors: Mark Bennett
Music Score: Theodore Shapiro
Between her superhero debut in Aquaman and her awards caliber performance in Boy Erased, Nicole Kidman has been having quite a year. But the Aussie actress is no stranger to the dark and disturbing movies, as her resume reveals with titles like Dead Calm and The Killing of a Sacred Deer. And with her newest movie Destroyer.
Destroyer stars Kidman as Erin Bell, a troubled LAPD detective who, after examining a murder scene, immediately knows who the killer is. She embarks on a journey to find an enigmatic figure from her past, a gang leader named Silas (Toby Kebbell, who has played both King Kong in Kong: Skull Island and Koba in War for/Dawn of the Planet of the Apes). Her search opens up a flood of tragic memories from when she and an FBI agent named Chris (I, Tonya's Sebastian Stan) went undercover in Silas' gang and got just a little too close to the suspects…and to each other.
Essentially, Destroyer is little more than a paint-by-numbers mystery. Director Karyn Kusama (The Invitation, Jennifer's Body) and writers Phil Hay and Matt Manfredi (the pair who, aside from cowriting most of Kusama's movies, also wrote R.I.P.D. and Ride Along) manage to shake up the crime drama genre a bit by presenting the tale in a non-linear fashion, flashing back to Erin's undercover time while never really leaving the present.
It's a creative way to tell the story, and really the only way to do it, seeing as how the events of the past still haunt present-day detective Bell. Erin systematically tracks down her old associates and extracts information from them by whatever means she deems necessary, then quickly and efficiently moves on to the next. It's a formula that we've all seen before, and while there is a fun twist, it's one that doesn't really surprise anybody with how neatly it ties everything together in the end.
Erin Bell is more than just a female version of a male cop stereotype, however. She's tough as nails, but also shows cracks in her armor, particularly when it comes to dealing with her estranged daughter in a superfluous subplot that only serves to humanize the hard-boiled detective. While these little tidbits of sensitivity are effective, the most engaging sections of Destroyer are the crime scenes – the drug deals, the bank robberies, the foot chases.
That's the stuff that keeps Destroyer on its feet. The emotional parts are there to try in vain to give the movie some heart. Well, that and so that Nicole Kidman can garner some more awards nominations.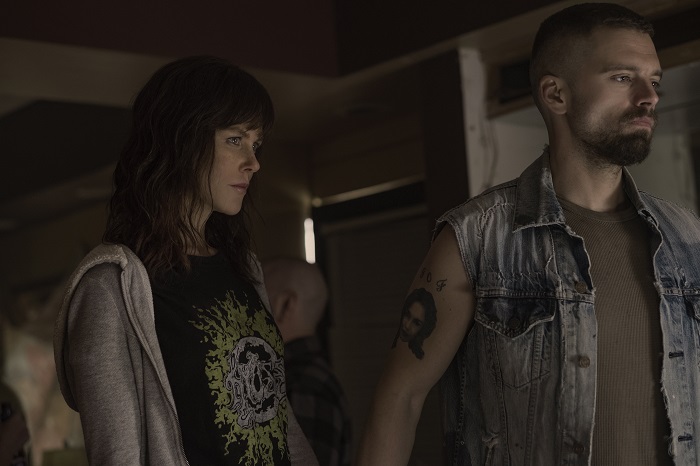 Maybe I just expect more from Karyn Kusama (The Invitation was one of my favorite movies of 2015), but Destroyer is a bit of a letdown. It's a well-made movie, but there's nothing to it that hasn't already been done, and done a whole lot better. It's a bit like Tarantino Lite. And with no Tarantino movie this year, Destroyer might just be a worthy substitute for some viewers.

Composed by Theodore Shapiro (another Kusama veteran who also did the music for A Simple Favor and the Ghostbusters remake), the score for Destroyer is the most consistent aspect of the film. It knows that the action is, uh, where the action is, and it plays along. The music is in the same vein as all of those modern-retro synth scores that have been synced up to hipster movies for the last few years, soundtracks like Jonny Greenwood's You Were Never Really Here or Cliff Martinez's The Neon Demon.
Destroyer's score is pulsing, pounding, and driving without being pummeling. It's a good soundtrack for driving around Los Angeles, which is, coincidentally, what Nicole Kidman does for a good portion of the movie.