Synopsis: A traumatized veteran, unafraid of violence, tracks down missing girls for a living. When a job spins out of control, Joe's nightmares overtake him as a conspiracy is uncovered leading to what may be his death trip or his awakening.
Release Date: April 13, 2018     MPAA Rating: PG-13
Genre(s): Drama, Mystery
Film Review
Production
Writer/director Lynne Ramsay earned a reputation for making thoughtfully dark movies with her brilliant We Need to Talk About Kevin. Her newest movie, You Were Never Really Here, will help cement that legacy.
You Were Never Really Here stars Joaquin Phoenix (Irrational Man, Her) as Joe, a Gulf War veteran suffering from post-traumatic stress disorder who works as a type of a cleaner for a living, functioning as a combination hit man/private detective who violently operates outside of the limits of the law. Joe is hired by Senator Albert Votto (Shame's Alex Manette) to track down his 13-year-old daughter, Nina (Ekaterina Samsonov from Wonderstruck), who he believes has been abducted and forced into sex slavery.
The seemingly routine job gets complicated as Joe unwittingly uncovers a conspiracy that goes much deeper than just a simple missing person case. Joe juggles his personal demons with his professional responsibilities as he tries to complete his mission – and stay alive.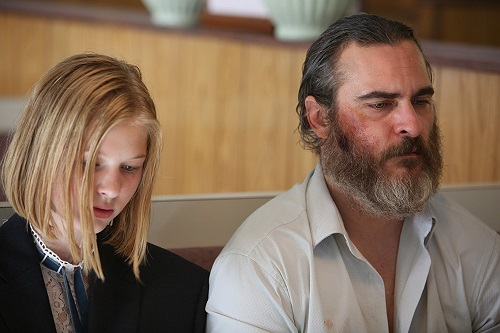 Lynne Ramsay based her screenplay for
You Were Never Really Here
on the novel of the same name by Jonathan Ames ("Bored to Death"). The protagonist's preference for using a hammer to do his dirty work coupled with the quick bond he forms with his 13-year-old charge gives the movie an
Oldboy
-meets-
The Professional
vibe, but stylistically, it's all Lynne Ramsay. It's a dark and disturbing movie, full of brutal violence and unsettling imagery, told in a disjointed way that hops around timeline-wise, giving the audience the pieces to the puzzle in a way that does not show them the entire picture until the end, and even then, it's a fluid and ambiguous conclusion.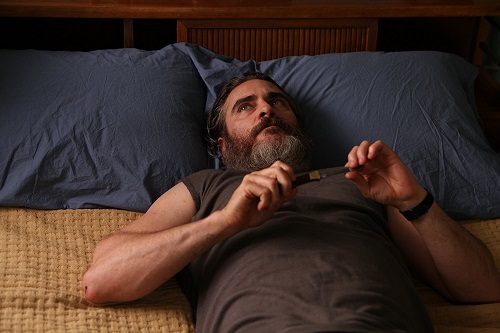 Joaquin Phoenix's Joe is a great anti-hero. Sure, he's a jerk, but the audience knows that his heart is in the right place by the way he takes care of his feeble and elderly mother (played by
Eraserhead
's Judith Roberts), and their opinion is solidified by how he treats young Nina with caring and compassion. His inner demons are doozies, making the audience even question how much of what they're seeing is real, but when the chips are down, it's obvious why Joe is so successful at the work that he does. He's got both honor and integrity, even if it comes with a hammer to the skull of anyone who stands in his way.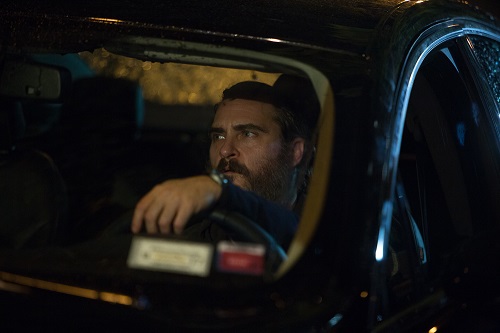 You Were Never Really Here
isn't quite as gut-punching as
We Need to Talk About Kevin
, but it's close. It does still pack a wallop, though, so Lynne Ramsay's thoughtfully dark reputation should remain intact.
Score and Soundtrack
Radiohead multi-instrumentalist Jonny Greenwood took a break from composing the music for Paul Thomas Anderson movies like Phantom Thread and The Master to do the score for You Were Never Really Here. Greenwood also did the music for We Need to Talk About Kevin for Ramsay, and the two scores definitely share some sonic similarities. Greenwood's score for You Were Never Really Here is driving and dissonant, harsh and abrasive yet hiding a subliminal beauty underneath the chaos.
Most of the music sounds electronic, with hard-pounding synths cutting through white and pink noise waves to create a soundscape that is simultaneously gorgeous and ugly. Just like the movie.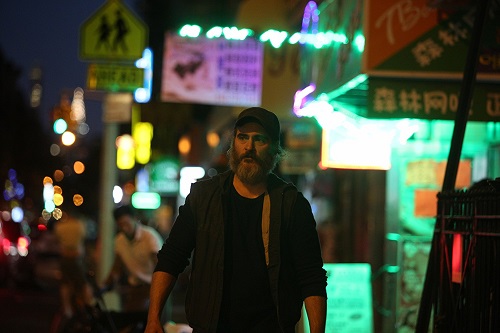 Cast and Crew
Director(s): Lynne Ramsay
Producer(s): Rosa Attab, Pascal Caucheteux, Rebecca O'Brien, Lynne Ramsay, James Wilson
Screenwriter(s): Lynne Ramsay
Story: Jonathan Ames
Cast: Joaquin Phoenix (Joe), Ekaterina Samsonov (Nina Votto), Judith Roberts (Joe's Mother), John Doman (John McCleary), Alex Manette (Senator Albert Votto)
Editor(s): Joe Bini
Cinematographer: Thomas Townend
Costume Designer: Malgosia Turzanska
Casting Director(s): Billy Hopkins, Ashley Ingram
Music Score: Jonny Greenwood
Country Of Origin: USA, UK