Synopsis: A mosaic of stories about love and loss, 'Nostalgia' explores our relationships to the objects, artifacts, and memories that shape our lives.
Release Date: February 16, 2018     MPAA Rating: PG-13
Genre(s): Drama,
Film Review

Although hardly a household name, director Mark Pellington has an impressive list of credits on his resume. In between making music videos for artists like U2 and Pearl Jam, Pellington has found time to helm such notable movies as Arlington Road and The Mothman Prophecies. His newest movie, the simply titled Nostalgia, shows off both his storytelling abilities and his music video aesthetic.
Nostalgia is essentially an anthology film which follows characters through tough times in their lives dealing with love, loss, and pain. An insurance adjuster (John Ortiz from Kong: Skull Island) visits an old recluse (The Hateful Eight's Bruce Dern) who lives in a home surrounded by old artifacts that are possibly worth a lot of money. His next appointment is with an old woman (Ellen Burstyn from The Exorcist) whose house has just burned down. The woman takes one of the only things she was able to save, an old Ted Williams-signed baseball that belonged to her husband, and sells it to a sports collector (Jon Hamm from "Mad Men" and Baby Driver). The collector then goes to help his sister and her husband (Get Out's Catherine Keener and Certain Women's James Le Gros) pack up their deceased mother's home. And so on.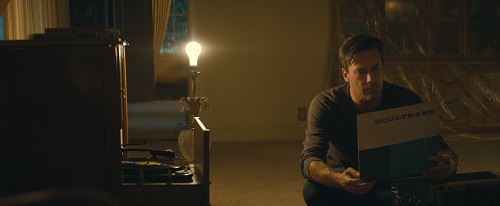 Mark Pellington collaborated with screenwriter Alex Ross Perry (The Color Wheel, Listen Up Philip) on Nostalgia, and what they came up with is a seamless trip through the lives of several characters that is experienced one inspirational story at a time. Once Bruce Dern's old miser is out of the picture, the movie never looks back towards him. Same with John Ortiz's insurance assessor. Nostalgia glances back at its character's lives by moving forward at a brisk pace, only stopping to catch its breath once it shifts to a new central story. The tales that Nostalgia tells range from hopeful and uplifting to heartbreaking and soul-crushing, and each is told with both sympathy and sensitivity. The viewer feels for each and every character, regardless of how likeable – or unlikeable – they are.
To paraphrase its press notes, Nostalgia is a mosaic of stories about love and loss, exploring our relationships with the objects, artifacts, and memories that shape our lives. That sounds esoteric, but it's a pretty spot-on description of the movie. And anyway, the movie IS esoteric, in an accessibly artistic way. Nostalgia captures shock and misery in a way that still leaves the viewer feeling good about life.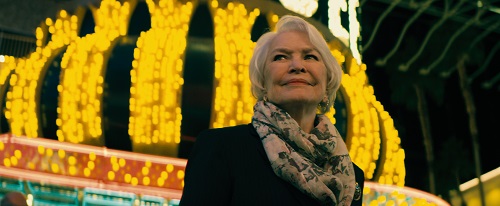 Although it tells a coherent story in several different chapters, Mark Pellington lets his creative music video instincts fly with Nostalgia. The film is almost Malickian in its vision, with long unbroken takes and surreal dreamlike sequences breaking up the anthology narrative. The film is very musically driven, and many of the transitions and segues cut perfectly with the beautiful Laurent Eyquem (Momentum) piano-and-string score. The film's themes are somewhat abstract, and Pellington's direction matches them, keeping the movie trancelike and fantastical without sacrificing authenticity or credibility. Both the episodic narrative style and the illusory visual tone of Nostalgia are risky, but Pellington's direction makes each decision pay off.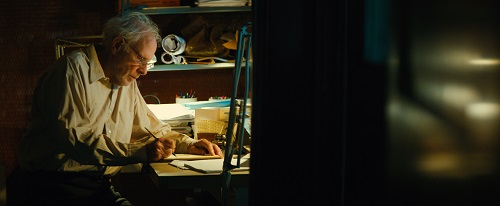 Cast and Crew
Director(s): Mark Pellington
Producer(s): Tom GoraiMark Pellington
Screenwriter(s): Mark PellingtonAlex Ross Perry
Story: 
Cast: Jon Hamm (Will)Ellen Burstyn (Helen)Bruce Dern (Ronnie) Amber Tamblyn (Bethany)Catherine Keener (Donna)James Le Gros (Patrick)John Ortiz (Daniel)Nick Offerman (Henry)Ashlyn Faith Williams (Hillary)Hugo Armstrong (Jim Singer)Beth Grant (Anna O'Bryan)Kindsay Kraft (Tobey)
Editor(s): Arndt-Wulf Peemöller
Cinematographer: Matt Sakatani Roe
Production Designer(s):
Costume Designer: Laura Frecon
Casting Director(s): Michael Sanford
Music Score: Laurent Eyquem
Music Performed By: 
Country Of Origin: USA