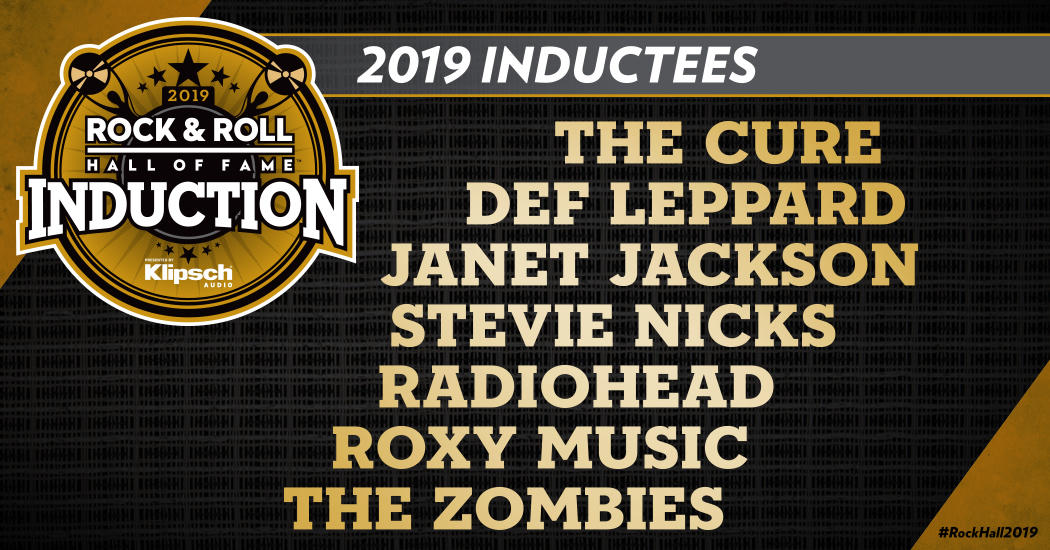 Some of the best songs in movies came from t

he 2019 Rock & Roll Hall of Fame inductees.

A song can make or break a movie scene.
Just ask Cameron Crowe and John Cusack about the boombox in Say Anything.
The 2019 Rock & Roll Hall of Fame inductees have been announced, and it's now a perfect time to reflect on their contributions to film. We all know that a song in a movie can make or break a scene, and each of the 2019 inductees has had one or more of their songs appear in movies. Some may be more memorable than others, and more than one could be included on a best songs in movies list, but all are worth reminiscing about.
Before we get to the list of the best songs in movies from the 2019 Rock & Roll Hall of Fame inductees, here's who made the cut. And if you were rooting for Rage Against the Machine (like me) reading the list of inductees is going to sting, but we just have to get over it.
The 2019 Rock & Roll Hall of Fame inductees are:
The Cure
Janet Jackson
Def Leopard
Stevie Nicks
Radiohead
Roxy Music
The Zombies
It's an impressive list even without Rage Against the Machine. The Cure has gotten me through more than one life crisis and I once turned down $500 for my Radiohead concert ticket because who in their right mind would not see Radiohead live?
Without further ado, here are the best songs in movies from the 2019 music Hall of Famers.
The Cure's "Boys Don't Cry" in The Wedding Singer
Adam Sandler's The Wedding Singer is hands-down one of the best romantic comedies ever. Don't even try to debate it. When main character Robbie (Sandler) is dumped by his girlfriend Linda we're treated to The Cure's "Boys Don't Cry." It's a perfect moment for this song to play as Robbie's heart breaks, but little does he know that true love is right around the corner with Julia (Drew Barrymore).
Just don't tell him about Barrymore hitting up Justin Long years later in Going the Distance where The Cure's "Just Like Heaven" is faultless romantic comedy symbiosis.
Janet Jackson's "Again" in Poetic Justice
Janet Jackson is no stranger to awards – she has five Grammy Awards, 11 American Music Awards, and 11 Billboard Music Awards. Well, when she recorded the original song "Again" for Poetic Justice, the film she starred in alongside Tupac Shakur, it earned her a Golden Globe nomination and an Academy Award nomination for Best Original Song.
Just thinking about "Again" brings a tear to my eye and recalling it in Poetic Justice is just too much. It only worked because of the chemistry between Janet and Tupac, and oh his smile — it will still melt your heart.
Def Leopard's "Pour Some Sugar On Me" in Coyote Ugly
"Pour Some Sugar On Me" doesn't need a movie attached to it for iconic status. Walk into any bar or club and if it's playing, no one is sitting down or not singing right along with it. For Coyote Ugly, the scene in (or on?) the bar that features "Pour Some Sugar On Me" being sung when Piper gets her first taste of this not-so-typical bar experience is the best part of the movie.
It also just happens to be the perfect song for such a scene because "Pour Some Sugar On Me" was 'that song' long before Coyote Ugly hit theaters in 2000.
Stevie Nicks' "Sleeping Angel" in Fast Times At Ridgemont High
The 80s are well-known for producing iconic soundtracks and Amy Heckerling's Fast Times At Ridgemont High (1982), written by Cameron Crowe, was the first. You may recall Jackson Browne's "Somebody's Baby" as the movie's signature tune but Stevie Nicks' "Sleeping Angel" brings the pain.
"Sleeping Angel" plays when Mike Damone is trying to get the money for Stacy's abortion and then fails to pick her up because he could not follow through. As the song goes, "Real love affairs are heavy spells for a woman and a man." Nicks' signature vocals make the scene even more tragic.
Radiohead and Lead Guitarist Turned Film Composer Jonny Greenwood
Finding a Radiohead song in a movie isn't tough:
"Life in a Glasshouse" in Children of Men is haunting
"Reckoner" in Choke is unforgettable
"Fake Plastic Trees" in Clueless made the title stand for all but one character in the film
"Everything in its Right Place" is a perfect use of foreshadowing in Vanilla Sky
Every time a Radiohead song appears in a movie it makes an impact but it's the impact that Lead Guitarist Jonny Greenwood has made as a film composer that is truly outstanding. He's auteur director-screenwriter Paul Thomas Anderson's composer of choice and for good reason: Greenwood's work is brilliant.
From There Will Be Blood to The Master to Inherent Vice and Phantom Thread, which earned Greenwood an Oscar nomination for Best Original Score, Greenwood can do no wrong. You could go so far as to call him a film score auteur.
further reading Phantom Thread Is Pretentious Genius From Paul Thomas Anderson
Roxy Music's "More Than This" in Book Club
Book Club is a smart, funny comedy about women of a certain age. It may not appeal to those under 50 but it should: There's a lot you can learn about growing older from stories about people who are older than you. And love is right up at the top.
Diane Keaton's Diane finds love in Book Club and that's where "More Than This" comes into play. It's a great song choice for a pivotal moment in the film when Diane chooses love and a future that's sure to be better than her past.
But, there's more for "More Than This." An honorable mention must be given to Bill Murray's karaoke performance of "More Than This" in Lost In Translation because it's only the right thing to do.
The Zombies "Time of the Season" in The Conjuring
If you want to set up a moody horror movie that's going to scare the pants off of people, "Time of the Season" is a great song choice. That's what James Wan did in The Conjuring, using "Time of the Season," cued to begin with the lyrics "What's your name? Who's your daddy?" — surely the ghosts would like to know — as the non-diegetic music playing during the tracking shot that shows the Perron family moving into a very haunted house.
The song fades away on the line "It's the time of the season for loving" as Cindy is asked to collect her younger sister April from outside. Just before that, the line, referring to Daddy: "Has he taken any time to show you what you need to live." Interesting choice of song? You bet. I'll leave you to conjecture just how timely and prophetic the song is for The Conjuring.
further reading The Conjuring Is A Fright Fest Of Fun
That does it for the best songs in movies from the 2019 Rock & Roll Hall of Fame inductees. Now go watch these movies to experience again the impact each of these songs or the score, in general, has on the movie watching experience.
And feel free to disagree with my choices for the inductees best songs in movies in the comments or just let me continue believing I know best. I'm okay with either choice.