Synopsis: When aspiring model Jesse moves to Los Angeles, her youth and vitality are devoured by a group of beauty-obsessed women who will take any means necessary to get what she has.
Release Date: June 24, 2016     MPAA Rating: PG-13
Genre(s): Drama, Horror
Film Review

Director Nicolas Winding Refn (Drive, Only God Forgives) claims that, with The Neon Demon, his aim was to create a "teen horror film…without the horror." That's as accurate of a description of the movie as one is bound to find.
The Neon Demon is about an underage orphaned girl named Jesse (Elle Fanning from Super 8) who moves to Los Angeles with the hopes of becoming a fashion model. One of the first people she meets is a makeup artist named Ruby (The Hunger Games: Mockingjay's Jena Malone) who, in turn, introduces her to a pair of catty fellow models named Gigi (Bella Heathcote from Pride and Prejudice and Zombies) and Sarah (Mad Max: Fury Road's Abbey Lee). Jesse's youthful looks and innocent demeanor open up plenty of doors for her within the modeling industry, and Gigi and Sarah quickly become jealous of her success. Jesse wonders just how far the other girls are willing to go in order to taste a little bit of her good fortune.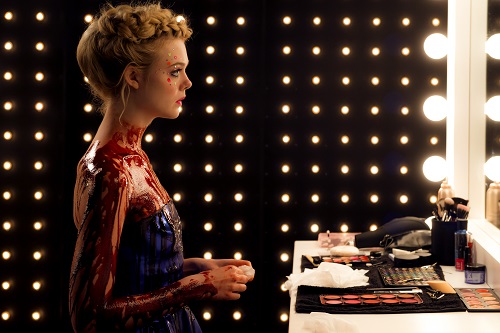 There's not a whole lot of story to The Neon Demon, but that's fine. As a piece of cinema, it simply accepts the fact that it is more of a visual and an aural experience than a narrative one. It's incredibly artsy, and more than a little pretentious (the opening shot is embossed with a big NWR – for Nicolas Winding Refn), but that all just goes with the Hollywood aura of the production. The Neon Demon is Refn in his element, confidently and cockily delivering a movie to an audience whom he seems to know will have trouble understanding it, and he seems to be fine with that.
The support cast in The Neon Demon is worth mentioning, as a pair of the bit parts are played by actors with household names. Keanu Reeves (The Matrix, John Wick) plays the manager of the hotel where Jesse stays, and Christina Hendricks ("Mad Men") appears as a modeling agent. There are also a couple of familiar faces whose names may not be as well known in the cast, too; Desmond Harrington from "Dexter" stars as a creepy fashion photographer and Karl Glusman from Stonewall portrays a young man who tries to win Jesse's heart. Refn assembles a talented crew to support the leading ladies in his movie, and support them they do.
The Neon Demon is a tough movie. It's simultaneously confusing, aggravating, disturbing, and stimulating. The one thing that it is not is boring. Considering the fact there's not a lot of stuff that happens in it, The Neon Demon is an extremely captivating experience.

The Neon Demon is a visually stunning movie. It was shot by director of photography Natasha Braier (The Rover) who is able to skillfully provide the same dirty neon look that can be found in Nicolas Winding Refn's other movies. It's an obvious L.A. movie, and the city makes a wonderfully scenic backdrop for the action (or lack thereof, in some cases), whether it takes place in a beachfront mansion or a fleabag motel. The imagery in The Neon Demon is developed and defined much better than the narrative is, and therefore, the film is packed with interesting shots and cool setups. What The Neon Demon lacks in plot is more than made up for in beautifully crafted visuals.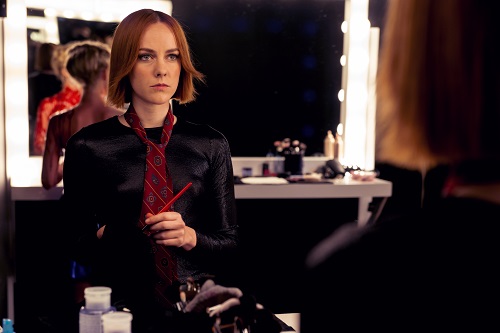 Like the last couple of Nicolas Winding Refn movies, the score to The Neon Demon was composed by Cliff Martinez (Spring Breakers, Traffic), and it's full of the same type of pulsing, synthesizer-driven electronic music as the others. The score really is more of a soundtrack, as one can imagine the music being played by DJs in a club or blasting out of an open car window at an intersection. There are a lot of dialogue-less segments in The Neon Demon that exist to let the cinematography shine, and Martinez's pounding synth bass and layered keyboard soundscapes compliment the impressive visuals without overshadowing them. The thump-thump of the sonic landscape gets a bit redundant at times, but so does the movie, so it works. Cliff Martinez's score drives the film without stealing its thunder.

For the most part, Refn succeeds at creating his "horror movie without the horror." The Neon Demon isn't particularly scary at all. It's got a constant sense of dirty tension in it, and the third act goes full-Cronenberg with some impressive blood and guts, but there are very few actual scares in the movie. And that's probably exactly what Refn was aiming for; the film gets a visceral reaction from the audience, and does it without resorting to any cheap horror movie tactics. It's an impressive feat, but hardcore horror fans will most likely be disappointed with The Neon Demon.
Cast and Crew
Director(s): Nicolas Winding Refn
Producer(s): Nicolas Winding RefnLene BørglumSidonie DumasVincent Maraval
Screenwriter(s): Nicolas Winding RefnMary LawsPolly Stenham
Story: Nicolas Winding Refn
Cast: Elle Fanning (Jesse)Jena Malone (Ruby)Bella Heathcote (Gigi) Abbey Lee (Sarah)Christina Hendricks (Jan)Keanu Reeves (Hank)Desmond Harrington (Jack)Karl Glusman (Dean)Charles Baker (Mikey)
Editor(s): Matthew Newman
Cinematographer: Natasha Braier
Production Designer(s):
Costume Designer: Erin Benach
Casting Director(s): Nicole DanielsCOurtney Sheinin
Music Score: Cliff Martinez
Music Performed By: 
Country Of Origin: USAFrance