Sgt. Gerry Boyle is an Irish Guard, aka policeman, in a small town in the West of Ireland. As the man in charge he takes little, if anything, seriously. When his newest recruit and he discover a dead body of a man they do not recognize it is with dark humor, and a general sense of not giving a –ck that Boyle cheekily investigates the crime. This death is not so easily forgotten as the United States sends their own investigator, FBI Agent Wendell Everett (Don Cheadle) to team up with Boyle on the case. For this is a case that is much bigger than Boyle thought, it involves drug trafficking, murder, and cover-ups. For a lawman of a small town in Ireland this could be the case of a lifetime, for Gerry Boyle it is more of an inconvenience.
Gerry prefers to live his eccentric lifestyle without matters of the law interfering. He has a crass sense of humor–if you think British humor is dry and dark get ready for the Irish–and a penchant for prostitutes. When a lead breaks on the case you had better hope it is not on Gerry's day off because to him, 48 hours won't make a difference. Pair up this character with the humorless, no-nonsense, strict FBI Agent Everett and the two are bound to have their ups and downs, and hilarity will soon ensue. Especially given the racist tendencies of the Irish humor; something Gerry's character has no problem with admitting to during the first brief given by Everett, who happens to be Black. Funny? Absolutely. Politically correct? Not a chance. This is the moment you fall in love with this quirky comedy that ends up being more of a western than anything else with a final showdown that has a score attached to it that will make anyone want to take three paces and draw.
The Guard is a character driven film surrounded by a lush, illusionary landscape. The production design makes interesting choices, most notably the use of green everywhere. This may be Ireland, and green plentiful, but by painting it on the walls, using a green light to cast shadows around characters and anywhere else you can think of it makes the entire world of Gerry an enigma. It is unsettling to see so much green but it works well in this delusional caper of a case where the facts, and the absolute outcome of the case, seem less important than the showcasing of difficulties by Everett to get there, or the Irish sarcasm of Gerry towards everything.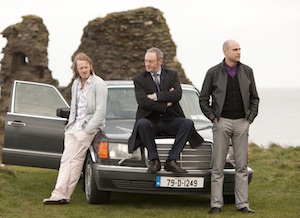 As John Michael McDonagh's directorial debut The Guard shows great promise. It is unabashedly funny, from the undeniably brilliant performance by Brendan Gleeson, the perfect counterpart in Don Cheedle, and the trio of bad guys who are very concerned with maintaining their criminal status amongst the chaos.
Synopsis:
THE GUARD is a comedic fish-out-of-water tale of murder, blackmail, drug trafficking and rural police corruption. Two policemen must join forces to take on an international drug-smuggling gang – one, an unorthodox Irish policeman and the other, a straitlaced FBI agent.
Credits:
THE GUARD stars Brendan Gleeson, Don Cheadle, Liam Cunningham, David Wilmot, Rory Keenan, Mark Strong, Fionnula Flanagan, Dominique McElligott, Sarah Greene and Katarina Cas. Shot by Larry Smith against the epic grandeur of Ireland, the scenery juxtaposes with the inventive soundtrack from Americana/alternative country band Calexico. Written by John Michael McDonagh (Ned Kelly), THE GUARD marks McDonagh's feature directorial debut. The film is produced by Chris Clark, Flora Fernandez Marengo, Ed Guiney, Andrew Lowe; Executive produced by Martin McDonagh, Don Cheadle, Lenore Zerman, Ralph Kamp, Tim Smith, Paul Brett, David Nash.