A piece of pop culture history was lost this past weekend when Erin Moran, best known as the little sister Joanie on the long-running sitcom "Happy Days" (and carrying the role over to the spinoff "Joanie Loves Chachi"), died of cancer complications at the young age of 56. "Happy Days" made Moran a household name in the seventies, but she was already a child star at that point, and went on to have a humble television career after. Of course, because this is Cinema Fearité, we're going to take a look at Moran's one and only horror movie, the 1981 Roger Corman-produced sci-fi schlockfest Galaxy of Terror.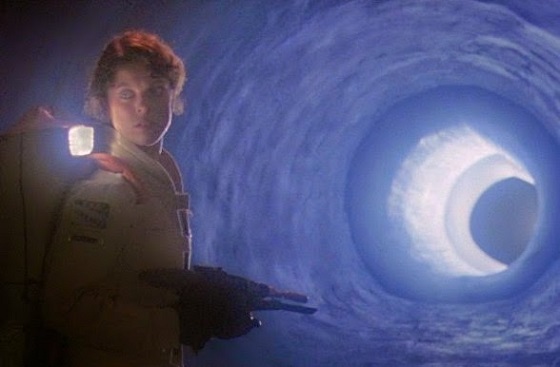 Galaxy of Terror is about a spaceship called the Quest which is sent on a search-and-rescue mission to Morganthus, a far-off planet where another spacecraft has crashed. The crew of the Quest finds the wreckage and determines that the crash was not an accident; it was the scene of a horrible massacre. Hoping to find survivors, the landing party explores the planet. One by one, however, the crew members are picked off, killed in ways which exploit their deepest fears. The weary travelers have to figure out the mystery of the planet before they all wind up dead.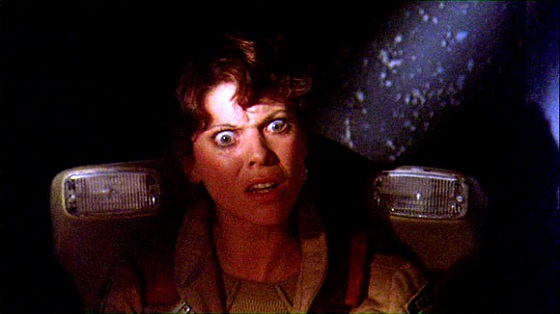 Wanting a piece of the sci-fi/horror action that Ridley Scott's Alien had harvested a couple of years before, Galaxy of Terror was Roger Corman's The Asylum-esque ripoff. Writer/director Bruce D. Clark and his filmmaking partner Marc Siegler (the guys behind The Ski Bum and Naked Angels) tossed together a crazy adaptation of the interstellar slasher, assembled Corman's usual suspects of cast and crew, and set off to make their space opera on the cheap. And it's perfect that way.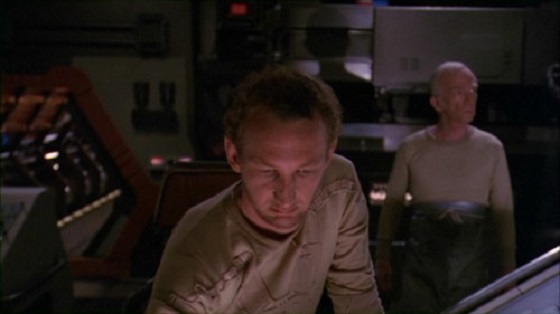 In Galaxy of Terror, Erin Moran plays Alluma, the crew's psychic empath, sort of like a precursor to Counselor Deanna Troi on "Star Trek: The Next Generation." Her performance consists mostly of reciting dialogue like "I don't sense life…I feel absolutely nothing at all…" and "those are the facts, I don't guess," but she does it convincingly. Well, as convincingly as can be expected from an actress in a low-budget science fiction horror movie. Anyway, it's difficult to imagine Alluma being played by any other actress besides Moran – it's that kind of a role, one that was seemingly written for her.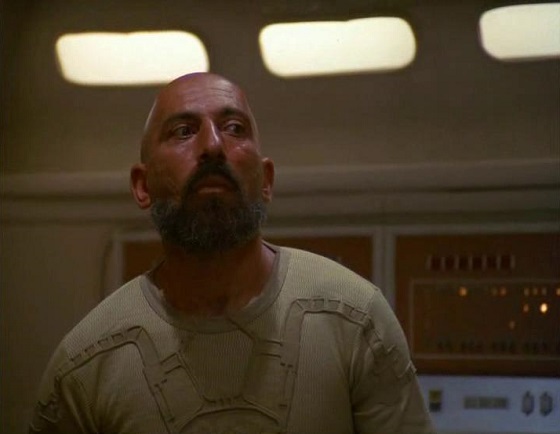 Erin Moran's face is not the only familiar one in Galaxy of Terror. The ensemble is packed with recognizable actors. The intense expedition commander is played by Zalman King from Blue Sunshine. The closest thing to a leading man that the film has is Edward Albert, who would find himself on "Falcon Crest" a few years later. Grace Zabriskie from "Twin Peaks" is the psychologically damaged starship captain. Ray Walston from "My Favorite Martian" and Fast Times at Ridgemont High plays the ship's shifty-eyed cook. And, saving the best for last, horror legends Robert Englund (A Nightmare on Elm Street, Eaten Alive, Dead & Buried) and Sid Haig (The Devil's Rejects, Spider Baby, Creature) both show up as gung-ho members of the crew. The cast of Galaxy of Terror is full of B-movie royalty.
The talent isn't just limited to in front of the camera, either. Galaxy of Terror also featured a second unit director by the name of James Cameron. Cameron was one of the many graduates of the "Roger Corman Film School," a group of up-and-coming filmmakers (which also included Martin Scorsese, Joe Dante, and Jonathan Demme) who learned the ropes of the industry by working on Corman's movies, then went on to bigger and better things. A few short years after Galaxy of Terror, James Cameron would make The Terminator, then Aliens, and before anyone knew it, he was making Titanic and Avatar. And it all started with Galaxy of Terror.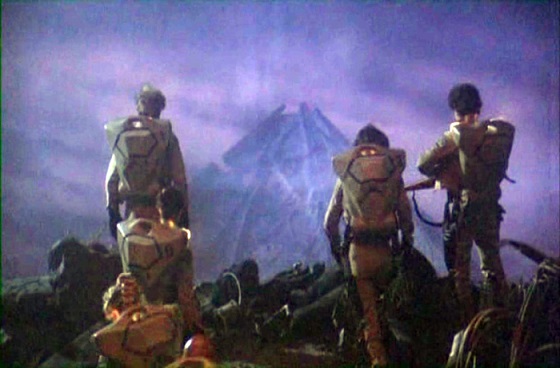 In addition to the second unit direction, Cameron also did the production design for Galaxy of Terror, and it is awesome. The interior of The Quest itself was quite obviously influenced by both Alien and Star Wars, but the design also bled over into how Cameron would approach his aesthetic look for Aliens. More impressive, however, is the giant pyramid that the rescuers stumble across while exploring the planet. The huge structure's interior switches effortlessly from claustrophobic tunnels to wide-open arenas, and all of it is awe-inspiring, for both the characters and the audience. The matte painting backgrounds and sci-fi wind ambient noise soundtrack are all just icing on the interstellar cake. There's a whole world that was built for Galaxy of Terror, and it's quite impressive.
The special effects in Galaxy of Terror are a cool eighties mixture of practical and compositing effects. Of course, all of the lasers are added in post-production, and they look like typical late seventies/early eighties colored ray beams. The space travel scenes are done with miniature models, much in the same vein as Star Wars, albeit not quite as effective, as Galaxy of Terror is a much cheaper film. The burned flesh and severed limb gore effects are all latex and karo syrup. And finally, there are the monsters: slimy creatures that run the gamut from the normal rubber-suited Without Warning-esque aliens to more innovative puppet/animatronic The Thing-like shapeshifters. The most memorable monster scene is a controversial worm creature rape/sex scene that made a cult star out of actress Taaffe O'Connell (New Year's Evil), the scene stirring up trouble by walking a thin line between assault and seduction in a way that is disturbingly reminiscent of the scandalous rape scene in Straw Dogs. Anyway, as primitive as they are, the visual effects in Galaxy of Terror are done well.
For most, Erin Moran will always be Richie Cunningham's bratty little sister. But horror fans can remember her as something more: Alluma, the psychic empath. And it's all because of a low-budget Alien knockoff called Galaxy of Terror.