Synopsis: Kevin Hart and Ice Cube lead the lineup in Ride Along, the new film from the director and the producer of the blockbuster comedy Think Like a Man. When a fast-talking guy joins his girlfriend's brother-a hot-tempered cop-to patrol the streets of Atlanta, he gets entangled in the officer's latest case. Now, in order to prove that he deserves his future bride, he must survive the most insane 24 hours of his life.
Release Date: January 17, 2014     MPAA Rating: PG-13
Genre(s): Comedy,
Film Review

The cop buddy film is a tried and true Hollywood formula, and one that lends itself well to both comedies and action movies. Director Tim Story (who has dabbled in both genres, making Barbershop as well as both Fantastic Four movies) gives the buddy system a try in his new film Ride Along.
Ride Along stars comedian Kevin Hart (Death at a Funeral) as Ben Barber, an avid video game player and high school security guard who has aspirations of joining the police academy and becoming a cop. Once he gets his act together, he wants to marry his longtime girlfriend, Angela (Tika Sumpter from "One Life to Live"). Angela's brother, James (rapper Ice Cube from the Friday movies), is already a cop and has no love for Ben. After learning of Ben's plans for the future, James offers to take him on a ride along to see what life is like for a police officer. At first, James answers calls that are mundane and irritating in order to annoy Ben. Soon enough, however, Ben helps James uncover clues that may break a case wide open. James has to work his case while keeping Ben out of trouble, while Ben just wants to feel important.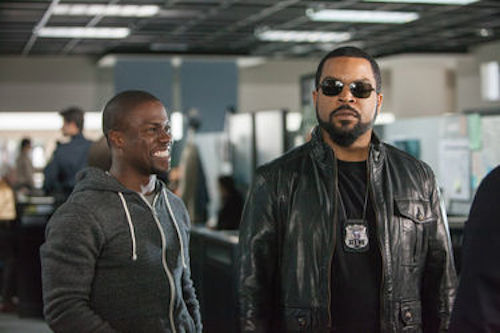 An obvious vehicle for Kevin Hart and Ice Cube, Ride Along is a typical odd-couple cop flick; James is the hardened street cop taking care of the green and inexperienced Ben. It's actually a little too typical, as just about everything in the film seems like it has been done before. The script is provided by Phil Hay and Matt Manfredi (the writing team behind R.I.P.D.) along with Greg Coolidge ("The Troop") and Jason Mantzoukas (better known as Rafi from "The League"), and it's a textbook example of an action comedy screenplay, with all the beats in the right places and all of the act breaks just right. It feels all too familiar in the wake of such films as Rush Hour and Bad Boys. Even the twists and turns in the plot, which are admittedly entertaining, feel stale and overdone. It feels and plays like a remake of a nineties comedy. It's even got a nineties rapper in a lead role.
Ride Along will have an audience, and it will no doubt appeal to some viewers. It is mindless entertainment, but entertainment all the same. It's not a Raymond Chandler detective story, but it doesn't pretend to be one. It is a thin plot held together by a handful of funny jokes that are bookended by a pair of really cool, over the top action sequences (and, I repeat, the beginning and ending action sequences are really cool). It's not an edge-of-your-seat kind of movie, but it's never boring. Ride Along is well executed, it just seems like it has been executed too many times before.

For as stereotypical as it is, Ride Along does have its funny moments. Most of the humor comes right from the chemistry between the two stars, Ice Cube and Kevin Hart. Ice Cube is the straight man to Hart's goofball antics, and there are some genuinely side-splitting scenes. The gags run the gamut between clever wordplay, situational humor, and physical comedy, and the men do all of it well. Unfortunately, there are not enough laughs for the movie to be a completely satisfying comedy, but the humorous scenes that exist are knee-slappers. One gets the feeling that if the reins were loosened on Kevin Hart and Ice Cube, Ride Along could have been a whole lot funnier. As it is, they are the comedy in the movie and, as funny as they are, it's not enough to carry it.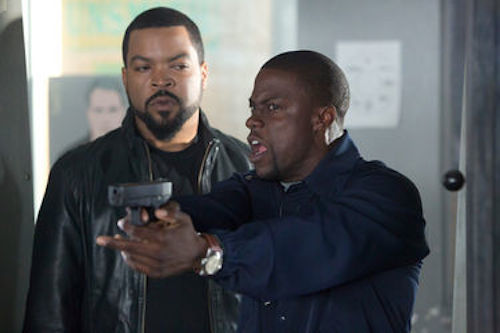 Cast and Crew
Director(s): Tim Story
Producer(s):
Screenwriter(s): Greg CoolidgeJason MantzoukasPhil Hay
Story: Matt Manfredi
Cast: Ice Cube (James Payton) Kevin Hart (Ben Barber)John Leguizamo (Santiago)Bruce McGill (Lt. Brookes)Laurence Fishburne (Omar)
Editor(s):
Cinematographer: Larry Blanford
Production Designer(s):
Costume Designer: Chris Cornwell
Casting Director(s): 
Music Score: 
Music Performed By: 
Country Of Origin: USA