Movie budgets of the 1940s pale in comparison to those of today. It's the question of maybe a few million versus an average $40 million, but just as independent films are produced today, there were independent films with minuscule budgets released in the '40s. Most of these low budget films were genre B movies produced by the so called "poverty row" studios. One such film to receive critical praise was Edgar G. Ulmer's film noir Detour (1945), produced by the lower tier PRC studio. Ulmer made a reputation for himself as the master of the "stylish cheapie," able to expertly disguise his threadbare production values, and Detour is no exception. Considered by some as the grandfather of the independent film, Detour is a stunningly impressive feat of technical creativity over budgetary limitations.
New York nightclub piano player Al Roberts (Tom Neal) feels put upon by the world, or maybe he's just unlucky. He decides to hitchhike across the country to join his girlfriend Sue in Los Angeles. Along the way, he accepts a ride from a man named Charles Haskell, Jr. The two take turns driving day and night, with Haskell repeatedly asking Roberts to pass him pills from the glove compartment. Driving along in the rain at night, Roberts pulls the car over but cannot rouse Haskell. He opens the passenger door, and Haskell falls to the ground, striking his head. Roberts now has a body and an incriminating convertible on his hands. Fearing the police will believe him a murderer, Roberts hides Haskell's body, takes his money, car, and ID, and resolves to assume his identity until he reaches LA and Sue. The trouble is he meets a female hitchhiker who had previously been picked up by Haskell. She concocts a plan for the two of them to strike it rich and blackmails Roberts to continue his charade as Haskell.
Detour has long been rumored to have been filmed in six days for $20,000. If this were true, it would make Edgar G. Ulmer a poverty row magician and his film a master class in inventive production design on a shoestring budget. Even Peter Bogdanovich praised Ulmer saying, "Nobody ever made good pictures faster or for less money than Edgar G. Ulmer." Time and research, however, have revealed that Detour was probably filmed in four weeks for roughly $100,000. This may not be as impressive as the film's rumored budget and schedule, perpetuated by even Ulmer himself, but it remains minuscule and limiting. Despite these setbacks, Detour features highly stylized and creative production design and lighting reminiscent of German silent era classics, such as The Golem
, Metropolis
, and Sunrise
e, on which Ulmer served as production designer in his early film industry career.
Minimalism was the key to Ulmer's success with Detour. The budget did not allow for huge sets or much on location filming. Instead, Ulmer created his thrilling film noir on no more than six indoor sets, an exterior used car lot, some desert location shots, and shaky back-projection to give the illusion of a moving car. In addition, the production stretched their money further by using stock footage when applicable – most evidently, in scenes featuring switchboard operators – and by including Roberts' voice over narration. The narration in particular allowed Ulmer to tell rather than show certain events and characters emotions and saved the expense of recording audio for every set-up. In different hands, these minimalist sets and inventive techniques might have made Detour seem cheap and hokey and its actors ham-fisted.
Ulmer, however, succeeds in creating a warped, nightmarish morality tale in the vein of Kafka
. Detour plays as a strangely beautiful and haunting portrayal of an absolute zero, a loser with the worst luck in the world. In this sense, it is a nightmare imagining of a world ruled by fate, a disturbed fate that seeks to punish the innocent. Ulmer disguises his minimal production values with the inspired use of light and shadow and artful camera movement. The film's compositions and the use of shadow and fog serve to heighten this surreal nightmare. Ulmer's camera captures a raw, gritty world, both unreal and staggeringly hyper-real, a paranoid vision of fate. The images are hazy. The focus goes dramatically in and out. The film is essentially the depiction of an innocent, yet self-pitying, man's delirious and harrowing experience.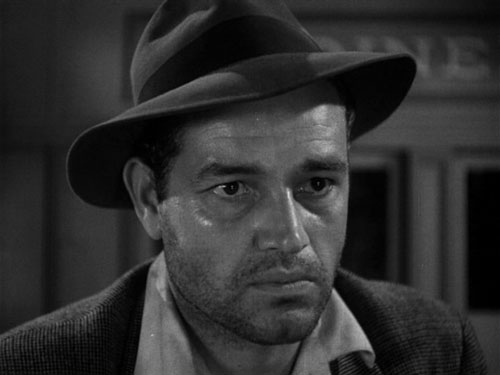 The nightmarish aesthetic and portrayal of the remorselessly cruel hand of fate combine to make Detour one of the purest distillations of the film noir genre. At its core, film noir sees fate destroy good, innocent people when they succumb to temptation, if only slightly. Roberts is in no way a bad man. He makes no evil decisions. His one mistake is to claim the identity of Haskell, which he does fearing blame and punishment. His purely innocent mistakes and his own fear then lead to his ultimate demise. And Detour's femme fatale, Vera (Ann Savage), is quite possibly the most unapologetic of femme fatales in all of film noir. Vera is stripped of any self-explanation, any personal backstory. She is purely evil, seemingly for the sake of being evil.
Roberts does pose one problem as a straight film noir protagonist. He narrates the film and thus guides the viewer through these nightmarish events. However, his reliability must be called into question. Throughout the film, Robert's morbid sense of self-pity is at the forefront. Even in the nightclub, he wallows in his misfortune, complaining about his poverty but scoffing at generous tips. When Haskell dies, Roberts never thinks to investigate the nature of the pills he had been taking or whether he had died before striking his head. Here Roberts reveals his masochistic tendencies, subjecting himself to humiliation. His self-pity requires a scapegoat, and that scapegoat is the cruel hand of fate. The police would never believe how Haskell died. Cruel fate or "some mysterious force can put the finger on you or me for no reason at all." Roberts narrates his perverted view of the story, but in truth, his own decisions lead to his downfall.
Detour
is the epitome of filmmaking on the cheap, shot with an extremely low budget on a tight schedule. Despite its setbacks, the film manages to depict a distinctly noir world of unglamorous nightclubs, paranoia, and boundless guilt. Whether the fault of fate or poor decisions, no characters are innocent. Ulmer's surreal nightmare ultimately leaves no stone unturned, no one blameless. Detour is truly one of the most frank portrayals of the harsh world of film noir.