Synopsis: In Disney's Christopher Robin movie, a working-class family man, Christopher Robin, encounters his childhood friend Winnie-the-Pooh, who helps him to rediscover the joys of life.
Release Date: August 3, 2018 MPAA Rating: PG-13
Genre(s): Animation, Adventure
Disney's Christopher Robin (2018) Film Review
A Dark Look At the Hundred Acre Wood, Disney's Christopher Robin Movie Is for Adults Craving Nostalgia

Have you ever wondered what happens when the imaginative human protagonists in children's movies grow up and grow out of their wide-eyed wondrous ways? That is the concept that is explored by Christopher Robin.
Christopher Robin sees the title character (Ewan McGregor from T2 Trainspotting and Miles Ahead) as an adult, working as an efficiency expert at a luggage company and living with his wife, Evelyn (Hayley Atwell from the Captain America/The Avengers movies), and daughter, Madeline (On Chesil Beach's Bronte Carmichael), in London. He disappoints his daughter and angers his wife when a last minute work assignment forces him to miss a family weekend getaway.
Meanwhile, his childhood companion, Winnie the Pooh (the voice of Jim Cummings, who has been voicing Pooh since the eighties), wakes up one day to find that all of his friends in the Hundred Acre Wood are missing. Not knowing what else to do, Pooh pops through the tree house and tracks down Christopher Robin in London, hoping that his old best friend can help him find the rest of his pals. But Pooh winds up helping Christopher Robin find a few things that he is missing as well.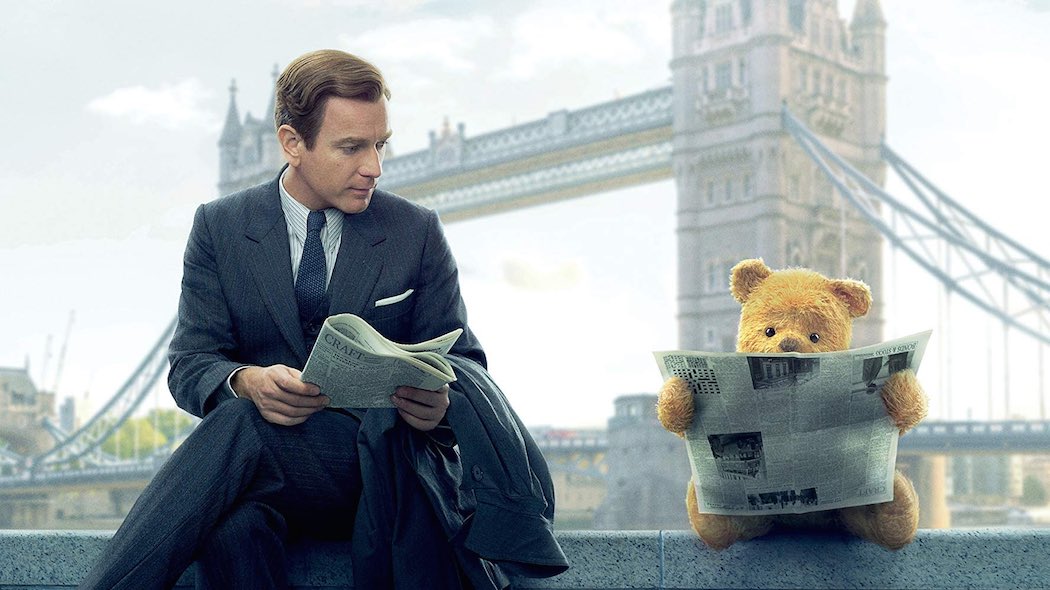 There were a lot of pens in the ink while the script for Disney's Christopher Robin movie was being written, which probably explains the movie's episodic structure. The screenplay was written by Alex Ross Perry (Nostalgia), Tom McCarthy (Spotlight), and Allison Schroeder (Hidden Figures) from a story by Greg Brooker (Stuart Little) and Mark Steven Johnson (Jack Frost), all of course using the classic characters created by A.A. Milne and Ernest Shepard.
Director Mark Forster (World War Z, All I See is You) tries to make some sense out of the scattered narrative in Disney's Christopher Robin movie, but the plot lacks any real story arc, so the whole thing winds up feeling like it was culled together from a bunch of episodes of a television series that were crammed into a feature film.
Christopher Robin has its moments. It's fun to see the old Winnie the Pooh characters, especially in this new live-action/animation hybrid. And the anthological structure does allow the Hundred Acre Wood gang to hit the streets of London in a Peter Rabbit-like adventure. But most of the movie seems like it's trying to ride the coattails of the wonderful Paddington movies, only without any of the charm and wit.
Overall, Disney's Christopher Robin comes off as a cash grab that tries to capitalize on one of the studio's most beloved IPs. And it's not even subtle about it.
For a Winnie the Pooh movie, Christopher Robin is surprisingly dark, both stylistically and thematically. Once Pooh loses his friends, the Hundred Acre Wood becomes a desolate and dreary place, with low hanging mist and dead trees everywhere.
Christopher Robin's adulthood adds an extra layer of seriousness to the film, as he has completely forgotten what it's like to be a child and has become one of "them." The childlike wonder of the classic Pooh movies isn't present in Christopher Robin at all, so it's not really a movie for kids. It's more like a movie for adults who are looking for a shot of nostalgia.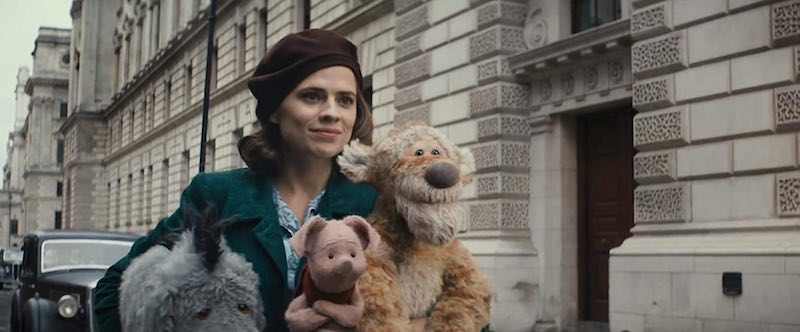 After last year's disappointing Goodbye Christopher Robin, it seemed like there was nowhere to go but up when it came to Winnie the Pooh movies. And someday, Disney will make a good one again. But Disney's Christopher Robin movie is not it.

Disney's Christopher Robin Movie Brings Pooh Bear and the Gang to Vibrant Life
The best element in Disney's Christopher Robin is easily the animation. The movie is full of the same kind of seamless combination live action and computer-generated animation that has powered every modern Disney flick from The Jungle Book to Pete's Dragon.
Pooh and his pals are crafted in a way that really looks like they're stuffed animals that have come to life, and not in a creepy way. They're really cute. The voices help give them personality as well, with versatile actors as talented and varied as Finding Dory's Brad Garrett (Eeyore) and Morgan's Toby Jones (Owl) providing the character dialogue. It's great seeing new interpretations of old favorites like Piglet and Tigger, because despite being 3D renderings, the characters are still familiar and recognizable.
While he's not quite as charismatic as the lead bear in Paddington, the Tubby Little Cubby All Stuffed With Fluff in Christopher Robin is the smartest reason to see the movie. Willy Nilly Silly Old Bear…
Cast and Crew
Director(s): Marc Forster
Producer(s): Kristin Burr, Brigham Taylor
Screenwriter(s): Alex Ross Perry, Tom McCarthy, Allison Schroeder
Story: Greg Brooker and Mark Steven Johnson
Cast: Ewan McGregor (Christopher Robin), Hayley Atwell (Evelyn Robin), Bronte Carmichael (Madeline Robin), Mark Gatiss (Giles Winslow), Oliver Ford Davies (Old Man Winslow), Jim Cummings (Winnie the Pooh/Tigger), Brad Garrett (Eeyore), Nick Mohammed (Piglet), Peter Capaldi (Rabbit), Sophie Okonedo (Kanga), Sara Sheen (Roo), Toby Jones (Owl)
Editor(s): Matt Chesse
Cinematographer: Matthias Koenigswieser
Costume Designer: Jenny Beavan
Casting Director(s): Lucy Bevan
Music Score: Jon Brion and Geoff Zanelli
Country Of Origin: USA