Synopsis: NSA employee Edward Snowden leaks thousands of classified documents to the press.
Release Date: September 16, 2016     MPAA Rating: PG-13
Genre(s): Biography, Drama
Film Review

In recent history, few figures have been as polarizing as National Security Agency whistleblower Edward Snowden. Some feel he is a patriot, while others consider him a traitor. In Snowden, writer/director Oliver Stone (Platoon, Born on the Fourth of July) makes it clear which side of the fence he is on.
Snowden begins in 2013 with Edward Snowden (Joseph Gordon-Levitt from Looper and The Dark Knight Rises) meeting film director Laura Poitras (Melissa Leo from Prisoners and The Big Short), reporter Glenn Greenwald (Zachary Quinto, better known as Spock from the Star Trek reboots), and newsman Ewen MacAskill (The Grand Budapest Hotel's Tom Wilkinson) in Hong Kong and agreeing to sit down for a tell-all interview that would become Poitras' riveting 2014 documentary Citizenfour. Already a fugitive, Ed essentially spills the story of his entire career, from his short stint in the Army, through his early work with the CIA, and right up to his calling out of the shady cyber-surveillance that he was asked to do as part of the NSA. Through the framework of the fictionalized production of the documentary, Snowden flashes back to all of the important and pivotal moments in Ed's adult life, both personal and professional.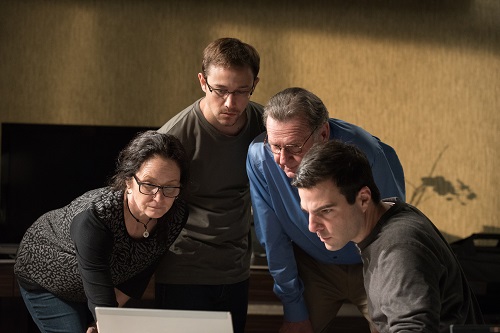 Oliver Stone co-wrote the screenplay for Snowden with Kieran Fitzgerald (The Homesman), using two different books as references: "The Time of the Octopus" by Anatoly Kucherena and "The Snowden Files" by Luke Harding (Harding also wrote "WikiLeaks: Inside Julian Assange's War on Secrecy," upon which The Fifth Estate was based). Snowden is quite obviously the hero of this particular version of the story, and Stone crafts a convincing narrative of his patriotism and martyrdom. Of course, because he's Oliver Stone, the opinion is strong, but Snowden is more watchable than many other Stone movies, say for example JFK, because it's not nearly as long winded. Snowden is a two hour and fifteen minute movie that feels like a mere ninety.
There are two stories that run parallel to each other in Snowden – that of Ed's professional life and that of his personal. Ed makes it a point to keep them separate, and for the most part, so does Stone, but Stone uses the voyeuristic aspects of Ed's relationship with his longtime girlfriend, Lindsay Mills (Shailene Woodley from White Bird in a Blizzard and Divergent), to illustrate the invasion of privacy that is at the center of the film's message. By letting the audience in on every little argument and conversation, every little hug and kiss, Stone shows them what they shouldn't be seeing, thereby creating a microcosm for the whole world under NSA watch. It's a sneaky-yet-powerful way for Stone to drive the point of his film home.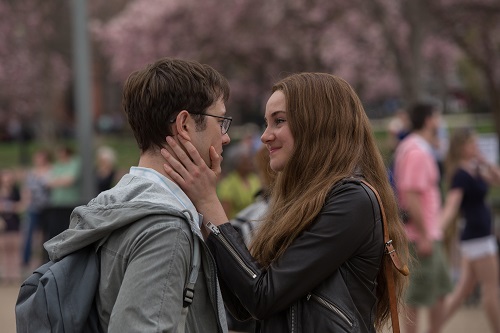 Opinions on Snowden are going to vary greatly, depending on the viewer's point of view. Those who see Edward Snowden as a villain will think that the film glamorizes him too much, while those who think that he's a hero will celebrate the movie for thinking so, too. Either way, Snowden explains very well the "why" behind what Snowden did. The general theme of the film is summed up rather nicely in a quote from a conversation between Ed and his CIA mentor, Corbin O'Brian (Rhys Ifans from Anonymous): "You don't have to agree with your politicians to be a patriot."

Oliver Stone and cinematographer Anthony Dod Mantle (Slumdog Millionaire, 127 Hours) use the photography to tell the story in some really genius ways in Snowden. It was shot digitally, which gives the whole thing a hi-tech gloss, but there's still enough camera motion and fluidity to inspire the type of paranoia and unsettledness that a movie like Snowden should. The scenes of Ed and Lindsay are particularly well-crafted; as stated earlier, these scenes function to humanize the invasion of privacy aspect of the film, so they're made up of uncomfortably close shots and are built with heavy crisscrossing angles, the viewer literally feeling as if they are spying on the couple. Dod Mantle further heightens the visual symbolism by obscuring the images in several scenes with smoke, fog, or mist, subliminally telling the viewer that the wool is being pulled over their eyes. Okay, so some of these things may be accidental, but the bottom line is that the cinematography in Snowden is impressive, both artistically and technically.
Cast and Crew
Director(s): Oliver Stone
Producer(s): Moritz BormanEric KopeloffPhilip Schultz-DeyleFernando Sulichin
Screenwriter(s): Oliver StoneKieran FitzgeraldAnatoly Kucherena
Story: Luke Harding
Cast: Joseph Gordon-Levitt (Edward Snowden)Shailene Woodley (Lindsay Mills)Melissa Leo (Laura Poitras) Zachary Quinto (Glenn Greenwald)Tom Wilkinson (Ewen MacAskill)Joely Richardson (Janine Gibson)Nicolas Cage (Hank Forrester)Robert Firth (Dr. Stillwell)
Editor(s): Alex Marquez
Cinematographer: Anthony Dod Mantle
Production Designer(s):
Costume Designer: Bina Daigeler
Casting Director(s): Lucy BevanMary Vernieu
Music Score: Craig Armstrong & Adam Peters
Music Performed By: 
Country Of Origin: USAGermany