When it comes to slasher movies, there are two generally accepted truths. First, it was films like Psycho
and Peeping Tom that pioneered the genre in the early sixties. Second, the golden age of the slasher movie was ushered in by such highly influential films such as Halloween
and Friday the 13th in the late seventies. Released just two short years before Halloween, in 1976, an obscure British film called Schizo
predates the golden age, and therefore can lay claim to being the missing link between Psycho and Halloween.
After a laughably inaccurate definition of schizophrenia delivered via voiceover, Schizo begins with a factory worker named William Haskins (Jack Watson from Peeping Tom and Blood Beast from Outer Space) in North-East England reading a newspaper and learning about the impending nuptials of a famous figure skater named Samantha Gray (Lynne Frederick from Phase IV and Voyage of the Damned) to a businessman named Alan Falconer (The Great Escape's John Leyton). He promptly throws some clothes into a suitcase, tosses in a big knife and a broken glass, and sets off for the wedding. When he arrives and Samantha sees him, it triggers repressed memories in her; she knows the man, but can't quite place his face. At first his stalking is relatively harmless, limited to crank phone calls asking for someone else or putting a bloody knife in place of the real one on her wedding cake stand. Neither Alan nor her friends believe that she is being threatened, even when the people around her start to die in brutal and mysterious ways. As the bodies start to pile up, Samantha learns how she knows William…and how he is linked to her secret past.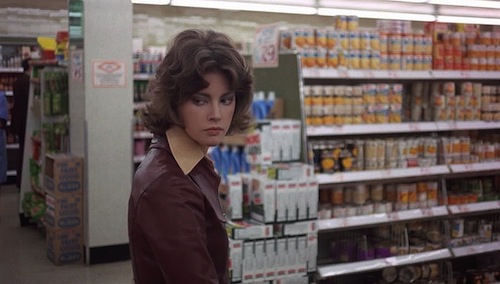 Director Pete Walker was mainly known for making sexploitation films with titles like School for Sex and The Flesh and Blood Show. Schizo is one of his later films and, although it does have its share of pointless nudity (which only solidifies its place as an early slasher film), it is more of a pure horror film than Walker's earlier work. The script was written by David McGillivray (Terror, Evil Heritage) and Murray Smith (Bear Island), both of whom had written for Walker before. Both the look and the feel of Schizo is decidedly British, yet the film would go on to influence American horror movies for years.
Although it seems at first to be highly derivative, it's clear that Schitzo is not Psycho. Both films have a two-syllable psychiatric abbreviation for a title and both deal with deranged murderers with mommy issues. Schizo even features a tribute to the famous shower scene from Psycho. However, that is where the similarities end and where Schizo shifts from Psycho
to Halloween. While Hitchcock's masterpiece is a well crafted, highly suspenseful tale with one of the most shocking endings in film history, Schizo is a more traditional slasher, opting for higher body count over meaningful murders, with an ending that is telegraphed from the very beginning…or even before the beginning, if one pays careful attention to the title of the film. As predictable as it is, Schizo is still a bloody good time.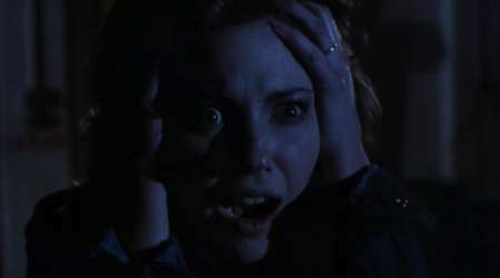 Speaking of blood, the makeup effects in Schizo are just ahead of their time. The killings are brutal and gory, featuring everything from throat slashing to eye impalement. And Walker shows it all…he and makeup artist George Partleton (A Clockwork Orange, The Masque of the Red Death) are not shy with the blood, creating a visceral experience worthy of Walker's earlier exploitation films. The effects are very Tom Savini-esque, a style that would come to be revered in the eighties. Considered gratuitous in their time, the blood and gore scenes in Schizo are par for the course when compared to the slasher movies that would follow.
The music in Schizo is also a precursor to the golden age of slasher movies. Composed by Stanley Myers (The Deer Hunter, The Witches), the score is mostly electronic, falling somewhere in between Wendy Carlos' moog synthesizers of The Shining and Harry Manfredini's eerie sound effects-like drone of Friday the 13th. The creepy simplicity of the score is both shocking and subtle, and the sound is one that would be imitated by countless films throughout the eighties. All good slasher films usually boast a good soundtrack, and Schizo is no exception.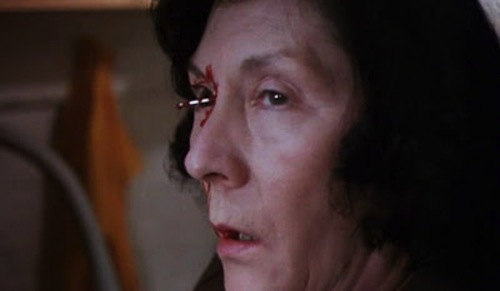 There are some really fun supporting cast players in Schizo. Samantha's best friend, Beth, is played by minor-league scream queen Stephanie Beacham (Dracula Today, …And Now the Screaming Starts). Samantha's psychiatrist, Leonard Hawthorne, is character actor John Fraser from Roman Polanski's Repulsion. Trisha Mortimer (Frightmare, London Voodoo) and Queenie Watts (Poor Cow) are cast as a psychic medium and her mother at a séance that Samantha attends in an effort to find some answers. While Schizo is completely Lynne Frederick's show, she gets a lot of help from her friends.
The golden age of slashers would end up flooding the market with knife-weilding and axe-swinging killers, some more memorable than others. While Psycho is generally credited with starting the trend, Schizo
deserves a place at the table of slasher influences as well.