The Coen brother's films frequently share film noir's basic philosophical assumptions: power corrupts all, evil is pervasive, and fate cannot be controlled or avoided. Their films illustrate this philosophy through stories of simple people with complex problems. These characters are tempted by greed and corruption and ultimately begin a downward spiral that can only result in disaster in this fate-driven world. The characters most susceptible to this greed are ill-fated noir losers. Continuing the discussion of the noir loser archetype in the Coens' films, Fargo's Jerry Lundegaard is the best example of a man utterly incapable of stopping the onslaught of destruction resulting from his own corrupt decisions. Poor financial plans, fudging the books at his car dealership, and some really bad luck prove to be the downfall of Lundegaard. After the surreal Barton Fink, the Coen brothers depict a noir loser who in his first foray into crime jumps in far too deep and loses all hope of controlling his situation in Fargo.
"The noir loser is initially an innocent man whose life is marked by a lack of great expectations. Given the opportunity, he will abandon his mundane former life and morals to pursue wealth, success, or women – whatever seems more inviting than his current world. This noir loser succumbs to the manipulations and seductions of lying femme fatales and disregards, even denies, the reality of this manipulation. It should be noted that the noir loser would seemingly live an ordinary life, free of stress and danger, were it not for his decision to attempt to change his lot in life."¹
Fargo begins with Jerry Lundegaard (William H. Macy), a bumbling car salesman in serious financial trouble, meeting with misfit criminals Carl Showalter (Steve Buscemi) and Gaear Grimsrud (Peter Stormare). To extricate himself from the financial pickle he is in, Lundegaard has devised a plan to hire these criminals to kidnap his wife, Jean, and blackmail her father, a callous millionaire, for $80,000. As per their agreement, they do all this in exchange for an Oldsmobile and half of the ransom money. Lundegaard actually plans to tell his father-in-law that the ransom is $1,000,000, thereby keeping almost all of the money to himself and covering his enormous debts. Unfortunately, the kidnapping goes awry, and Showalter and Grimsrud are forced to resort to extreme violence a total of three times. On the case is Marge Gunderson (Frances McDormand), a very pregnant police detective, who tries to connect these three homicides. Lundegaard's questionable dealings at the dealership eventually lead Gunderson to confront the nervous louse who panics and ruins everything.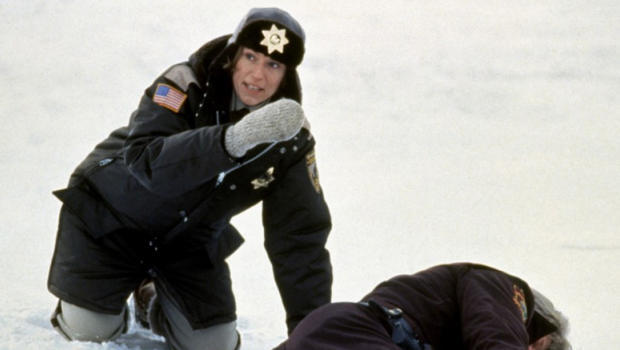 In Fargo, the Coen brothers' noir loser wants money to settle his debts but is foiled by a very capable, persistent cop and, most importantly, his own ineptitude. Our first impression of Jerry Lundegaard is of a man very unsure of himself, a bag of nerves to say the least. When we first see Jerry, he is meeting with his hired criminals in a dingy bar in Fargo. He has gone so far as to hatch this knuckleheaded plan to kidnap his wife for ransom money, but he is by no means a confident mastermind. In the bar, Jerry is anxious and visibly frightened of his hired guns who from the start take him off guard and even criticize his scheme. This is clearly a common theme in Jerry's life – he is constantly being put down, undervalued, and disrespected by strange criminals and his own father-in-law. Jerry resorts to this ridiculous plan in the first place because he knows his father-in-law would never give him the money willingly. It is important to note in a discussion of Jerry's character that while kidnapping and murder are firsts, and extremes for him, he needs this money to cover large debts whose origins are never explained to the viewers. Jerry could be a gambler or a money launderer, but no matter where his debts come from, it is clear that he is not an innocent victim of circumstance. That being said, he does not help himself by getting in over his head in kidnapping, murder, and blackmail.
Jerry Lundegaard may be a fool who somehow found himself in serious debt, but he is a great example of a noir loser motivated by greed, incapable of feeling remorse for his actions. Throughout the film, Jerry seems untroubled by all that he is doing and orchestrating. He asks his father-in-law for $1 million in ransom money, yet we discover that his debts and wrongdoing can be covered up with a mere $320,000. What is at fault here is Jerry's logic and sense of morality. Effectively, his actions follow a pattern of doing wrong to avoid the shame of his actions being discovered. He has terrible financial troubles, so he plots to ransom his wife for money to cover up his debt and erase his wrongdoings. Jerry's actions may be devoted to avoiding public shame, but Jerry's behavior and emotions are never affected by his remorse. The money is clearly a strong incentive for him to ignore his feelings. Consider that Jean has been kidnapped, and Jerry is completely unaware of her welfare. The only person in the film to express worry on her behalf is their son, Scotty. Entering Scotty's room with an unconcerned grin on his face, Jerry is humiliated when he sees his son's tearful concern for his mother and realizes just how much he has harmed his family. Even this, however, is not enough to change Jerry's behavior. When confronted with his idiocy here, Jerry's head drops and his eyebrows rise in unspoken assent, but he is in too deep to stop this ridiculous scheme that is now completely out of control.
Jerry Lundegaard is an uber-loser and a classically greedy noir loser. He is a nervous, unsure car salesman with a misplaced sense of right and wrong who falls victim to extreme greed at the expense of his family's well-being. Jerry's lack of remorse for his actions makes him one of the least likable Coen losers. This spineless character doesn't seem like the best of husbands or fathers, but he could certainly never be characterized as a bad man. Jerry simply succumbs to his own weakness and grasps for a solution to his financial troubles, no matter the cost. Ultimately, Jerry's ineptitude – coupled with that of criminals Carl and Gaear – causes his scheme to lose all viability as Jerry's greed and desperation spirals out of control.
¹Original Source: Touch Of Noir: The Noir Loser Loses His Mind In 'Barton Fink'.