Synopsis: A single mom tries to break free from a mysterious organization that has abducted her.
Release Date: April 28, 2017     MPAA Rating: PG-13
Genre(s): Horror, Sci-Fi
Film Review

Fifteen years ago, director Steven Shainberg shocked the pre-Fifty Shades of Grey world with his BDSM tale Secretary. Now, he's back to try and shock again with Rupture.
Rupture is about a single mother named Renee Morgan (Noomi Rapace from Prometheus) who gets a flat tire one morning. She is assisted by a pair of good samaritans – who promptly abduct her and take her to a fortified medical facility where experiments are carried out on her by a group of unconventional scientists. As the procedures get more intense, Renee understands that he abduction was not random; she was picked for a reason, and she must use her cunning to escape before the makeshift medical staff can hurt her any more.or do worse.
The setup for Rupture is great, and it leads to a very engrossing first third of a movie or so. With the stalking and abduction of Renee, Shainberg and screenwriter Brian Nelson (Devil, Hard Candy) skillfully craft a hook that really pulls the audience in with both hands. And that makes it all the more disappointing when it doesn't go anywhere later.
Once Renee is face to face with her imprisoners, an anonymously motley crew that includes Peter Stormare (22 Jump Street), Michael Chiklis (Fantastic Four), Lesley Manville (Maleficent), Ari Millen ("Orphan Black"), and Kerry Bishé (Grand Piano), Rupture gets repetitive, with Renee constantly trying to find ways to outsmart her captors in between bouts of predictably horrifying and torturous experimental procedures. At one point, the frustrated Renee shouts out "what the f*ck do you want from me?" And the audience wants to know, too.
But answers are few and far between in Rupture. All that's there is more questions. But it's not like something like Martyrs, where the confusion is part of the film's appeal and the viewer is on a conveyor belt leading them to a huge revelation. Rupture is maddening in how it keeps the viewer in the dark, and not in a good way. It feels like it's purposely holding back information to get the viewer to stick around, but the eventual payoff isn't worth the commitment.
At first glance, Rupture looks like a torture porn movie, something like Saw or Hostel. And the potential for that is there, but it's a very clean and tidy version of it. While it's not a complete waste of time, the second half of Rupture doesn't deliver on the promise of the first. And that's a shame, because the first half is really good.

While there aren't a lot of scream-out-loud scares in Rupture, there is plenty of creepy and kooky, mysterious and spooky stuff that goes on. The abduction is terrifying in its realism, with Renee singled out and brutally kidnapped by the enigmatic group who won't tell her where she is or why she's there. Some of the experiments that they perform on her cater to her darkest phobias, so they get kind of skin-crawling as well (hint – they involve spiders). Most of the fear that audiences will feel from Rupture will be more of a sense of unsettledness and unease rather than being derived from volume-oriented jump scares, and that's refreshing. While Rupture isn't the most horrifying movie of the year, at least it's not full of cheap scares.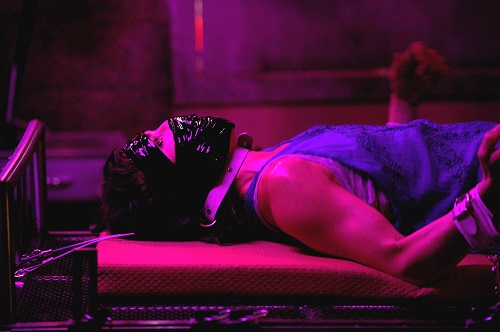 Cast and Crew
Director(s): Steven Shainberg
Producer(s): Monika BacardiAndrea IervolinoAndrew LazarSteven ShainbergChristina Weiss Lurie
Screenwriter(s): Steven ShainbergBrian Nelson
Story: 
Cast: Noomi Rapace (Renee)Peter Stormare (Terrence)Kerry Bishé (Dianne) Lesley Manville (Dr. Nyman)Michael Chiklis (Bald Man)Ari Millen (Dr. Raxlen)Sergio Di Zio (Van Driver)Paul Popovich (Cliff)Joel Labelle (Captive Man)Morgan Kelly (Tommy)Percy Hynes White (Evan)Jean Yoon (Colette)
Editor(s):
Cinematographer: Karim Hussain
Production Designer(s):
Costume Designer: Linda Muir
Casting Director(s): Tiffany Little CanfieldBernard Telsey
Music Score: 
Music Performed By: 
Country Of Origin: USACanada