In director Till Schauder's documentary, The Iran Job, American basketball player Kevin Sheppard travels to Iran in 2008 and joins the Iranian Super League, Iran's equivalent to America's National Basketball Association. Although Kevin's professional career has been spent overseas playing in countries such as Brazil, Venezuela, Spain, China and Israel, living in Iran initially makes him very nervous. His worry, shared by his parents and his girlfriend back home, is warranted considering Iran's reputation of being one of the world's most feared countries, a safe-haven for Islamic terrorists, and suspect of being in constant development of nuclear weapons.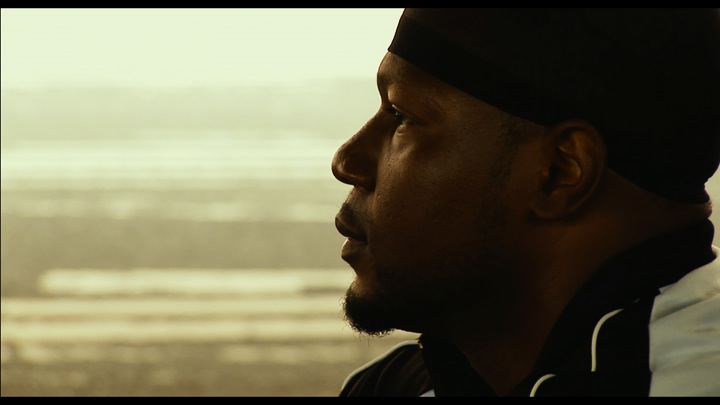 From the very beginning of the film director Till Schauder establishes America's rocky relationship with the foreign country via old press conference footage of former President George W. Bush and Senator Hilary Clinton condemning president Ahmadinejad's calling for the destruction of Israel. Schauder also films various Iranian neighborhoods with huge anti-American street art displayed upon their walls. As if living in an "enemy" state isn't nerve-wracking enough, Kevin is being paid more than any other player to ensure the first year team, A.S. Shiraz, makes it to the playoffs.
Despite the tense political background, Till Schauder is able to keep the tone of the film relatively light. This is due in part to much of the narrative being set up like a traditional underdog sports movie with team A.S. Shiraz being completely terrible at first, then through practice and perseverance they win their way to the top. Unfortunately, the sports aspect of the story is typical and not filmed with enough classic Hollywood flash to build any kind of drama or suspense.
A series of introductory graphics and especially some catchy Iranian rap do what they can to help fill the dull rhythmic holes, but in the end none of the team's victories are ever truly felt by the viewer. The cliche plot line is a minor problem though, in that The Iran Job is about much more than whether or not a basketball team ends up winning.
The strength of the movie comes from Kevin Sheppard himself and the relationships he develops during his stay in Iran. Kevin has more than enough humor, heart, and charisma to carry the documentary from beginning to end. His welcoming attitude allows him to get along with local merchants as well as doctors very easily and in the process their interactions provide the documentary with the necessary entertainment it needs. The Iranian residents tell Sheppard that they like Bob Marley, that they've smoked marijuana, and now that Obama is president he should paint the White House black. Kevin simply laughs off the racist innuendo and takes it all as a compliment with the statement, "they love black people." And as assigned captain to A.S. Shiraz, his teammates find that they are comfortable communicating their relationship woes and aspirations to him. At a restaurant they bond over their preferences in women, divorce, and of course the struggle to not let any of those things interfere with their level of play on the court. It is through Kevin that we are able to see the Iranian people in a perspective other than the vilified lens the news media usually filters the country through. They are not terrorists, but normal people who laugh and cry like any other human being.
This humanity is put on display to full effect through the relationship Kevin develops with three Iranian women: Elaheh, Hilda, and Laleh. Like his teammates, these three women are attracted to Kevin's open-mindedness and find it easy to confide in him their dissatisfaction with the Iranian culture. Beginning with an apartment Christmas party Kevin throws and then several subsequent visits, it is through these three women that the audience gains the most enlightenment.
A few cultural differences include alcohol being illegal as well as kissing in public. As far as women's rights are concerned, they are valued at half that of a man's. Women can vote, but they can never be president. Elaheh, Hilda, and Laleh all confess to hating the old traditions, to it being illegal to not having their faces covered at all times, to having arranged marriages still taking place, and to being separated from the men when watching a live sporting event. If caught in a man's apartment, women may even be imprisoned or beaten. Through these women the film succeeds most, breaking our hearts with their experiences and providing the outsider with a wealth of eye-opening information.
Making up for its shortcomings as an exciting sports movie, Till Schauder's The Iran Job does succeed at being an informative documentary that gives its audience a new perspective on the Iranian people instead of focusing solely on the negative worldview of the country's politics. They too are people dissatisfied with their government, people who love to joke around, dream of becoming famous actors, lustily longing for love, and of course there are those crazy for basketball. Schauder was brave to secretly film this movie while acting as a German tourist and the three Iranian women were even more courageous considering the consequences of what could happen to them if the movie were to be viewed by the wrong government officials. The risks would be in vain if the movie did not have something to say. Thankfully, those looking for intriguing insight delivered in a relatively light package should seek this one out in that Till Schauder has documented an experience well worth anyone's time with The Iran Job.
For more information on The Iran Job visit the film's official website: http://www.theiranjob.com/. The Iran Job opens in Los Angeles on September 28, 2012 at Laemmle Theatres and in New York City on October 12, 2012 at the IFC Center.
THE IRAN JOB_11.14.1 from sara nodjoumi on Vimeo.
Support the theatrical release of The Iran Job on KICKSTARTER.