Synopsis: Native American warrior Tonto (Johnny Depp) and man of the law John Reid (Armie Hammer) are opposites brought together by fate and must join forces to battle greed and corruption.
Release Date: July 3, 2013     MPAA Rating: PG-13
Genre(s): Western, Action
Film Review
Production
Director Gore Verbinski's first hand at a western came in the form of the animated Rango. His action-adventure franchise Pirates Of The Caribbean produced a worldwide phenomenon and a hefty payday for Disney. Given the reigns to the iconic "The Lone Ranger" story, hopes were high for Verbinski's latest outing with Johnny Depp as Tonto and Armie Hammer as the Lone Ranger. It may not be the worst movie you'll ever see, but it's sure to be one of the dullest.
The beginning of The Lone Ranger finds Tonto old and tattered, playing "The Noble Savage" in a carnival in the city of San Francisco, during the time the Golden Gate Bridge is being built. A young boy wanders in to see the history exhibit and Tonto comes alive to tell the story of the adventure he and the Lone Ranger had together. Its a bit convoluted, as Tonto is old and forgetful, but the boy keeps him in line. He's still got the dead bird on his head that he feeds, so some things never change as you will soon learn.
The story takes us back to 1869 when the Transcontinental Railroad was being built across the country, namely Texas in this case, headed out West. The greedy White Man, led by Cole (Tom Wilkinson) wants to strip the Indians of their land to expand the railroad while pilfering the silver from the land as well to make himself rich. That part of the movie is a decent piece of historiography, if you don't think about it longer than a minute. Then there's the other part of the story, where an evil savage killer, who presumably eats the body parts of those he kills, is on the loose–Butch Cavendish, played to creepy perfection by William Fichtner. The Lone Ranger and Tonto, two unlikely allies who don't particularly like one another or have a great deal of respect for each other, either, bind together to restore balance to nature by ridding the world of these evils, aptly called wendigos.
The Lone Ranger
plays out like an animated film on more than one occasion. Its got improbable action scenarios and stunts, and one right off at the beginning that is beyond your disbelief–Tonto and the Lone Ranger should both be dead. The entire movie is reminiscent of a Wile E. Coyote cartoon, where multiple death-inducing acts happen to the main characters yet they come out alive in the end.
The Lone Ranger
is not meant to be rooted in reality, and it is this that keeps it watchable even as very little excitement is ever happening. There is something gripping you along, besides the hope that things will get more interesting than Helena Bonham Carter's Madam Red Harrington's ivory leg that shoots bullets. Why her character exists otherwise is beyond me.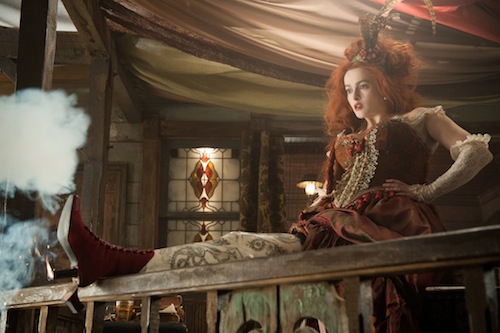 Tonto and the Lone Ranger will run into problems, have trains explode, try and save the Lone Ranger's sister-in-law, and possible future wife, as well as stop the war between the Indians and the White Men. There is so much there that could have happened with great action, suspense, and heightened drama. It never gets there until the very end when the epic showdown occurs and all hell breaks loose in the West. The other 2 hours of the movie can't even be considered build-up as the minutes just mosey along while Tonto and the Lone Ranger get themselves into and out of various predicaments or more layers to an already thick plotline are tacked on one after another.
The Lone Ranger
lacks a consistent vision and tone, and the talents of Armie Hammer and Johnny Depp can't save it from being a complete bore most of the time.
Action Sequences
The final climactic battle between Tonto, the Lone Ranger and ALL of the bad guys in The Lone Ranger is great. It's also a good thing as it wakes you up so you can drive home safely afterward. The rest of the movie, well, it's slow and daunting aside from a few scattered gunfights or abnormal death sequences. The amount of death in The Lone Ranger is actually shocking, especially since it will undoubtedly be marketed at children for a good-old-fashioned comedic western. Every little boy or girl dreams of being a cowboy/cowgirl at some point in their lives, right? Maybe not so much anymore but regardless, there is a great deal of death and dark undertones in The Lone Ranger.
Instead of fast-paced action and adventure, you get murder, rape connotations, stereotypes being used as comedic fodder and a whole lot of circumstance instead of plot. Sure, we need to know how Tonto and the Lone Ranger came to be a team but you can get past that quickly, same goes for introducing the bad guys. Keep it simple, this is a western, not an arthouse film. Viewers want a great high-flying adventure movie, not a plot so thick they can't even understand why the movie simply will not end–it just keeps adding more and more to the story, but never any better old-fashioned action.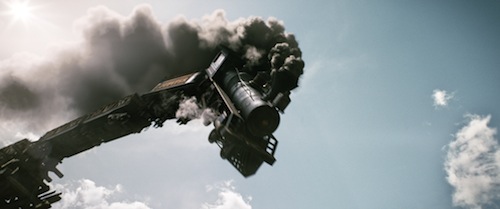 Comedy Factor
The easiest way to describe the comedic tendencies in The Lone Ranger is to recall Johnny Depp's Captain Jack Sparrow from the Pirates Of The Caribbean movies. Right from the start, with his scatter-brained gibberish, slow-moving drunkenness (albeit sober this time), and a semblance of not being completely in reality, Tonto is Jack Sparrow dressed up as an Indian. That said, if you found Jack Sparrow funny you will undoubtedly laugh at Tonto's antics, especially the jib-jab he has with the Lone Ranger and his horse, Silver. Its all rather uncanny how similar the two characters are, and given Verbinski directed Depp as Jack Sparrow it's not surprising that in this role he would merely tell him to do the same thing. When something works, you stick with it.

Yet Tonto does not have the same charm as Sparrow, perhaps because he is not drunk, but playing a possibly mentally challenged Indian (Native American would not be the PC term to use until later in history). One cannot help but laugh on occasion as he bumbles around, speaks in the very succinct, poor English sentences common to stereotypical portrayals of Indians on screen. Its all supposed to be a big joke, and it's not offensive. It's simply not very funny.
Armie Hammer's Lone Ranger doesn't add much to the comedic undertones of the film, either. Simply because he's not given many opportunities to do so. There are many scenes set-up to be hilarious, that never fulfill the hope and promise of such a thing happening. It all comes back to Jack Sparrow, and Tonto being the poor man's version of that character. It's a gamble whether or not you will laugh during The Lone Ranger, and I'm betting the majority of moviegoers will not.
Cast and Crew
Director(s): Gore Verbinski
Screenwriter(s): Justin Haythe, Ted Elliott, Terry Rossio
Cast: Armie Hammer (Lone Ranger/John Reid), Johnny Depp (Tonto), William Fichtner (Butch Cavendish), Tom Wilkinson (Cole), Ruth Wilson (Rebecca Reid), Helena Bonham Carter (Red Harrington), Barry Pepper (Fuller)
Editor(s): James Haygood
Cinematographer: Bojan Bazelli
Music Score: Hans Zimmer
Country Of Origin: USA