Mummies are some of the more unsung movie monsters, not getting as much attention as vampires or werewolves despite being a consistent fixture of horror cinema. Legendary studios like Universal and Hammer have always cranked out their numerous mummy movies and sequels, and in 1957 United Artists got into the picture when they distributed a different kind of mummy movie, a film called Pharaoh's Curse.
Pharaoh's Curse takes place in Cairo, Egypt at the beginning of the 1900s, where Captain Storm (The Big Fisherman's Mark Dana) is charged with escorting Sylvia Quentin (Diane Brewster from The Invisible Boy) across the desert to an archeological dig that her husband, Robert (Fort Massacre's George N. Neise), is overseeing.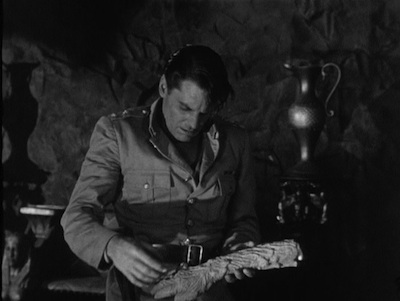 Along the way, Storm and his men pick up a mysterious woman named Simira (Ziva Shapir from Forty Guns) who offers to guide them, but things start to go missing from their expedition – important things like horses and water. Nonetheless, the group reaches Robert's camp and learns that he is on the brink of a huge discovery; he has found an Egyptian Pharaoh's tomb, and they are about to go inside, despite the warnings of the hieroglyphics on the wall. According to the scripture, the Pharaoh has an appointed protector of his tomb, and it's someone who may be very familiar to Robert and his party.
Pharaoh's Curse was directed by the legendary Lee Sholem (Doomsday Machine), a man whose reputation for efficiency earned him the nickname "Roll 'Em" Sholem. Sholem is rumored to have helmed over 1300 productions, both television shows and feature films, and never once going over budget or schedule.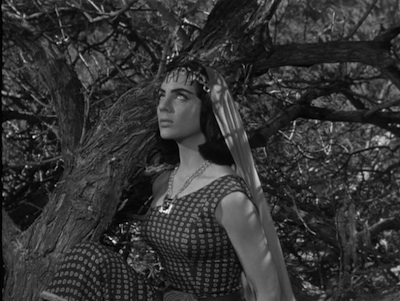 Sholem's speed and organization never took away from his competence, however, and Pharaoh's Curse is a great example of his meticulous attention to detail in his films. The story and screenplay were written by Richard Landau (The Black Hole), and it's such a remarkable variation on a theme that it can almost be considered the first revisionist mummy film. Sholem and Landau come together in Pharaoh's Curse and breathe life into a common horror subgenre.
The mummy in Pharaoh's Curse is not a typical, wrapped in bandages mummy. Its appearance is more of an ancient, withered old person and it is dressed in an Egyptian royal gown (that bears a striking resemblance to a pair of pajamas) instead of cloth wrappings.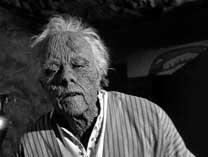 Its methods of defense are not typical of classic mummies, either; it moves slowly and deliberately, like a zombie. When it attacks, it thirsts for blood and evaporates the life force out of its victims like a vampire. Sholem's mummy is not Boris Karloff's Im-Ho-Tep; it's a creepy, crawly nightmare that would be just as comfortable in a George Romero movie as it would be in an Egyptian tomb.
Pharaoh's Curse also features a stirring score by the prolific composer Les Baxter. Having done the music for Roger Corman's Edgar Allan Poe adaptations, Baxter is no stranger to horror films. His soundtrack for Pharaoh's Curse is light on his usual jazzy tribal grooves, instead opting for a more traditional and ambitious score that showcases the composer's versatility. That's not to say that the music is completely devoid of bongos and congas, but it's much more reserved than the jungle boogie type of sound for which Baxter is famous. The score for Pharaoh's Curse is used sparsely, perfectly complimenting the film when it is needed and, in the process, putting another feather in Les Baxter's already crowded cap.
There were mummies in movies before Pharaoh's Curse and there have been mummies in movies since, but few of them have come as close to single handedly reinventing the subgenre as Lee Sholem's creation. In the crowded world of mummy movies, Pharaoh's Curse is often overlooked, but should definitely be seen.