The horror world lost one of its most influential figures earlier this week with the death of filmmaker Herschell Gordon Lewis at the age of 90. Lewis earned the nickname "The Godfather of Gore" with his bloody schlock classics like The Wizard of Gore, The Gore-Gore Girls, and A Taste of Blood. He got his start in the business by making so-called "nudie-cuties" in the early sixties, but in 1963, he found his true calling when he made his first splatter masterpiece Blood Feast.
Blood Feast is about a homicidal maniac who wanders around Miami, killing women and stealing different body parts from his victims such as hearts, tongues, and brains. The culprit is a crazy guy named Fuad Ramses (Vampire Cop's Mal Arnold) who, in addition to being a psycho killer, is also the author of a book called Ancient Weird Religious Rites and the owner of a catering company. When a woman named Mrs. Dorothy Fremont (Lyn Bolton in her only screen credit) hires Ramses to craft an authentic Egyptian feast for a party that she is throwing for her teenage daughter, Suzette (Connie Mason from Rolling Man), the cook is more than happy to oblige, seeing an opportunity to use the body parts that he has been collecting from his victims to create a Blood Feast for the Goddess Ishtar, whom he hopes to resurrect though human sacrifice. It's up to Detective Pete Thornton ("Thomas Wood", aka William Kerwin from The Strange Possession of Mrs. Oliver) to foil Ramses' plan and save the day for the Fremonts.
There are very few things in Blood Feast that Herschell Gordon Lewis did not do. Of course, he directed the movie, but that's just the tip of the iceberg. The script is credited to Allison Louise Down (Lewis' then-wife), but the auteur contributed heavily to the story. He also shot the film, did the visual effects, and provided the musical score. Blood Feast is a pure H.G. Lewis production, the first film in what fans lovingly call Lewis' "Blood Trilogy," a set which is rounded out by Two Thousand Maniacs! And Color Me Blood Red. Blood Feast essentially kicked off Herschell Gordon Lewis' over-the-top, so-bad-it's-good filmmaking career. Lewis took a mediocre script and a group of wooden actors, and turned it into a genuine work of art. The graphic depiction of violence also meant that Blood Feast became the oldest movie to find itself on Britain's Video Nasty list of films that were banned by the Video Recordings Act 1984.
The modern slasher subgenre owes a debt of gratitude to Blood Feast. Many of the tropes and stereotypes found in most of the golden age slashers can have their roots traced back to Lewis' little no-budget splatter flick. The audience knows what it's in for in the very first scene, where a woman listens to a radio report about a killer on the loose…then promptly disrobes to take a bath (and you can guess what happens to her). The killer, your basic machete-wielding madman, is revealed to the audience at the start of the film, so the police are almost comical with their incompetence, and their idiocy is exaggerated by the on-the-nose, time-padding dialogue. There is also no shortage of young, nubile female bodies to be found once Suzette's party kicks in. Psycho and Peeping Tom may get credit for birthing the modern slasher, but the one-dimensional plots and brainless dialogue of the genre bear more resemblance to good old uncle Blood Feast.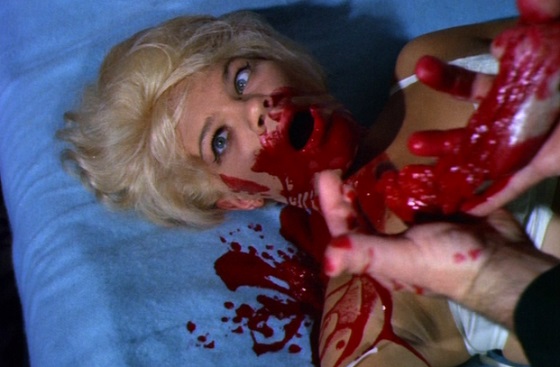 Lucky for Blood Feast, people don't go to slasher/splatter movies for the story or for the script. They want blood and guts, and Blood Feast has plenty of both. By today's standards, the visual effects are pretty bad, but Blood Feast goes for quantity over quality. In typical H.G. Lewis fashion, actual animal viscera was used to simulate human guts, so the body parts that Ramses steals from his victims look especially authentic. The murder scenes are drenched in buckets of blood, and not all of it is stage blood.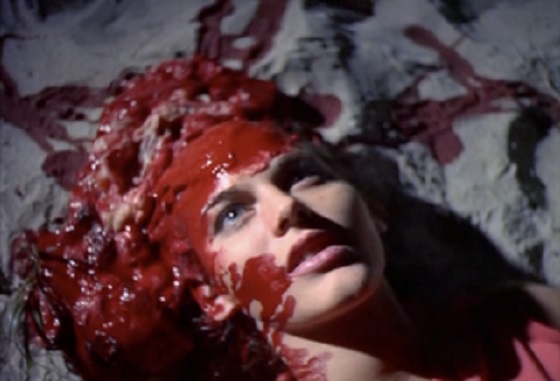 Herschell Gordon Lewis served as his own cinematographer on Blood Feast, and he made sure to shoot the film in bright and brilliant Eastmancolor so that the red of the blood would cut right through. As a result, the rest of the colors are vibrant as well, especially the greens of the summer grass and the blues of the clear Florida skies. As far as camera angles go, Lewis' repertoire was somewhat limited, with an abundance of long master shots divided up by obvious extreme close-ups, but that was part of his schtick. For as low budget as his movies were, Herschell Gordon Lewis definitely had a visual style, and that style was born with Blood Feast.
The music in Blood Feast, also provided by Lewis, is the perfect complement to the visual aesthetic of the film. Much of the score is made up of a spooky pipe organ, and it helps to undercut the stiff performances and cringe-worthy dialogue by making it comedic and campy – at one point, Ramses dramatically exclaims that he will make "an Egyptian feast!" for the Fremonts, and the line is punctuated by a funeral home-esque organ stab. The organ is joined in some scenes by a wailing trombone, and as silly as it sounds, the combination works creepily. When the action really gets going, Lewis accompanies it with the rhythmic pounding of deep-pitched kettle drums and banging percussion. The musical soundtrack is limited, but creative; basically, the score to Blood Feast is a whole lot of the same four notes, but damned if those four notes aren't effective.
Herschell Gordon Lewis retired from directing movies in 1972, but came back to make a proper sequel to Blood Feast, appropriately entitled Blood Feast 2: All U Can Eat, in 2002. As for Blood Feast itself, it received the ultimate horror badge of honor earlier this year – it received a modern remake (or a reboot, or a reimagining, or whatever you want to call it). Lewis' legacy will live on forever, not only though his own movies, but through all of the films that have been influenced by his blood-soaked visions. His passing leaves a hole in horror fans' hearts that can only be filled with blood. Lots and lots of blood.