Synopsis: A comedic blend of murder, mystery and marijuana. Trying to escape the infamy of a serial killer father, Trent Modine and his goof-ball stepbrother Joey, both seeking a new start, find refuge in the small town of Mooseheart. Joey, a complete stoner in a town known for its good weed and stories of the Candy Corn Killer, is a disaster waiting to happen. As you can imagine, it doesn't take long before the family name catches up. Trent and Joey must figure out how to sort through a string of cliché murders that so happen starts right as they arrive.
Release Date: October 18, 2016     MPAA Rating: PG-13
Genre(s): Comedy, Thriller
Film Review

Halloweed is the story of a guy named Trent Modine (Shannon Brown from Elizabeth) whose father was a recently executed serial killer called The Bridgeport Butcher. To escape the infamy of his lineage, Trent, along with his half-brother, Joey (Simon Rex from "Jack & Jill"), run off to a small town called Mooseheart where they can start new lives; while Trent plans to woo a girl named Madison (Michelle Mueller from "Family Values") whom he saw in a television infomercial, Joey sets his sights on becoming Mooseheart's kingpin marijuana dealer. Unfortunately, a killing spree credited to a murderer nicknamed The Candy Corn Killer begins right as the guys get to town. When Trent's family history is discovered, he becomes the prime suspect. Trent, Joey, and Madison have to unmask the real killer in order to clear Trent's name.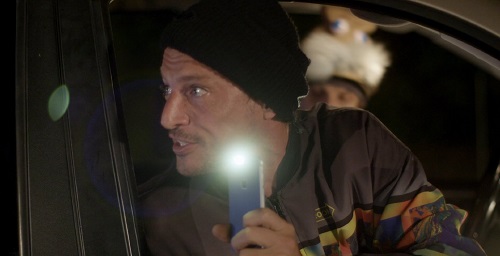 Director LazRael Lison (Private Number, Rift) has proven that he knows how to make decent, if not great, movies. So, why is Halloweed so bad? The script, written by Dale Zawada (A Big Love Story) from a story concept by Michael Bussan (whose main credit is as a producer on "The Jerry Springer Show"), is the problem. The whole story is very derivative and half-baked (excuse the pun), as if the movie was made by a bunch of people with no original ideas, but with a lot of time on their hands and a camera. And a bunch of pot. Even the dialogue sounds improvised, and not in the good mumblecore way, more like the childish "I know you are but what am I" kind of way. By the end, one is tempted to say that Halloweed gets stupid fast, but the truth is that the movie is stupid from the get-go.
The most entertaining thing about Halloweed is the cast. Not the leads, they're standardly sub-par, but the list of actors in cameos and bit-parts is incredible. Jason Mewes (Clerks, Mallrats) plays Joey's weed buddy, because of course he does. Ray Wise (Digging Up the Marrow, The Lazarus Effect) portrays a slimy politician. Tom Sizemore (Saving Private Ryan, Natural Born Killers) makes an appearance as Trent's psycho-killer father. Even Machete himself, Danny Trejo, pops in as a Mooseheart pumpkin patch owner. These guys all have relatively small roles, but the supporting cast is as good a reason as any to see Halloweed.
There's an audience somewhere for Halloweed. It all depends on whether or not they can put down the bong and the bag of Doritos long enough to remember to watch it.

Stoner humor is really only funny to stoners, and those are the only people who are going to find Halloweed funny. Luckily, the pro-pot crowd seems to be the target demographic of the movie. The style of laughs that are found in Halloweed can be summed up in a line from early in the film: "Your mama's so fat, I told her to haul ass and she had to make two trips!" There is a certain simplistic charm to the lowbrow brand of humor, but it's not the kind of comedy that holds up over time; much like a marijuana buzz, the funniness of Halloweed wears off over time.

It may take place around Halloween and there may be a serial killer-on-the-loose involved, but there is nothing scary about Halloweed. It tries to be a horror movie, perhaps a bit too hard; the killer is dressed in a creepy babydoll mask and wears froggie pajamas, and the first job Trent gets in Mooseheart is as a suicide counselor because the "haunted town" has a "sky-high suicide rate." But all of this stuff is window dressing, making Halloweed appear as exactly what it is – a parody of a horror movie. And that's fine. Just don't be fooled by the faux-horror façade, because Halloweed is not the slightest bit scary.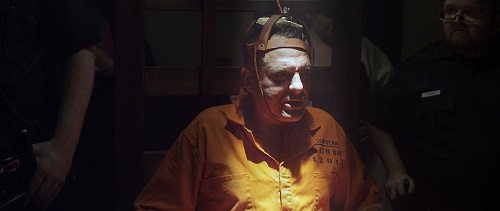 Cast and Crew
Director(s): LazRael Lison
Producer(s): Jayson BernardMichael BussanTatiana ChekhovaLazRael LisonJamie Trent
Screenwriter(s): Michael BussanDale Zawada
Story: 
Cast: Simon Rex (Joey)Shannon Brown (Trent Modine)Jim O'Heir (Mayor Price) Michelle Mueller (Madison)Jayson Bernard (Connor Price)Ray Wise (Judge Pilmington)Robert Craighead (Lloyd)Jason Mewes (Quincy)Lester Speight (Sheriff Johnson)Deja Dee (Deputy Thompson)Tom Sizemore (Vincent Modine)Danny Trejo (Patch)
Editor(s): Brady Hallongren
Cinematographer: Jamie Trent
Production Designer(s):
Costume Designer: Mikel Padilla
Casting Director(s): Tatiana Chekhova
Music Score: Alex Kharlamov
Music Performed By: 
Country Of Origin: USA