Synopsis: Zack Connors and Rachel Meadows were born with incredible psychokinetic capabilities. When word of their supernatural talents gets out, they find themselves the prisoners of Michael Slovak, a deranged doctor intent on harvesting their powers. After a daring escape, they are free from his sinister institution, but the corrupt doctor will stop at nothing to track them down so that he may continue to siphon their gifts for his own use.
Release Date: August 5, 2016     MPAA Rating: PG-13
Genre(s): Action, Horror
Film Review

Writer/director Joe Begos' first feature film, 2013's Almost Human, was a slickly competent throwback to eighties sci-fi/horror that generated a lot of fan buzz, even if the critics were a little meh about it. Begos' second movie, The Mind's Eye, continues the filmmaker's love affair with the decade of indulgence.
Set in 1990, The Mind's Eye revolves around a group of telekinetic youths who have been rounded up by a scientist named Dr. Michael Slovak (The House of the Devil's John Speredakos) and given drugs to suppress their abilities. Slovak lures a powerful subject named Zack Connors (Graham Skipper from Tales of Halloween) to his facility by letting him know that his girlfriend, fellow telekinetic Rachel Meadows (The Woman's Lauren Ashley Carter), is there and under his control. After spending three months at the lab without being allowed to see Rachel, Zack breaks out and, along with Rachel, goes on the run from Slovak. Now off of Slovak's repression drugs, Zack and Rachel slowly regain their psychic powers, but Slovak has assembled an army of psychokinetics to help track them and bring them back.
If any of that sounds familiar, it should. Joe Begos wears his influences for The Mind's Eye squarely on his sleeve. He finds unabashed inspiration in the early Brian De Palma films Carrie and The Fury and well as in Disney's Escape to Witch Mountain and its sequels. But, more obviously, Begos owes a huge debt of gratitude to David Cronenberg's Scanners. Heck, The Mind's Eye is, in a lot of ways, a retelling of Scanners, pitting telekinetics against each other in a good-versus-evil scenario where, sometimes, it's a little hard to tell which is which. Begos is unapologetic about all of this. Instead of being just another rip-off, The Mind's Eye comes off as a love letter to Cronenberg, and a very respectful one at that.
Casting familiarity of storyline aside, one thing is for sure; Begos and his producing buddy Josh Ethier know how to make movies. With Begos acting as his own cinematographer and Ethier providing masterfully slick editing, these two can pump out some technically marvelous films. Whether Begos sticks to the eighties throwback niche that he's been nicely carving for himself, or whether he branches out into other ideas, he is definitely one director to keep an eye on in the horror community.

As one might expect from a movie like The Mind's Eye, the visual effects in the film are all done in the spirit of the eighties – meaning, they're all practical applications that harken back to the days of latex prosthetics and Karo syrup. The special makeup effects were designed and created by John Ruggieri (The Purge: Election Year, Ghostbusters) and Brian Spears (Dark Was the Night, Late Phases), and they include tons of splattery killings with buckets of dripping blood. Some are run-of-the-mill deaths, like gunshots and beheadings, while others are a little more creative, such as hypodermic needle stabbings and, yes, even head explosions. Like most aspects of The Mind's Eye, the effects aren't trying to break any new ground, they're just paying tribute to the beloved techniques of days gone by. And they look great doing it.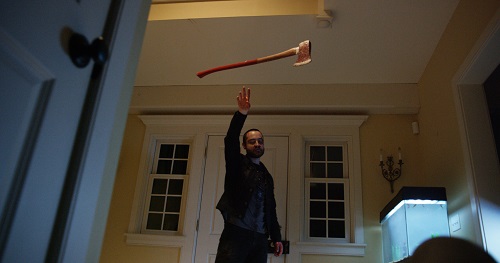 As far as scariness goes, The Mind's Eye is one-dimensional. There's not a lot in the way of jump scares, and there aren't many dread-inducing suspense scenes either. The Mind's Eye goes right for the gross out. Luckily, it does it well enough so that the viewer still ends up watching a good chunk of the movie through the gaps between his or her fingers. The main antagonist, Dr. Slovak, is a fearsome and formidable opponent for the "good guys," and his rage gets downright terrifying at times, but even that usually ends up with a gore-filled payoff. And that's fine. There's not much in The Mind's Eye that will follow the audience home after the movie, but there's enough blood and guts to keep even the most jaded horror fans happy.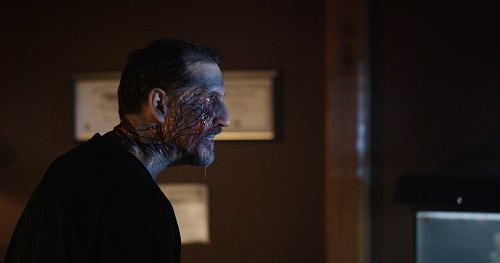 Cast and Crew
Director(s): Joe Begos
Producer(s): Joe BegosJosh EthierGraham SkipperZak Zeman
Screenwriter(s): Joe Begos
Story: 
Cast: Graham Skipper (Zack Connors)Lauren Achley Carter (Rachel Meadows)John Speredakos (Dr. Michael Slovak) Larry Fessenden (Mike Connors)Noah Segan (Travis Levine)Matt Mercer (David Armstrong)Michael A LoCicero (Kurt Thompson)Jeremy Gardner (Vince)Patrick M. Walsh (Officer Rayne)Brian Morvant (Tommy)Josh Ethier (Jim Robbins)Chuck Doherty (Gary)
Editor(s): Josh Ethier
Cinematographer: Joe Begos
Production Designer(s):
Costume Designer: Amanda Simonelli
Casting Director(s): 
Music Score: Steve Moore
Music Performed By: 
Country Of Origin: USA