In the mid-nineties, horror got very self-referential. Movies like Scream and Wes Craven's New Nightmare gave audiences a peek into a cinematic world that as aware of itself, a meta-universe that, sometimes hammily, winked and nodded at its influences and predecessors. This wasn't invented in 1994, though. In 1980, an all-but-forgotten gem called Fade to Black did it first.
Fade to Black is about a chain-smoking, movie-obsessed social outcast named Eric Binford (Dennis Christopher from Breaking Away and Chariots of Fire) who lives with his invalid Aunt Stella (Eve Brent from The Green Mile) and pays the bills by delivering film supplies for a Hollywood studio. One day, Eric meets a Marilyn Monroe lookalike named Marilyn O'Connor (Alien from L.A.'s Linda Kerridge) and falls instantly in love. When Marilyn accidentally stands him up for their first date, Eric becomes unhinged. He starts dressing as his favorite movie icons and takes his deadly revenge on the people he believes have wronged him by hunting them down in character while a psychiatrist named Dr. Moriarty (Near Dark's Tim Thomerson) and a cop named Officer Anne Oshenbull (Beware! The Blob's Gwynne Gilford) try to stop him.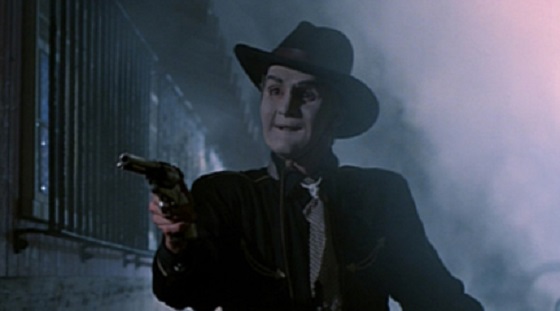 Written and directed by Vernon Zimmerman (The Unholy Rollers), Fade to Black is an ambitious movie that still manages to come off as a B-movie slasher. From a story standpoint, it's creative enough, and Zimmerman's heart was in the right place with the classic movie references (even if the intercut scenes from said movies made Fade to Black such a licensing nightmare that it was kept from home video release for years), but the inclusion of Moriarty and Oshenbull as the bumbling buddy cops and the relatively low and bloodless body count give the film a definite low-budget vibe. There's no mystery to Fade to Black, as the identity of the killer is known right from the first murder. It's more of a thrill ride than a whodunit, with no cheap twists to spoil the fun. What you see is what you get.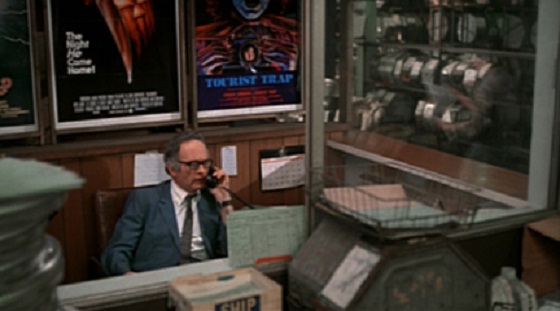 Just as one would expect from a movie about a cinema geek, Fade to Black has dozens of film references, some plain as day, others a little more subtle. Eric is constantly watching movies on his bedroom projector when he's not at work, so the spliced-in snippets are not the only glimpses of classic movies that are included in the film. Eric is also constantly quoting movies, even going so far as to imitate the actors in their roles while doing it. There are posters and marquees everywhere that show movie titles and artwork. A few references are mashed-up, as well, such as one scene where Eric re-enacts the shower scene from Psycho while dressed as Count Dracula. The meta-ness of Fade to Black is both a film lover's dream and an intellectual property licensor's nightmare.
The heart and soul of Fade to Black lies within Dennis Christopher's lead performance. Fade to Black was made in between Christopher's classic "legitimate" movies Breaking Away and Chariots of Fire, but the actor had a horror pedigree which had him starring in everything from Blood and Lace to Stephen King's It. Not only does Christopher nail the perfectly imperfect impressions of his character's movie heroes, but he injects just the right mixture of creepiness and naivety into his portrayal of the introverted and socially inept Eric Binford. By 1980, Christopher's star was on the rise and he probably could have done any movie that he wanted to do. Lucky for horror fans, he made Fade to Black, as it's difficult to imagine any other actor in the role of Eric Binford.
Besides Dennis Christopher, there are a few other familiar faces in the cast of Fade to Black, and we're not just talking the archival footage of James Cagney, Richard Widmark, and Christopher Lee. A few years before he starred in "Thirtysomething" and Children of the Corn, a young Peter Horton plays Eric's competition for Marilyn's affections. Also, a baby-faced Mickey Rourke, who would go on to star in Angel Heart and The Wrestler, shows up as one of Eric's bullying co-workers. As if that's not enough, the one and only Kathy Griffin ("Suddenly Susan") has a blink-and-you'll-miss-her appearance as an extra in the climactic scene. Dennis Christopher may have been the big draw at the time, but a handful of his Fade to Black co-stars went on to bigger and better things.
Fade to Black has wallowed in obscurity since its release, partly because of its spotty home video availability and partly because it tends to get lumped in with the usual suspects of golden age slashers. But it's more than that, and it's definitely worth a look…if you can find it.