It's been said that imitation is the sincerest form of flattery. Well then, in 1961, Great Britain flattered the hell out of Japan by making a little Godzilla homage called Gorgo.
Gorgo is about a British salvage ship lead by Captain Joe Ryan (Bill Travers from Born Free) and his first mate, Sam Slade (William Sylvester from Devil Doll and Devils of Darkness), that is disabled by a freak oceanic volcanic eruption off the coast of Ireland. They are able to limp to a harbor, but the harbor master, McCartin (Christopher Rhodes from The Coldlitz Story), is less than sympathetic because of his own problems; the volcano has unleashed a prehistoric creature upon his own salvage operation. Ryan and Slade make a deal with McCartin to catch the creature, and when they do, they decide to sell it to a London circus instead of turning it over to the Irish science community. So the beast, nicknamed Gorgo, ends up in England, but unfortunately for England, the giant creature's even more giant mother, Ogra, comes to rescue her offspring.
A monster movie love-fest through-and-through, Gorgo was directed by Eugene Lourie (The Beast from 20,000 Fathoms) from a story and screenplay written by Robert L. Richards (Act of Violence) and Daniel Hyatt (The Giant Behemoth). Gorgo's reptilian T-Rex-like appearance and rise from the depths of the sea shows the film's obvious Godzilla influence, but the circus scenes seem to be a nod to the classic King Kong as well, right down to the photographer's flash bulbs that ire and anger the monster. Even with all of the "borrowing," Gorgo comes off as more of a loving tribute than a blatant rip-off.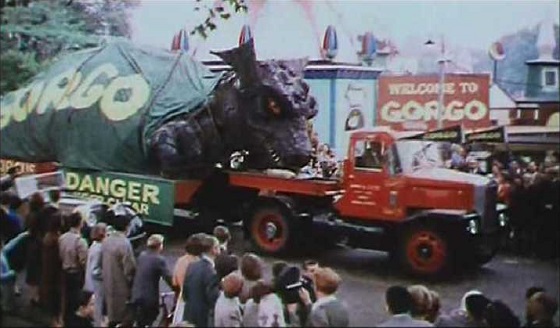 Although it is a UK production, the setting for Gorgo was not always Ireland and England. Initially, producers Frank and Maurice King (collectively known as The King Brothers, they also produced the US release of Rodan) wanted the film to be a pure Godzilla tribute, with the action set in Japan. Along with director Lourie, the Kings decided to move the film's setting to Paris. When geographical logistics proved too unrealistic even for a sci-fi film (the monster would have to swim too far upriver), the location was briefly changed to Australia. Finally, after it was decided that Australia was far too remote of a setting and European audiences wouldn't care if it got destroyed, Lourie and The King Brothers settled on Ireland and England. Now, after more than fifty years, it's difficult to imagine Gorgo being set in any of those other places.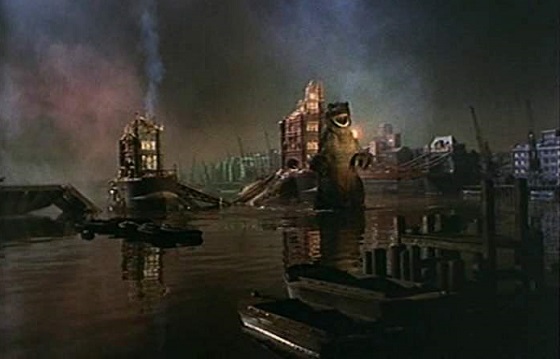 In true kaiju monster spirit, the visual effects in Gorgo were done in the classic Godzilla practical way, with a rubber-suited monster photographed on a set full of miniature buidlings, cars, and ships. The unsung hero of the film, the man in the Gorgo costume, is stuntman/horse racing jockey Mick Dillon (who also played a Triffid in The Day of the Triffids and a Dalek in Dr. Who and the Daleks). As Gorgo, Dillon stomps and tromps through tiny structures and kicks and slams away at model vehicles driving on little roadways and floating in water tanks. Gorgo's mom even gets a go at some of the more recognizable landmarks of London when she gets to the country to save her boy. Cheap and easy, but fun and effective.
The visual effects are not the only aspects of Gorgo that are cheap and effective. Cinematographer Freddie "F.A." Young (who also shot Doctor Zhivago and Lawrence of Arabia) used simple in-camera techniques and motion, both subtle and no-so-subtle, to help audiences feel Gorgo's wrath. Young's camera follows Gorgo through the miniature sets, showing the grand scale of his rampage. Young also uses motion to exaggerate the rocking and reeling of the ships, both during Gorgo attacks and for the volcanic episode that unleashes the beast, so the model boats really appear to be at the mercy of the sea. And, of course, it's all processed in glorious Technicolor, so it's brighter and more vibrant than both the original Godzilla and King Kong. The accomplished Freddie Young may have been slumming it with Gorgo, but he didn't cut corners. Gorgo looks great.
The music in Gorgo is equally great. The score was composed by Angelo Francesco Lavagnino (Queens of Evil, Something Creeping In The Dark) and performed by the prestigious Sinfonia of London. The soundtrack is a clever mix of sea shanty accordion type of stuff and full dramatic orchestral cinematic swells, with just a splash of sci-fi weirdness tossed in every once in a while to remind the viewer that it's a monster movie. It's a product of its time, sounding like exactly what it is; a score from a sixties movie. In the case of a movie like Gorgo, however, being dated isn't necessarily a bad thing.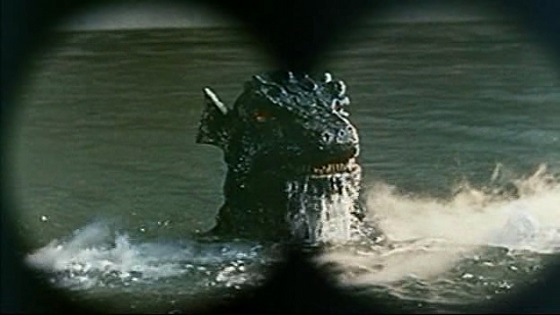 Somewhere within Gorgo is a deep ecological subtext or a metaphorical analogy about greed and human nature, but all that most people see are the low budget aesthetic and the endearing continuity errors. And that's fine, because it's those elements that make Gorgo such a lovable movie.