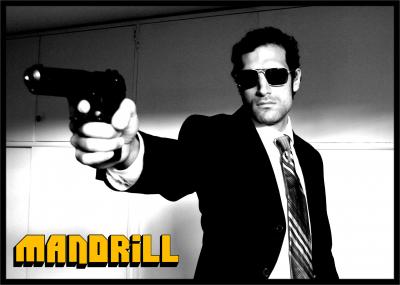 Mandrill is a rollicking B-movie exploitation flick from Chile that gleefully references everything cool in espionage and action cinema, from James Bond to 1970s exploitation and kung fu movies. As a boy, Antonio Espinoza witnessed the murder of his parents by a ruthless gangland boss named Cyclops. Now a man, Antonio has adopted his own one-named moniker, Mandrill, and a similar profession as a highly stylized, highly efficient assassin for hire. Still on the hunt for Cyclops, Mandrill (Marko Zaror) tracks him to Peru, where he falls for his beautiful and dangerous daughter Dominic (Celine Reymond). The pair fall in love but mixing business with pleasure is never easy, as Mandrill soon discovers.
Director Ernesto Diaz Espinoza is a clear descendent of the Quentin Tarantino school of self-referential filmmaking. At the heart of Mandrill is the fictional 1970s series John Colt, a poorly dubbed, leisure-suit-wearing, karate-chopping ladies man. After his parents' death, the teenaged Antonio (a well-cast Augusto Schuster) learns John Colt was his father's idol. When his uncle Chone (Alejandro Castillo) tells Antonio his father's job was similar to Colt's, the boy commits his life to physical and weapons training with an eye towards revenge. In a touching scene, Tio Chone schools the boy in the fine art of seducing a woman by flattering their "five weakness": hair, eyes, scent, skin, and mouth. Castillo is wonderful in the scene, which is well juxtaposed against scenes of the adult Mandrill romancing Dominic under the nose of her gangster father. In a lot of ways, Mandrill is about playacting being an action hero, subverting the macho aloofness of James Bond. Unlike Bond, Mandrill doesn't just sleep with women, he falls in love with them.
Which isn't to say that Mandrill isn't a brutally judicious killing machine, he certainly is. The primarily pleasure of Mandrill is watching Marko Zaror deliver the pain to dozens of unlucky henchman. A stuntman and superior martial artist, Zaror's got the body of a bruiser, the face of a model and the charm of a star. Mandrill is equally adept at the poker table in a sharp-cut suit as he is choking out bad guys in the parking garage with his thighs. Unlike Hollywood action movies, the action in Mandrill is bone-crunchingly real: no wires, no CGI, just Zaror's awe-inspiring spinning kicks. And unlike other international action stars, Zaror can actually act. He handles the emotional melodrama in the story with the same ease as he does its goofier comedic moments (a karaoke date with Dominic is simultaneously cringe-inducing, endearing and surprisingly sexy). Zaror's deadpan delivery is especially effective during an early sequence in which Mandrill tears through suspect after suspect, growling the same question, "Where is Waldo?" to each.
Espinoza balances humor with intense pathos, romance and action in a movie that seems specifically designed to elicit the utmost enjoyment from every one of its lean eighty-eight minutes. Fans of B-movie exploitation and raw, authentic action have found a new superstar in Marko Zaror. Mandrill is a godsend for genre fans and a hell of a fun time at the movies for everyone else.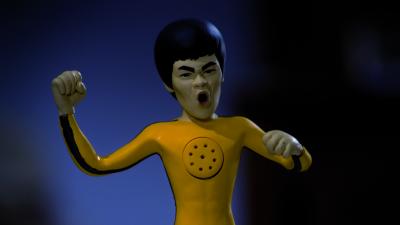 Screening before the feature is writer/director Bruno Collet's short film Le Petit Dragon (The Little Dragon). In it, a Bruce Lee action figure comes to life, via stop motion animation, and begins to explode his owner's bedroom. The young man, played by Colin Bastien, is shot in live action, and Little Bruce interacts with the world around him, jumping over piles of dirty laundry and encountering a giant cardboard cut-out of Chuck Norris and disembodied doll body parts shoved under the bed. The movie plays like Toy Story for the kung fu fan as Bruce, having punched his way out of his plastic packaging, discovers his own awesome martial arts power (the button on his chest triggers Lee's distinctive battle cry). While exploring his owner's other movie memorabilia, Little Bruce discovers the ultimate sweet ride: Steve McQueen's motorcycle from The Great Escape. Bruce also does battle with a robot toy and, in the film's cleverest gag, breaks a birthday candle in half to make a pair of mini-nunchucks.
Clad in the real Bruce Lee's famous yellow-and-black tracksuit from Game of Death (famously re-imagined by Uma Thurman in Kill Bill), stop motion Bruce is every bit as fearsome as his human counterpart. Le Petit Dragon is an investigation into the many forms of the Bruce Lee legend. Little Bruce accidentally turns on his owner's computer where he encounters another form of Bruce Lee—a computer-generated Lee in the style of Enter the Dragon. Each Lee eyes the other, and the two clash in a massive collision of flying leap kicks. The impact throws Little Bruce through the computer and out the other side, where he lands, broken to bits, into his owner's water glass. The young man drinks the water, unaware of its newly got powers, and we see the Bruce Lee legend pass from Little Bruce to the picture of Bruce Lee on the man's t-shirt. In 2D animation, the t-shirt illustration comes alive and throws a punch right at the audience.
Le Petit Dragon is a cute, clever and imaginative piece of mixed media filmmaking. From the jazzy '70s exploitation score to the careful renderings of Bruce Lee's legendary legacy, every inch of the film is imbued with the spirit of loving homage. This is a movie for people who love movies.
Mandrill screens at 4:30pm on Sunday, October 17th at the Anaheim International Film Festival. For more info and tickets, visit www.anaheimfilm.org.
Mandrill Credits:
Director/Screenwriter: Ernesto Diaz Espinoza
Cast:
Marko Zaror (Mandrill)
Celine Reymond (Dominic)
Alejandro Castillo (Tio Chone)
Luis Alarcon (Don Mario)
Country: Chile (2009)
Le Petit Dragon Credits:
Director/Screenwriter: Bruno Collet
Cast:
Bastien Colin (The Young Man)
Country: France/Switzerland (2009)