Holiday themed films have been all the rage, beginning back in the late seventies with Halloween and continuing through the modern era with Valentine. When it comes to the Fourth of July, the choices slim out a little bit; of course, Jaws takes place on the holiday, and there's the obviously named Independence Day. But those are big budget no-brainers. If one really wants to see an under-the-radar July 4th movie, the real American Hero is Uncle Sam.
Uncle Sam is actually Sam Harper (David "Shark" Fralick from "The Young and the Restless"), a soldier who was shot down in a helicopter over Kuwait during Desert Storm. When his torched body is finally recovered, it is sent back to his home town of Twin Rivers to receive a full military burial.
His wife, Louise (Anne Tremko from "Saved by the Bell: The College Years") still lives there with Sam's sister, Sally (Honey I Blew Up the Kid's Leslie Neale) and her son, Sam's nephew Jody (Christopher Ogden from SLC Punk!). Sam's body is delivered to the home and his military mentor, a sergeant named Jed Crowley (Chef from "South Park" himself, Isaac Hayes) comes to pay his respects. Jody makes friends with the old soldier, fascinated by the missing leg he suffered while throwing himself on a grenade to save his platoon. Jody is less thrilled to hear that, according to Jed, his Uncle Sam had anger issues and should never have been allowed to serve in the military. While Sam's resting place is being prepared, a group of vandals desecrates it by spray painting graffiti on the headstone and tossing a burning American flag into the freshly dug grave. Somehow knowing that these unpatriotic actions are taking place, Sam's body comes to life to get his revenge on all things unpatriotic and un-American. Jody and Jed take it upon themselves to stop Sam from murdering everyone at the annual Fourth of July picnic.
Uncle Sam is the fruit of the marriage of two of horror's most revered filmmakers; it was written by the one and only Larry Cohen (The Stuff, the It's Alive franchise) and directed by none other than William Lustig (Maniac, Vigilante). The duo had collaborated previously on the Maniac Cop series of movies and, with its over-the-top bloody gore, Uncle Sam is obviously made by the same creative team. However, Uncle Sam is more than just a zombie-slasher film; it masks a serious message, as well.
The character of Uncle Sam Harper is against everything that is anti-American. Sam goes after flag-burning delinquents, draft-dodging ex-hippies and fraudulent congressmen.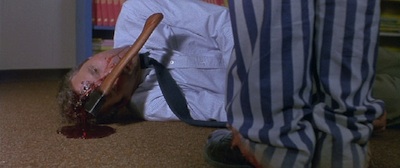 He even takes upon himself to rid the town of a kid who makes fun of the National Anthem. Sam is the epitome of all things red, white and blue – for good and bad. Sam can be seen as the embodiment of America, including its tendencies to do away with anything or anyone that doesn't agree with its views. It's taken to an extreme, but, like he did with The Stuff, Larry Cohen has once again snuck a bit of social commentary into Uncle Sam, this time criticizing the American War Machine that fights anything in its way, justly or unjustly.
Cohen's thesis about American politics is not the only message that should be taken away from Uncle Sam. The character of Jed vividly depicts the horrors of war, while another character, a wheelchair-bound blind kid named Barry (My Girl's Zachary McLemore) shows the horrible after-effects of playing with fireworks. However, even with all these hidden meanings, the true point of Uncle Sam should not be forgotten. It's a slasher movie, and a damn fun one.
Sam kills with the same consistency of any of the classic killers, and does it with some ingeniously creative methods.
Throughout the film he beheads, boils and burns through a dozen or so victims, dispatching each one in a different and inventive way. He does most of his killing while dressed in a bona-fide Uncle Sam costume that he steals from one of his earliest victims to cover his burned flesh, a detail that makes him as creepy as any movie murderer. One thing is for sure, Sam is both efficient and imaginative in his work, and he deserves to take his place among the legendary slashers.
Whether one considers Uncle Sam a serious critique of America's militaristic actions or just a brutally good splatter flick, the fact that Larry Cohen and William Lustig have created another classic is evident. When Fourth of July revelers are in the mood for some patriotic bloodshed, Uncle Sam will fit the bill nicely.