It seems as if hardly a week goes by when there isn't a news story about some sort of alleged police misconduct. Unfortunately, much of it ends up with civilians being killed. That's why Peace Officer is such a timely film.
The first feature-length documentary from the filmmaking team of Brad Barber and Scott Christopherson, Peace Officer focuses on one man, an ex-sheriff in Davis County, Utah, named William "Dub" Lawrence. Dub was the police chief who founded and trained the S.W.A.T. team in Farmington, Utah, in the late seventies, only to have that same unit kill his son-in-law, Brian Wood, in a standoff thirty years later. Dub spends his days investigating not only his son-in-law's death, but other officer-involved shootings in his area, all in an attempt to bring some truth and transparency to the deceptive and murky waters of modern law enforcement.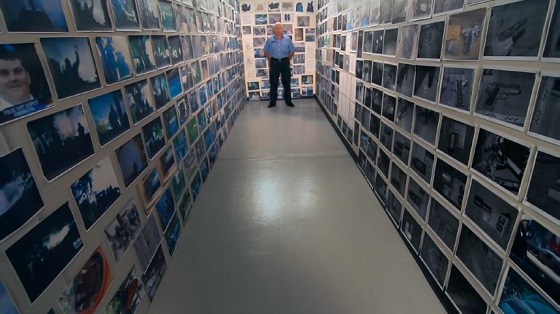 On September 22, 2008, police were summoned to the home of Brian Wood on a domestic disturbance call. They found Brian locked in his truck, music blaring, with a gun to his head. More than 80 cops from all surrounding counties and the state highway patrol swarmed to the scene, taking positions on rooftops, driving armored vehicles onto lawns, and donning riot gear as they surrounded Wood. When the smoke cleared on the situation 12 hours later, a total of 111 rounds had been fired at Brian. That number includes tazers, rubber bullets, bean bags, and tear gas canisters, but Dub still believed the response to be a bit excessive. Brian's death became an obsession with Dub, and the grieving man meticulously studyed any and all video footage that he could obtain from the standoff in an effort to come to some sort of conclusion as to what the hell happened.
At first, it seems that Brian Wood may be the wrong case study for a movie like Peace Officer; he doesn't really elicit a ton of sympathy from the viewer. He did, after all, get into a fight with his family, and he was sitting alone in a vehicle with a gun in a crowded neighborhood. But, as Dub lays out the timeline of events and gives a play-by-play description of the incident, backing up his account with video footage, it becomes clear that the police aggression ended up doing more to escalate the situation than it did to diffuse it – in short, the cops did more harm than good.
So, on a small scale, Peace Officer is about Dub and his investigations into incidents of police shootings. And, not surprisingly, his investigations are far more thorough than those conducted by the actual departments; Dub uncovers facts that the internal police investigators seem to want to keep hidden. In one segment, Dub takes a look at the case of a disastrous raid by plain-clothes officers which resulted in the shootings of several officers, one of them fatally. The cops claimed that the homeowner fired on them and they shot back in self-defense. When piecing together the sequence of events, Dub determines that the officers were shot by friendly fire – in the chaos of the operation, the cops shot each other. Of course, the officers interviewed flatly deny this, one even stating that "it's a surprise that no one did get shot accidentally by another officer…that just goes to speak volumes for our training we have [sic]." But, Dub's ballistic evidence proves that the cops did in fact shoot each other, and the detectives interviewed are either ignorant, brainwashed, or part of a cover-up – when Dub's facts are presented, each and every officer account is refuted and proven inaccurate.
But Peace Officer is about more than just Dub and his personal quest. It's also a very telling documentary about the increased militarism of the American police. One of the most fascinating revelations in the film is that of the National 1033 Program. Basically, this is the program that gives surplus military equipment to local police departments. The program is designed for extraneous supplies like ammunition and surveillance gear to find their way to law enforcement agencies, but in reality, the cops are getting armored bearcats and grenade launchers. Here's the real kicker – the equipment is donated with the stipulation that it has to be used within a year. Because of this, police departments are just itching for excuses to try out their new toys. Situations like a man sitting in his truck with a gun to his head crying out for help turn into opportunities for the cops to play with their heavy weaponry.
As with any documentary, Peace Officer has an agenda, and it is presented in a way that supports it. A lot can be done with editing, but it seems as if the best way that the filmmakers have found to discredit the opposing viewpoint is simply letting them speak; every police officer and politician who is interviewed in the film comes off as a talking head idiot who will say anything to make the cops look like the heroes, even when the overwhelming evidence contradicts that. What Dub, once a proud honest law enforcement officer, really wants is for the police to earn back the trust that they have lost. The police report on Brian Wood's death states that he was killed by a self-inflicted gunshot wound to the chest, but Dub's research and analysis proves that account conclusively wrong. It makes the viewer wonder about the official conclusions of the many other police standoffs that have ended in "forced suicide."
Peace Officer paints a bleak and infuriating picture of modern law enforcement, an entity which has gone from "to serve and protect" to "to intimidate and bully" over the course of just a few eventful years. Peace Officer is an important film, especially for the times in which we live right now. It will make you mad, it will make you sad, but, most importantly, it will make you think.