The AT&T streaming service featuring the WarnerMedia catalog is cable without the cord.
The upcoming AT&T streaming service will feature three different subscription tiers, similar to how cable and satellite packages are structured.
Launching in beta form in the fourth quarter of 2019, the AT&T/WarnerMedia direct-to-consumer streaming service is geared at cord cutters who no longer want traditional cable or satellite TV service, such as DirecTV, which AT&T owns.
"You must develop a direct relationship with your viewers. And if you're a communications company, you can no longer rely exclusively on oversized bundles of content," AT&T CEO Randall Stephenson said.
Cord Cutting Is Growing
It's projected that by year-end 2018, 33 million cord cutters will exist in the United States.
We are all aware of how cable and satellite TV operate: You pay for the package you want based on what channels you want to access. The cost, of course, goes up with the more content you choose, such as HBO.
The streaming service AT&T plans to offer is structured just like cable.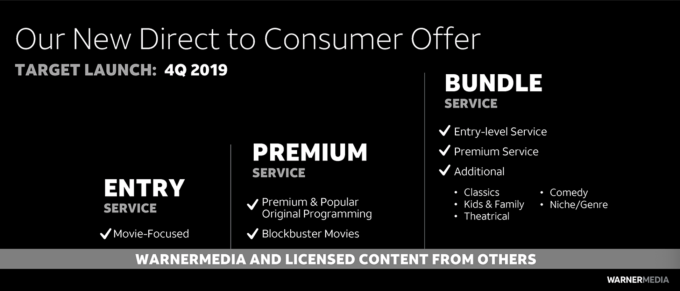 As the entry-level bundle from WarnerMedia, tier one offers a starter movie package.
Those who are willing to pay a bit more will gain access to original programming, blockbuster movies, and television series.
The most expensive option combines Tier One and Tier Two with library content from WarnerMedia and third-parties, of which AT&T will license.
AT&T prefers that customers go for the third tier: "We want the customer to want all three tiers, and work their way in at an affordable price point," Stephenson said.
The price of AT&T's streaming service, fueled by WarnerMedia, has yet to be released. It is highly likely that a bundled service will be offered, wherein the more AT&T services you have (such as cell service or internet) gives you a discount.
Since the new AT&T streaming service will feature the WarnerMedia catalog, the company has been shutting down other streaming platforms to prepare for its launch. FilmStruck and DramaFever both got the axe in 2018.
Also joining AT&T in the streaming market in 2019 is Disney, which will launch Disney+, a direct-to-consumer streaming service. While Disney+ may not sound like a big deal, it is to Netflix and its subscribers.
The launch of Disney+ means Disney films may no longer be available on Netflix — say goodbye to Rogue One: A Star Wars Story, The Little Mermaid, The Lion King, Coco, Moana, and many, many more movies. And Marvel movies are likely to leave Netflix, too.
AT&T's streaming service and Disney+ will both impact the streaming service industry. Just how much we have to wait and see as licensing of movies and television series to Netflix in-particular may end in 2019, causing a drastic cut to Netflix's catalog.