Synopsis: A coming-of-rage story about discovering your true self and overcoming your inner demons to find love in a chaotic world.
Release Date: October 6, 2015     MPAA Rating: PG-13
Genre(s): Horror, Sci-Fi
Film Review

From Carrie to Lucy, from Firestarter to Friday the 13th Part VII: The New Blood, psychic and telekinetic young girls are everywhere. One would think that it would be hard to come up with a compelling story based on that particular archetype. Well, if June is any indication, there's plenty left in that tank.
The title character in June is a little girl (Prosper's Kennedy Brice) who, after being saved from a weird religious cult, is shuffled around the foster care system for nine years. She is moved from family to family with nothing working out, until her social services worker, Victor Emmanuel (Eddie Jemison from "Hung"), places her with the Andersons, Dave (Casper Van Dien from Starship Troopers) and Lily (Victoria Pratt from "Heartland"). At first, things seem to be going smoothly for June with the Andersons, but soon enough, Dave and Lily begin to realize why the other families had problems with her. First, June has a creepy imaginary friend named AER whom she insists is real. Also, whenever June gets upset, she can unconsciously make things happen with her mind, from simple Carrie-like telekinesis to full-on controlling the weather. Still, the Andersons want to make June a part of their lives, but it seems that the cult from which June was taken when she was a baby is not quite ready to let her go.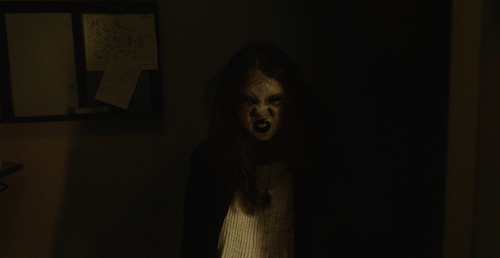 June is a cool little movie. At first, it seems like it's biting on its popular predecessors, movies like Carrie and Firestarter, but once it gets rolling, the story takes on an identity all its own. The screenplay, written by L. Gustavo Cooper (The Devil Incarnate) and Sharon Y. Cobb (Lighthouse Hill), combines a satanic cult angle with a creepy kid story, but doesn't rely too heavily on either horror stereotype. Cooper also directs, and his vision for the film tells his own story while paying clear tribute to his influences (a section of the film tips its hat to a blood scene from Carrie, but not THAT blood scene from Carrie). The whole thing comes together into something that is both original and familiar – comfortable, yet fresh.
If there's a criticism to be had of June, it's that it leaves a lot of questions unanswered. The final act goes crazy with twists, so much so that not even the audience knows who the good guys and the bad guys are, and the ending becomes purposefully ambiguous. Curious viewers can dig into the DVD extras for clues, and they'll find a series of interviews with Emmanuel the social services worker that fill in some of the gaps in June's history as well as a short faux-documentary about what AER really is, but even those just provide exposition without adding to the greater mythology. It's entirely possible that L. Gustavo Cooper is leaving it open for a sequel that will answer some of the questions – who knows? Anyway, June is well worth checking out, whether a sequel for it is in the cards or not.

The score for June was composed by the husband/wife team of Juliette and Sean Beavan. Juliette is primarily known as an actress, also playing a Priestess in the film, while Sean is an industrial music producer, having worked with acts such as Marilyn Manson and Nine Inch Nails. The soundtrack to June is a methodical and melodic, almost John Carpenter-esque synthesizer score, very eerie and spooky, but there's another layer to it. On top of the music, there's a sound design quality to it that includes backward masked effects and rumbling low-frequency effects that makes the viewer uncomfortable and unsettled without letting them know why. In a movie where a little girl can control the weather, it's important for the audience to feel a little bit of a thump now and then, and the Beavan's score provides it. The music for June is an essential part of the experience.

For a straight-to-video release, June is surprisingly and shockingly scary. It falls into the "Creepy Kid" subgenre of horror; even though she's kind of the protagonist of the film, June is pretty creepy, and her relationship with AER, her "imaginary" friend, is deeply troubling. There are a handful of good jump scares, but much of the terror comes from sheer maddening suspense. For example, in one scene, Dave drops his wedding ring into the garbage disposal and, of course, he reaches in after it. The audience knows what's coming, but they don't know when, and they don't know how, and the anticipation of the inevitable is nail-biting. Time will tell if June will be as lasting as the classics that it lovingly imitates, but the movie packs a definite punch when it comes to scaring the heck out of its audience. One thing though – because it's a home video release, just make sure to watch it with all of the lights off.
Cast and Crew
Director(s): L. Gustavo Cooper
Producer(s): L. Gustavo CooperJames FlerJacquelyn FriscoGregor HabsburgAndrew Thomas HuntMichael PasztDuane A. Sikes
Screenwriter(s): L. Gustavo CooperSharon Y. Cobb
Story: 
Cast: Casper Van Dien (Dave Anderson)Victoria Pratt (Lily Anderson)Kennedy Brice (June) Eddie Jemison (Victor Emmanuel)Lance E. Nichols (Dr. Wynstrom)Theodora Greece (Ms. Wapos)Addy Miller (Lily as a Teenager)Rachel Whitman Groves (June's Biological Mother)Thomas R. Martin (June's Biological Father)Aiden Flowers (Bully)Kelly Lind (Stripper)Juliette Beavan (Priestess)
Editor(s): Thomas H. Park
Cinematographer: Ryan Patrick Dean
Production Designer(s):
Costume Designer: Sandra Algood
Casting Director(s): 
Music Score: Juliette Beavan
Music Performed By: Sean Beavan
Country Of Origin: USA