Synopsis: A man haunted by the mysterious death of his 4-year-old sister brings her back to life thirty years later as an adult woman, with dire consequences.
Release Date: April 3, 2018     MPAA Rating: PG-13
Genre(s): Drama, Fantasy
Film Review
Production
Kickstarter has changed the way that horror movies get made, for both the better and the worse. The fact that any good idea can get funded is a blessing, but it sometimes takes several months, or even years, for the movies to be completed. Case in point: the new movie from writer/director/producer Elias (no last name, like Cher or Madonna), Ayla. Its Kickstarter was launched in 2015, and the movie is just now seeing its wide release.
Ayla is about a young man named Elton (Nicholas Wilder from Elias' last movie Gut) who, for almost thirty years, has had trouble coming to terms with the death of his four-year-old sister, Ayla. Despite the support of a loving girlfriend (Sarah Schoofs, another Gut holdover, also from Phobia), a level-headed brother (D'Angelo Midili from Simple Creature), and a nurturing mother (everyone's favorite horror mom Dee Wallace from Cujo and The Howling), Elton still grieves, so when he uncovers a weird occult ritual that can bring Ayla back, he does it. And it works.
Except that the Ayla that comes back is not the four-year-old that he remembers, but the thirty-something year old that she would have been had she lived (The Editor's Tristan Risk).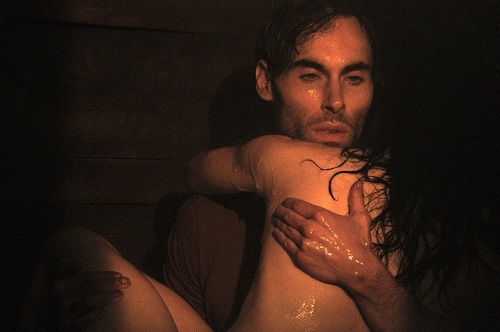 As was the case with
Gut
, there's a certain film school quality to
Ayla
, but it works more in favor of this film than it did for
Gut
because
Ayla
is a much more stripped down production. Of course, it could still use some post-production tweaks, but for the most part, the rough edges and gritty look of the film help give it an almost home movie quality which sells the familial aspect of the story.
It's more than just a horror tale. Actually, it's hardly a horror tale at all. It's more about the power of grieving and loss than it is about any supernatural elements – it's a bit reminiscent of the mother's point of view in W.W. Jacobs' "The Monkey's Paw." There's more sadness and mourning than flat-out terror.
Ayla is the very definition of a slow-burn horror movie, except that it doesn't entirely pay off in the end. However, the viewer gets the impression that it's not really supposed to. It's enigmatic and ambiguous, never giving the audience the full picture, but tossing in enough pieces of the puzzle to keep them watching. Ayla lets the audience do most of the work, and that's the best way for a movie like Ayla to unfold. Remember Under the Skin and Enemy? It's a bit like that, only on a much lower budget. Which is still a compliment.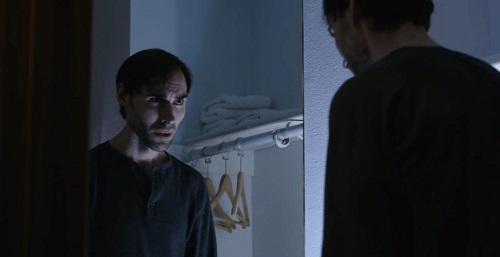 Is
Ayla
worth its three-year wait? Eh, maybe. But that's not the point. The point is that it's here, it's finished, and it's good.
Score and Soundtrack
There are a ton of long, dialogue-free scenes in Ayla that allow the musical score to fill the air. Luckily, the musical score for Ayla is incredible. Composed by Chad Bernhard (another of Elias' Gut collaborators, who also scored The Horror of H.P. Lovecraft), the music is mostly spooky piano tinkering, but it devolves at the same rate as Elton's mental state, finally sounding like the piano strings are frantically being plucked and strummed from the inside of the piano by some banshee that's just dying to get out.
Whether hauntingly melodic or shriekingly discordant, the music in Ayla carries long stretches of the film. And, while there do appear to be some synthesizer stings here and there, overall, it's a refreshing change from the retro-electronic scores that are featured in so many of today's modern low-budget horror movies.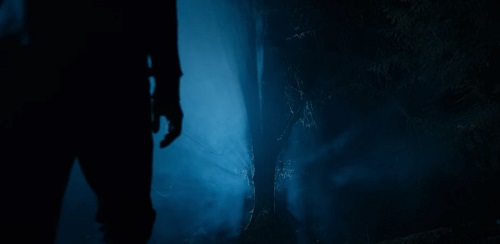 Scary Factor
Because it's much more of a dark fantasy than a balls-out horror film, there are very few actual scares in Ayla. There's an overlaying theme of depression that permeates each scene of the movie, and there's a tad bit of Cronenberg-meets-Lovecraft artistic gore peppered throughout, but none of that results in any real fright. The incestuous relationship between Elton and the new Ayla is creepy, but not in a scary way, in a "dude, that's your sister!" kind of way. So, again, no real fear is generated there, just a sense of confused disgust. All of this is fair, though, because, despite its paranormal connotations, Ayla doesn't really fly the flag of being a horror film.
Cast and Crew
Director(s): Elias
Producer(s): Jeremy Berg, Sean Patrick Burke, Elias, Matt Medisch, John Portanova
Screenwriter(s): Elias
Cast: Nicholas Wilder (Elton), Tristan Risk (Ayla), Dee Wallace (Susan), Sarah Schoofs (Alex), D'Angelo Midili (James), Bill Oberst Jr. (Billy/Andy), Andrew Sensenig (Grant)
Editor(s): Elias
Cinematographer: Jeremy Berg
Costume Designer: Jade Harris
Music Score: Chad Bernhard
Country Of Origin: USA