Synopsis: The story of Swiss painter and sculptor Alberto Giacometti.
Release Date: April 20, 2018     MPAA Rating: PG-13
Genre(s): Biography, Comedy
Film Review

In 1964, American art lover and writer James Lord sat for a painting by his friend, the legendary painter Alberto Giacometti. What initially was supposed to only be a two-hour session wound up stretching out for eighteen days. Lord wrote a book about the sitting the next year called A Giacometti Portrait. And now, acclaimed actor-turned-writer/director Stanley Tucci (Big Night, The Imposters) has adapted it into the movie Final Portrait.
Final Portrait stars Armie Hammer (Call Me by Your Name, The Man from U.N.C.L.E.) as James Lord and Geoffrey Rush (The King's Speech, The Book Thief) as Alberto Giacometti. It's really more of a character study than it is a movie, with Giacometti playing the genius who seems bored with his processes and abilities, and Lord getting increasingly desperate to get back to his life while not wanting to rush the brilliant artist who has so graciously offered to paint him.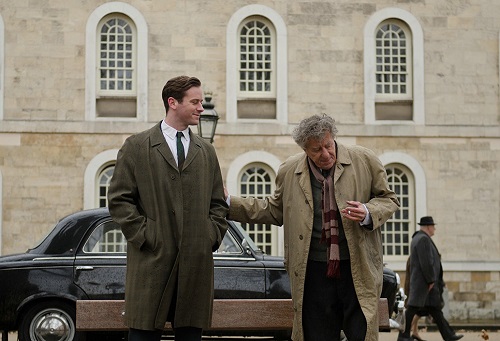 And the movie is just as tedious as it sounds. While sitting for the portrait, Lord is subjected to Giacometti's existential ramblings, which do hold pearls of wisdom, but in order to harvest those pearls, the listeners (in this case, both Lord and the audience) have to sift through a bunch of faux-philosophical mumbo-jumbo. If Stanley Tucci's goal with Final Portrait is to capture the boredom and monotony of actually posing for a portrait with an eccentric and renowned painter, then his mission is accomplished.
Other things do happen over the course of the movie, including subplots involving Giacometti's neglected wife (Sylvie Testud from Lourdes) and his overbearing mistress (Clémence Poésy from Harry Potter and the Deathly Hallows). But these serve as welcome distractions to the overall lack of plot in Final Portrait, and instead of being fully realized and incorporated into the narrative, they're just kind of shoved off to the side so that Giacometti can continue his starting-and-stopping-and-restarting artistic methodology. At the center of the movie is the strange friendship between Giacometti and Lord, a friendship which simultaneously strengthens and becomes strained over the course of two and a half weeks.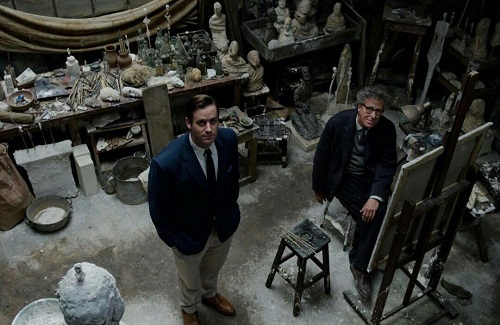 Final Portrait sums itself up nicely in one image and one line from the movie. The image occurs when Lord falls asleep while posing, and the audience not only relates to his exhaustion, but actually envies his little break. The line is spoken when Giacometti tells Lord that "a portrait can never be finished." And that is a good metaphor for Final Portrait; even at a slim ninety minutes, it feels like it will never finish.

There are some wonderful performances that are wasted in Final Portrait. Geoffrey Rush is great, commanding the screen and spouting Giacometti's rhetoric in a way that both infuriates and charms the viewer with his insensitivity and nonchalance. Armie Hammer is essentially a sounding board, playing the straight man to Rush's borderline neurosis, and he perfectly captures the frustration and diplomacy that his character is forced to show in the situation.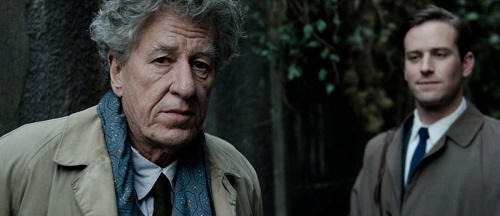 Both women in the film are splendid as well, but for different reasons. Sylvie Testud elicits the audience's sympathy as Giacometti's mistreated wife Annette, and Clémence Poésy is the closest thing to an antagonist that the movie has as the obnoxiously annoying mistress Caroline. Tony Shalhoub ("Monk") also hangs around and chews the scenery as Giacometti's brother and assistant. But really, Final Portrait is a two-man show, and the performances of Rush and Hammer are the best – and possibly the only – reasons to see the movie.
Cast and Crew
Director(s): Stanley Tucci
Producer(s): Nik BowerGail EganIlann Girard
Screenwriter(s): Stanley Tucci
Story: James Lord
Cast: Armie Hammer (James Lord)Geoffrey Rush (Alberto Giacometti)James Faulkner (Pierre Matisse) Clémence Poésy (Caroline)Tony Shalhoub (Diego Giacometti)Sylvie Testud (Annette Arm)
Editor(s): Camilla Toniolo
Cinematographer: Danny Cohen
Production Designer(s):
Costume Designer: Liza Bracey
Casting Director(s): Nina Gold
Music Score: Evan Lurie
Music Performed By: 
Country Of Origin: UK