The hits just keep on coming for 2016. Over the holiday weekend, the entertainment world lost yet another legend when Fritz Weaver passed away at the age of 90. Even if his name isn't immediately recognizable, his face certainly was; Weaver appeared on every type of television show, from "All My Children" to "Wonder Woman." He guest starred in just about every horror show imaginable, anchoring episodes of "The Twilight Zone" (both the sixties and eighties versions), "Tales From the Darkside," "The Outer Limits," and even "Monsters" (remember that one?). On the big screen, he shined in big budget adventure movies like The Marathon Man and Black Sunday, but he always had time for horror movies like Creepshow, Demon Seed, and this week's Cinema Fearité offering – the 1981 shocker Jaws of Satan.
Jaws of Satan begins with a king cobra snake mysteriously escaping from a train while being shipped to a carnival. After killing everyone on board, the snake makes its way to a small town where it commands the other snakes to do its bidding and wreak havoc on the residents. The snake attacks are putting a damper on plans that big businessman Matt Perry (From a Whisper to a Scream's Bob Hannah) has for a big dog track in town, so Dr. Maggie Sheridan (Gretchen Corbett from Let's Scare Jessica to Death) calls in a snake expert named Dr. Paul Hendricks (Jon Korkes from "Oz") to help solve the problem. Unfortunately, a shaky-faithed priest named Father Tom Farrow (Weaver) is told (by a real live witch!) that the cobra is the Devil. As a descendent of a group of Satan-fighting druids, Father Farrow is the only one who can defeat the evil reptile. With the help of Maggie and Paul, Father Farrow faces off with the Satanic Serpent.
Also known by the more appropriate (but less sensational) title King Cobra, Jaws of Satan is the only big-screen offering from television director Bob Claver (who directed such boob tube fare as "Charles in Charge" and "The Partridge Family"). The screenplay was written by Gerry Holland from a story by James Callaway, the first and only film credit for both. It's a flawed movie, clunky and full of very visible seams, never quite deciding whether it wants to be a nature-gone-wild story or a religious horror flick. But, in spite of all of this, Jaws of Satan is a hell of a lot of fun.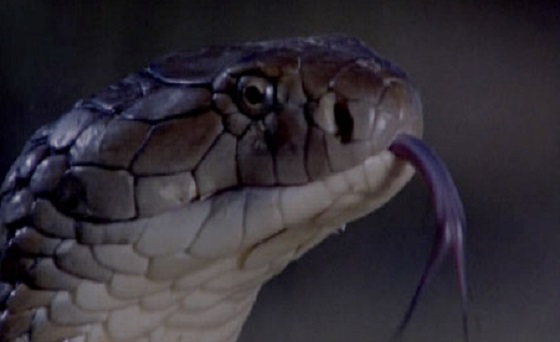 A big part of the fun is Fritz Weaver. While Jaws of Satan isn't one of his most memorable performances, Weaver dives into his character as the priest who is questioning his faith with all of the authority-shaken-by-trauma attitude that he can muster. Although his motivations are never perfectly clear, with the audience always wanting more of his backstory but never getting it, Father Farrow is a surprisingly deep and versatile character in what is otherwise a one-note movie. Even though Jaws of Satan is essentially a low-budget creature feature, Weaver puts all he has into the movie, and because of this, his performance is easily the best one in the picture.
At least, Weaver's performance is the best human one in the picture. The king cobra and his scaly minions steal the show. The snakes in the movie are real, and as such, they look charmingly chaste, always seeming to be on the other side of a pane of glass from the actors and missing their fangs when they hiss at their prey. Even toothless and at-a-distance, however, the snakes are still somewhat fearsome; the most frightening scene in the movie occurs when the cobra corners Father Farrow in an open grave. Even in this suspenseful and terrifying scene, there's a bit of dark comedy, with the snake popping up to block his way every time Father Farrow tries to climb out of the hole.
There's a lot of weird 80's monster movie randomness in Jaws of Satan, much of which seeming as if Bob Claver is playing with cinematic stereotypes and tropes. In the first scene, the snake's escape is aided by one of his handlers being thrown out the door of the moving train by "something" invisible. Of course, Maggie takes a shower in the movie, and also of course, a snake joins her. Shortly thereafter, Maggie becomes paralyzed with fear when a snake crawls up onto her bed, and she needs Paul the snake man to save her. At one point, Maggie is almost attacked by an out-of-nowhere motorcyclist when her car won't start, only to have the car start right up after the assailant is frightened away by the snake There's even a red herring scare, as a police officer sneaks up on some rustling in a bush, only to have it be a little girl. None of these are major plot points, just random occurrences that exist to either pad the film's running time or poke fun at its own genre. It's all about as random as an eight-year-old Christina Applegate from "Married With Children" being in the movie. Oh, yeah, an eight-year-old Christina Applegate from "Married With Children" is in the movie, too.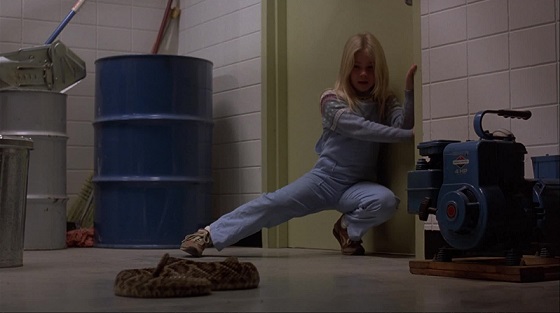 Jaws of Satan was shot by legendary cinematographer Dean Cundey, who cut his teeth on horror films like The Thing and Invitation to Hell before graduating to such blockbusters as Jurassic Park and Back to the Future. While Jaws of Satan can't be called some of Cundey's finest work, it's clear that the director of photography is having a lot of fun with it. The movie is full of tongue-in-cheek moving camera gags, some that are even combined with a low angle to insinuate a snake POV. The daylight scenes in the film are bright, and the nighttime ones are dark, so the movie actually did need Cundey's versatile talents as a horror visionary to look good – it takes more than actor response to make these snakes scary in any light, and Cundey walks the walk with a sly wink and a nudge.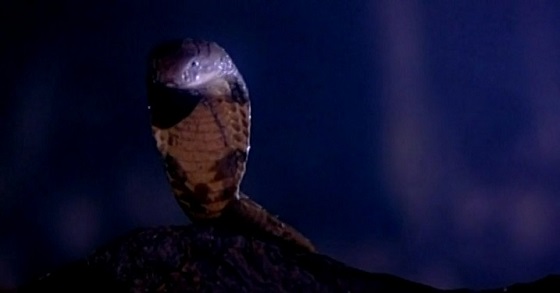 The musical score for Jaws of Satan is just as clever. Composed by Roger Kellaway (Evilspeak, Silent Scream, The Dark), the music shouts "early eighties horror" from the hilltops, yet sprinkles in an almost subconscious bit of eastern melody that gives it a snake charmer vibe. It's not silly, but the music is hardly a serious score, either. Frankly, the lip-biting soundtrack fits the movie well – of course the king cobra fighting heroes are going to vanquish the snake to the ethnic strains of a synthesized sitar. While not overtly campy, the music for Jaws of Satan is as melodramatic as the movie itself.
There's still another month to the year, but it seems as if everyone is just about done with 2016 and its idol-killing ways. With any luck, Fritz Weaver will be the last of our heroes that we lose this year. As with the rest, fans will always have Weaver's movies, even the ones like Jaws of Satan.