Synopsis: After being coerced into working for a crime boss, a young getaway driver finds himself taking part in a heist doomed to fail in Baby Driver.
Release Date: June 28, 2017     MPAA Rating: PG-13
Genre(s): Action, Crime
Film Review
Production
As a writer and a director, Edgar Wright has done a little of everything in his career. He took on horror with Shaun of the Dead, the buddy cop picture with Hot Fuzz, the slick graphic novel/video game adaptation with Scott Pilgrim vs. The World, and the apocalyptic adventure with The World's End, all the while mixing his own straight-man style of comedy into everything he's done. His new movie, Baby Driver, finds him putting his distinct stamp on the heist movie.
Baby Driver is about a young car thief named Baby (Ansel Elgort from the Divergent movies) who constantly listens to music in an attempt to drown out the tinnitus in his ears. He happens to steal the wrong car and ends up indebted to a crime boss named Doc (Elvis & Nixon's Kevin Spacey) who recognizes Baby's talents behind the wheel and uses him as a getaway driver for his heists. Once Baby's debt is fulfilled, he meets a beautiful waitress named Debora (The Exception's Lily James) and decides that he wants to go legit. But Doc intimidates Baby and reels him back in, teaming him up with a trio of hoodlums named Buddy (Jon Hamm from "Mad Men"), Darling (Eiza González from "From Dusk Till Dawn: The Series"), and Bats (Django Unchained's Jamie Foxx), for one last job that will make them all rich…if they can get out of it alive.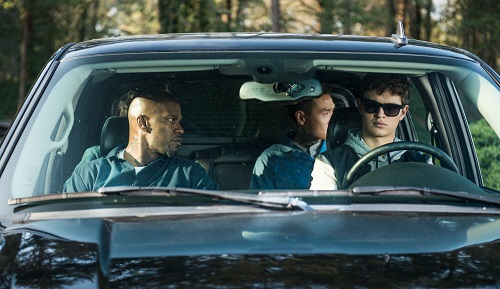 The best way to describe
Baby Driver
is
Grand Theft Auto: The Movie
. There's a deliberately unfolding plot that is linked together by a series of car chases and bank robberies, interrupted ever-so-briefly by a little bit of awkward schoolboy romance. And it's got a soundtrack that rocks. Basically, if the gang from
Reservoir Dogs
had the enigmatic stuntman from
Drive
as their wheelman, you'd end up with a movie that's pretty close to
Baby Driver
.
It's got its fair share of car chases and gunfights, but Baby Driver is much more than a simple action movie. It's fast, stylish, and confident…intense and suspenseful, but also fun and exciting…and it's downright hilarious, in a way that only Edgar Wright can make it. It's got characters that audiences will love, as well as ones that they'll love to hate, and the two are not mutually exclusive. It's got double-crosses, triple-crosses, shifting alliances, and shameless backstabbing. If the spectacular stunt driving and awesome soundtrack weren't right up front, one might think that they were just padding for the keep-'em-guessing crime drama.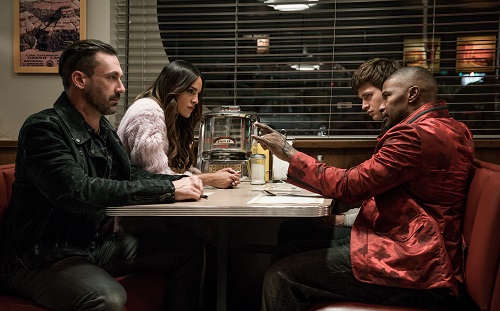 Seriously though, go see
Baby Driver
. It's great. Edgar Wright really can do anything, and make it his own along the way. Someone give this guy an
Alien
franchise movie.
Score and Soundtrack
No one puts together a movie soundtrack quite like Edgar Wright, and Baby Driver is more proof of that fact. Of course, there's a tune from Wright's favorite band, The Jon Spencer Blues Explosion, in the movie (this time, it's "Bellbottoms" from the group's 1994 album Orange). That's just one of Baby's driving anthems; he also jams to The Damned's "Neat Neat Neat" and to his personal favorite, Queen's "Brighton Rock." During non-heist scenes, the soundtrack plays songs by The Beach Boys, Martha & The Vandellas, Carla Thomas ("B-A-B-Y"), and Sam & Dave.
When Baby's feeling sentimental, he tosses on The Commodores' "Easy." There are also two different theme songs for Debora, "Debora" from T. Rex and "Debra" from Beck. And that's just the tip of the musical iceberg. Every minute, the movie seems to play another kick-ass song. Yes, the Simon and Garfunkel song "Baby Driver" is in there, too.
But there's more to the soundtrack to
Baby Driver
than simply good songs. The music works with the visual images and sound effects to transform the movie into one big, immersive experience. Everything that happens onscreen does so to the beat of the drums in Baby's earbuds. Songs will be interrupted by on-key and in-tune bouts of Baby's tinnitus, or he'll walk past a piece of graffiti art that spells out the exact lyric that he's listening to at the time. Baby will even record conversations that are happening around him, later turning the resulting tapes into techno songs in the ultimate display of synergistic hybridization. Sometimes, the sound and music seem like Edgar Wright is just showing off, but hey, if we get movies like
Baby Driver
when he does, let him run with it.
Action Sequences
Baby Driver is not wall-to-wall action. It comes up for air, and it does so quite frequently. But, when it does put the pedal to the metal, it's awesome. There are only three or four car chases in the movie, but they're total adrenaline rushes, with stunts that seem as if they'd only be possible in video games. In a few places, the characters hop out of their cars and indulge in some foot chases as well. And, of course, guns are blazing the whole time.
The action sequences seem a little more grounded than some of the film's contemporaries – there's no car-versus-submarine stuff going on here like there is in The Fate of the Furious – but there is some fun stuff, such as when Baby skillfully turns the tables on some police officers who try to use a spike strip to slow him down. The action comes in bursts, but that only serves to let the audience breathe a bit before things start up again (and to allow Baby to switch songs on his iPod). And you will have to remind yourself to breathe while watching Baby Driver.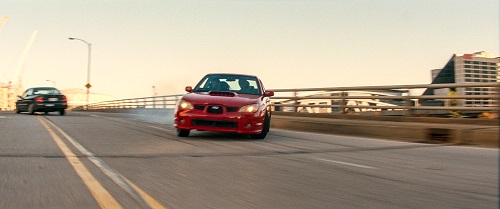 Cast and Crew
Director(s): Edgar Wright
Producer(s): Tim Bevan, Eric Fellner, Nira Park
Screenwriter(s): Edgar Wright
Cast: Ansel Elgort (Baby), Jon Hamm (Buddy), Eiza González (Darling), Lily James (Debora), Kevin Spacey (Doc), Jamie Foxx (Bats), Jon Bernthal (Griff)
Editor(s): Jonathan Amos
Cinematographer: Bill Pope
Casting Director(s): Francine Maisler
Music Score: Steven Price
Country Of Origin: USA, UK