Synopsis: Set in Japan, Isle of Dogs follows a boy's odyssey in search of his lost dog.
Release Date: March 27, 2018     MPAA Rating: PG-13
Genre(s): Animation, Adventure
Film Review
Production
Writer/director Wes Anderson has become one of New Hollywood's most distinct voices. From Rushmore and Bottle Rocket to Moonrise Kingdom and The Grand Budapest Hotel, his quirky storytelling and instantly recognizable visual style have gained him both fame and notoriety. As fantastical as his movies are, he's only made one animated feature – 2009's Fantastic Mr. Fox. Until now. His second fully animated movie, Isle of Dogs, is here.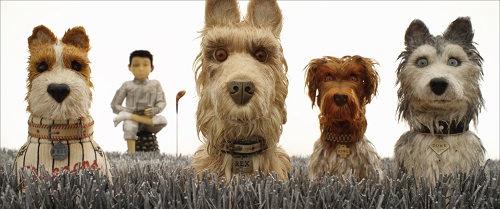 Set twenty years in the future,
Isle of Dogs
sees the fictional Japanese city of Megasaki dealing with its outbreak of "Dog Flu" by exiling all canines to Trash Island, a place that is exactly that: an island full of trash and, now, dogs. One boy named Atari Kobayashi (Koyu Rankin), who also happens to be the youthful ward of Megasaki's Mayor Kobayashi (Kunichi Nomura), steals a plane and flies to Trash Island in search of his beloved bodyguard dog, Spots. With the help of a pack of lovable miscreant pups (voiced by usual Wes Anderson suspects Edward Norton, Bill Murray, Jeff Goldblum, and Bob Balaban) and one renegade mutt (Bryan Cranston), Atari scours the island for clues to the whereabouts of his lost dog.
Meanwhile, on the mainland, Atari becomes a cult hero for the Pro-Dog activists. An American foreign exchange student named Tracy Walker (Academy Award-nominated director Greta Gerwig) digs deep and discovers a conspiracy that threatens the lives of canines everywhere. While Atari just wants to be reunited with his dog, his struggle becomes a symbol for a whole social movement.
At this point, Wes Anderson fans pretty much know what to expect from his movies, and
Isle of Dogs
will not disappoint. It's exactly the movie that it sounds like it would be, and it's great. Anderson wrote the screenplay from a story he cooked up with Kunichi Nomura, Roman Coppola, and Jason Schwartzman over what sounds like a series of hysterical brainstorming sessions. The simple tale of a boy searching for his dog becomes d and politicized with the conspiracy subplot, but that just serves to toss some intrigue into the cutesy
Homeward Bound
-ness of the movie.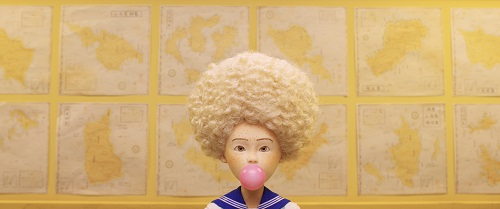 Because he's Wes Anderson, the voice cast in
Isle of Dogs
is a virtual whos-who of hip Hollywood. In addition to those mentioned already, there are a number of big stars who lend their voices to the dogs on the island, including Scarlett Johansson, Harvey Keitel, F. Murray Abraham, Tilda Swinton, Fisher Stevens, and, as Spots himself, Liev Schreiber. The dogs all speak English while the humans speak Japanese, but Francis McDormand voices the ever-present Interpreter Nelson to help with translations. At least on the mainland.
On the island, Atari is not translated at all. At one point, after Atari says something triumphant in Japanese, Jeff Goldblum's dog (named Duke) looks at one of his pals and says "I wish somebody spoke his language." It helps create a kinship between the dogs and the audience (or, at least with English-speaking audiences), but also sort of paints the Japanese humans as cinematic "others."
Which brings up another point about
Isle of Dogs
. Because of Anderson's use of Japanese archetypes and stereotypes,
Isle of Dogs
has been accused of appropriating Japanese culture, with many finding racist overtones in the film. Indeed, Anderson's Megasaki is full of images of Kabuki Theater, samurai artwork, and sushi menus, and it does feel at times as if
Isle of Dogs
is tossing in every Japanese reference that it can muster.
It seems, though, that Anderson is paying tribute to Japanese cinema in the same way that Quentin Tarantino pays tribute to westerns, kung-fu movies, and blacksploitation films. Of course, QT has also been accused of racism and cultural appropriation. I may be blinded by my white, non-Asian point of view, but I see Isle of Dogs as more of a loving homage than a cultural plundering. Either way, it's a whole lot less offensive than what Alexander Payne did with his Asian character in Downsizing. So, if Alexander Payne can survive Downsizing, Wes Anderson can weather the Isle of Dogs controversy.
Enough of that. Honestly, Wes Anderson is one of those filmmakers who doesn't need press, as his fans will see his movies regardless. Lucky for them, Isle of Dogs is great, and it will solidify their loyalty, at least for one more movie.
Animation
Isle of Dogs may be an animated picture, but Wes Anderson still takes a very cinematic approach to the visuals, so it still looks like a Wes Anderson movie, with the same distinct color palette and symmetrical approach to framing. The animation is all stop-motion, so every frame is painstakingly lit and photographed, just like it would be in a live-action movie. It's just a much more involved process than the usual Wes Anderson movie.
The dog models are easily the most fun to watch, their hair flipping and flowing with an inconsistency that makes a lot of sense for a pack of stray dogs on an island made of trash. Sometimes, Anderson does go simple – when the dogs get into scuffles, for example, it looks like a cotton-ball cloud of dirt and dust swirling around, with just the occasional paw or tail popping out until the fight is over. But, for the most part, each scene in
Isle of Dogs
is meticulously crafted, with every detail planned out and executed perfectly. It's more theatrical than, say, a Claymation Christmas special or a "Thunderbirds Are Go" episode, but it's still every bit as charming.
Cast and Crew
Director(s): Wes Anderson
Producer(s): Wes Anderson, Jeremy Dawson, Steven Rales, Scott Rudin
Screenwriter(s): Wes Anderson
Cast: Bryan Cranston (Chief), Koyu Rankin (Atari), Edward Norton (Rex), Bob Balaban (King), Bill Murray (Boss), Jeff Goldblum (Duke), Kunichi Nomura (Mayor Kobayashi), Akira Takayama (Major-Domo), Greta Gerwig (Tracy Walker), Francis McDormand (Interpreter Nelson), Scarlett Johansson (Nutmeg), Harvey Keitel (Gondo)
Editor(s): Edward Bursch
Cinematographer: Tristan Oliver
Production Designer(s): Adam Stockhausen
Casting Director(s): Douglas AibelKunichi Nomura
Music Score: Alexandre Desplat
Country Of Origin: USA, Germany