Synopsis: A small group of former classmates organize an elaborate, annual game of tag that requires some to travel all over the country.
Release Date: June 15, 2018     MPAA Rating: PG-13
Genre(s): Comedy
Film Review
Production
Tag is about five friends who have been playing the same game of Tag for 30 years. Every year during the entire month of May, the group sets aside their adult careers and lives to relentlessly chase, tag, and run from each other. It's an intense competition that the guys' credit for keeping their friendship going for decades.
Except that Jerry (Jeremy Renner from
The Avengers
), who holds the distinction of having never been tagged ever in the history of the game, wants to retire after this year's game. The other four friends – Hoagie (Ed Helms from
The Hangover
), Callahan (
Baby Driver
's Jon Hamm), Chilli (Jake Johnson from
Jurassic World
), and Sable (Hannibal Buress from
Neighbors
) – can't stand the thought of their friend and rival retiring undefeated, so they make a pact that this year will be the year that Jerry finally gets tagged.
With the help of Hoagie's competitive wife, Anna (Now You See Me's Isla Fisher), and a Wall Street Journal reporter named Rebecca Crosby (Annabelle Wallis from Annabelle) who happened to stumble upon the fascinating story while interviewing Callahan, the guys figure that the best time to get Jerry will be at his impending wedding. But it won't be easy, because the always-prepared Jerry is a fierce player.
Believe it or not, Tag is based on a true story. Screenwriter Mark Steilen ("Shameless") came across the infamous Wall Street Journal article about the game and teamed up with co-writer Rob McKittrick (Waiting…) to put together the script, while comedy director Jeff Tomsic ("This Is Not Happening") brought the fascinating and hilarious story to the big screen. Although the basic skeleton of the story is real, Tag is "Hollywoodized" a bit, turning the hysterical game into a sappy sentiment-fest at times. But, that being said, it's more good than bad.
At its root,
Tag
is about friendship, and the group of players in the movie is made up of people that anyone would love to have as friends. These guys are loyal, caring, and obviously have each other's backs. At least, that's how it is for eleven months out of the year. During May, they turn into ultra-competitive alpha males, willing to do anything and everything to avoid being tagged (or to tag someone else if they're "it"), including getting a second job at another player's company or faking a dire medical condition. For one month out of the year, these five guys turn into horrible human beings, which says even more about their friendship that they are able to get past it and remain pals on June 1st.
Of course, this particular year, the common enemy of Jerry unites them, so all of their a-hole energy is focused on the undefeated champion. Jeremy Renner channels his The Bourne Legacy character in his portrayal of Jerry, seeming to know his adversaries' every move before they make it, and always having the perfect counter-attack at the ready. And it's all done with a wink and a nudge, never letting the audience forget that Tag is a comedy. Of course, how can one throw doughnuts at Ed Helms' face in The Matrix-esque slow motion without having their tongue just a little in their cheek?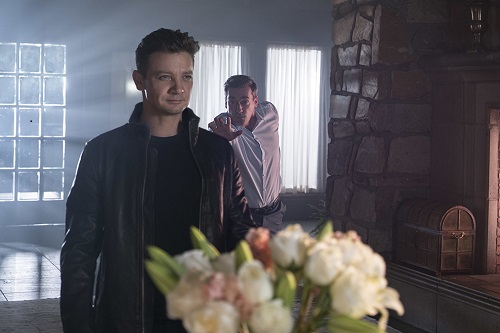 Tag
is a fairly straightforward, point A-to-point B story with very little in the way of subtext or side plots. And that's pretty much all it needs to be. It's a brainless comedy full of objectionable characters and situations that lack a true protagonist, but like that, it succeeds more than it fails.
Comedy Factor
Most of the comedy in Tag is physical comedy that occurs during the chases and escapes in the game. Everything from Chilli failing at amateur parkour after hopping out a window while escaping a tag to Jerry leading the others on an insane golf cart chase, the Tag game itself provides the lion's share of the laughs.
There's also plenty of verbal sparring and witty dialogue that inspire chuckles as well, thanks to the chemistry between the five friends, which is a bit surprising because guys like Jeremy Renner and Jon Hamm are not usually known for their comedic chops. So, between the hilarious stunts and the witty wordplay, there's plenty of humor in Tag.
One of the funniest segments in
Tag
comes after the movie ends but before the closing credits roll when footage of the real players is shown. Situations from the movie are played out by the actual participants, which makes it that much funnier to see how close some of the scenes were to the true story. Except the real players seem a lot more likable than the movie ones.
Cast and Crew
Director(s): Jeff Tomsic
Producer(s): Will Ferrell, Todd Garner, Sean Robins, Mark Steilen
Screenwriter(s): Rob McKittrick, Mark Steilen
Story: Russell Adams
Cast: Jeremy Renner (Jerry), Jake Johnson (Randy), Ed Helms (Hoagie), Hannibal Buress (Sable), Jon Hamm (Callahan), Isla Fisher (Anna), Annabelle Wallis (Rebecca), Rashida Jones (Cheryl), Leslie Bibb (Susan)
Editor(s): Josh Crockett
Cinematographer: Larry Blanford, Steven Capitano Calitri
Costume Designer: Denise Wingate
Casting Director(s): Rich Delia
Music Score: Germaine Franco
Country Of Origin: USA