Synopsis: An assignment to stop a powerful weapon from falling into the wrong hands ends in a shocking turn of events for Barney Ross (Sylvester Stallone) and his crack team of mercenaries, known as The Expendables. They discover that the ruthless arms dealer they are pursuing is none other than Conrad Stonebanks (Mel Gibson)-Barney's former partner and Expendables' co-founder, and a man he thought he had killed more than a decade earlier. After an explosive firefight, Stonebanks escapes unscathed, and veteran Expendable Hale Caesar (Terry Crews) is almost killed, forcing Barney to make a momentous decision. He retires his longtime crew and recruits a group of youthful hotshots (Kellan Lutz, Ronda Rousey, Glen Powell, and Victor Ortiz) to bring fresh energy and updated skills to the team.
Release Date: August 15, 2014     MPAA Rating: PG-13
Genre(s): Action, Comedy
Film Review

The Expendables series has always kept its tongue firmly planted in its cheek, but even then it struggled to capitalize on what is an extremely lucrative concept. The first film was novel but utterly senseless, and felt more like a move out of desperation than a worthwhile action flick. The second one showed that Stallone & Co. were panicking, and rather than regroup it just threw more stars in our face. It's only now that we've reached the end of the rope with The Expendables 3 that it seems like the filmmakers and the actors finally get it; they understand why a concept like The Expendables is appealing. And while this third outing might still be goofy, it has enough charm to make it enjoyable.
The Expendables 3 once again finds the ragtag group of mercenaries on the trail of a merciless villain, this time played by Mel Gibson. Most of the principal cast is back on-board – Sylvester Stallone, Jason Statham, Dolph Lundgren, Randy Couture, Terry Crews, and Arnold Schwarzenegger – for this ballet of bullets, blood, and explosions, alongside newcomers Wesley Snipes, Harrison Ford, and Antonio Banderas. There's also a completely new, younger Expendables team formed during the movie, but this is a review not a cast list. Just know that The Expendables 3 features at least one action star for every kind of demographic, and every star gets at least a few on-screen moments to shine.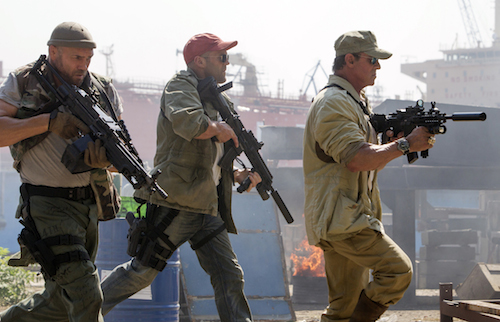 Of course, the real star of the show is Stallone's Barney Ross, the leader of The Expendables troupe and a former partner of Conrad Stonebanks (Gibson). The two had a falling out some time ago, and Stonebanks decided to turn to war profiteering while Ross found purpose in nobility. However, now that Ross has discovered Stonebanks is not, as he originally thought, dead, the two must come to blows, in every conceivable way.
The Expendables 3's plot is unsurprisingly wafer thin, to the point you fear just one of these testosterone-fueled brutes might snap it in half. Every plot beat is the set-up for a joke, an action sequence, or a little of both, woven together as if the film is a checklist where every actor needs a big laugh and at least one action-y moment. For fans of any or all of these stars, though, that makes for an entertaining popcorn flick, but let's not pretend The Expendables 3 is high art.
Even the acting is stiff and forced, but it serves the subject matter well. There are no big dramatic moments and no dark turns; these actors are supposed to be either making you laugh or impressing you with death and destruction. Luckily, The Expendables 3 is easily the most self-aware and therefore the funniest of the three films. It seems strange to think that it is only now that these actors are starting to lean into their on and off-screen personas, yet here we are. And it's not just a bunch of old guy jokes either, but genuinely funny pokes at people's careers or professional standing. I won't spoil them, but let's just say there are some pretty big laughs in the film.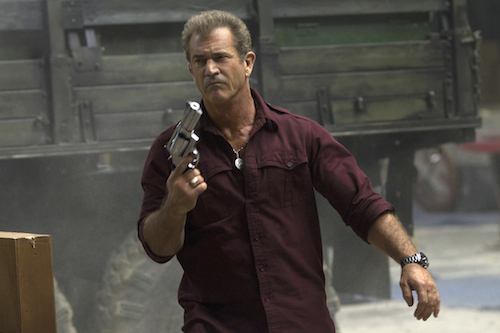 But of course, the major draw for The Expendables 3 will always be the action, and here it is enjoyable enough to carry a two-hour movie but by no means memorable. Save for an early train sequence, the film is mostly a lot of nonsensical shootouts bookended by explosions. And where there are fight sequences, you cringe every time an obvious stunt man shows up. The switch to a PG-13 rating helps some – in that the film couldn't just rely on senseless violence for excitement – but don't go in expecting anything terribly inventive. Yes, you get to see all these big name stars kick ass, but it's certainly nothing audiences haven't seen before.
It's honestly the charm and the humor (surprisingly) that help The Expendables 3 to a casual recommendation. The film's action is fine, its story serviceable, but the relationships that are either built upon or created in this film are frankly the best part about it. That might make this a rent or discount theater trip than a Friday night ticket, but that's more than could be said of the first two films. As it turns out, The Expendables proves that the third time really is the charm.

The only reason the acting in The Expendables 3 is even getting a mention is because of Antonio Banderas and Wesley Snipes. Both Banderas and Snipes are the most self aware of the entire cast, and as a result their characters are the most fun to watch on screen. Snipes as an action star is pretty forgettable in this movie, but as the goofy ex-con he is perfect (for obvious reasons). Banderas, on the other hand, comes from a completely different direction but is just as memorable. It's as if the film combined the comedic reliefs of several action movies, gave him a few energy drinks, and then let him loose alongside these walking muscle heads, quipping a mile a minute. His character is that all-important wink and nod the film needed to keep from entering self-serious territory, and he's without question the best part of the movie.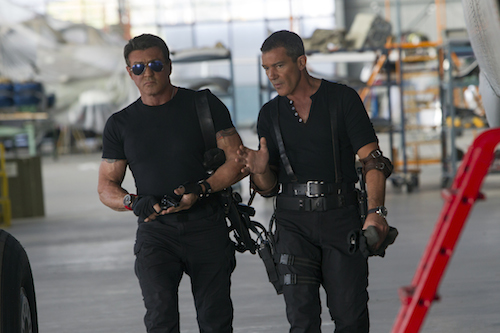 There isn't much more to say about the action besides the fact that things go boom…a lot. And when the film's not overloading you with some pretty horrendous CGI explosions or destruction, it's using quick cuts and senseless gunfire to feign excitement. But, if you're the type of moviegoer who cares more about the people involved with the action than the creativity of the action itself, than The Expendables 3 should do just fine in your book. That isn't to say the action in the film is otherwise bad, it just hits a lot of formulaic notes.
Cast and Crew
Director(s): Patrick Hughes
Producer(s):
Screenwriter(s): Sylvester StalloneCreighton RothernbergerKatrin Benedikt
Story: 
Cast: Sylvester Stallone (Barney Ross)Jason Statham (Lee Christmas)Harrison Ford (Drummer) Arnold Schwarzenegger (Trench)Mel Gibson (Stonebanks)Wesley Snipes (Doc)Dolph LundgrenRandy Couture (Toll Road)Terry Crews (Caesar)Antonio Banderas (Galgo)Ronda Rousey (Luna)
Editor(s): Sean Albertson
Cinematographer: Peter Menzies Jr.
Production Designer(s):
Costume Designer: 
Casting Director(s): 
Music Score: Brian Tyler
Music Performed By: 
Country Of Origin: USA