Synopsis: A woman is hired as a handmaiden to a Japanese heiress, but secretly she is involved in a plot to defraud her.
Release Date: October 28, 2016     MPAA Rating: PG-13
Genre(s): Drama, Romance
Film Review

South Korean film director Chan-wook Park has become somewhat of a legend with his uniquely tense, visually stunning mystery movies, first making a splash with his Vengeance trilogy (Sympathy for Mr. Vengeance, Oldboy, and Lady Vengeance) in the early 2000s. He surprised a lot of people a few years back with Stoker, a slow-burn thriller that was more cerebral than visceral. Now, he seems to have balanced his left brain and his right brain with The Handmaiden.
Set in Japanese-occupied 1930s Korea, The Handmaiden is the tale of a young Korean pickpocket named Sook-Hee (Kim Tae-ri) who gets a job as a handmaiden to a Japanese heiress named Lady Hideko (Min-hee Kim). Sook-Hee becomes a trusted companion to Hideko, but unbeknownst to the heiress, the pickpocket is in league with a phony Count named Fujiwara (Jung-woo Ha) who plans to seduce Hideko and steal her fortune before, finally, having her committed to an insane asylum. But, as Sook-Hee and Hideko become closer, their emotions throw a wrench or two into the Count's scheme.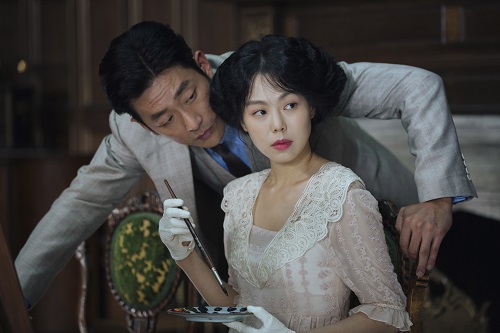 The screenplay for The Handmaiden, adapted from a Sarah Walters novel by Chan-wook Park and Seo-Kyung Chung, is full of the same smart twists and turns that have long categorized Park's movies. The audience literally has no idea what to expect – there are shifting alliances, double crosses, and triple crosses throughout the entire movie that keep it interesting in a Tarantino-esque way (think Jackie Brown, if you will). There's merely a trace amount of the brutality and violence to which Park fans have become accustomed, and there's even less of the dark humor, but there's enough extra sexual energy and tension to make up for those shortcomings. It's both vintage Chan-wook Park, and something completely different.
The bulk of The Handmaiden seems as if Chan-wook Park wants to leave his days of hammer-fights and scissor-stabbings behind him, but the last act proves that he isn't quite ready for that yet, as the erotic thriller turns into a borderline torture-porn film. That just means that, like most of his films, The Handmaiden will appeal to both gore hounds and art film nerds alike.

Chan-wook Park has a definite directorial style, and, whether the viewer likes that style or not, it is front and center in The Handmaiden. It's a beautifully shot movie, but more importantly, it absolutely looks like a Chan-wook Park movie, with plenty of interesting camera motion, symmetrical shot framing, and dulled-down color palettes giving way to just a splash of brightness. As mentioned earlier, The Handmaiden isn't as grotesquely violent as Park's older films, but the subject matter is still plenty disturbing on a psychological level. Park seems to have chosen his story based upon his penchant for keeping his audience in the dark, as the suspenseful mystery goes places that other movies only hint at or dream of. With The Handmaiden, Chan-wook Park has brought his vision to life in a way that breaks new ground for him while constantly reminding the viewer that what they are seeing is, in fact, a Chan-wook Park film.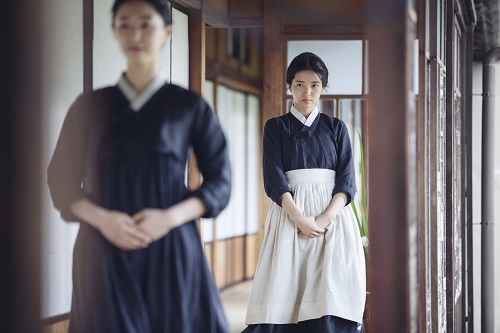 Cast and Crew
Director(s): Chan-wook Park
Producer(s): Chan-wook ParkSyd Lim
Screenwriter(s): Chan-wook ParkSeo-Kyung Chung
Story: Sarah Waters
Cast: Min-hee Kim (Lady Hideko)Kim Tae-ri (Sook-Hee)Jung-woo Ha (Count Fujiwara) Jin-woong Jo (Uncle Kouzuki)Hae-suk Kim (Butler)So-ri Moon (Aunt of Noble Lady)
Editor(s): Jae-Bum Kim
Cinematographer: Chung-hoon Chung
Production Designer(s):
Costume Designer: Sang-gyeong Jo
Casting Director(s): 
Music Score: Yeong-wook Jo
Music Performed By: 
Country Of Origin: South Korea