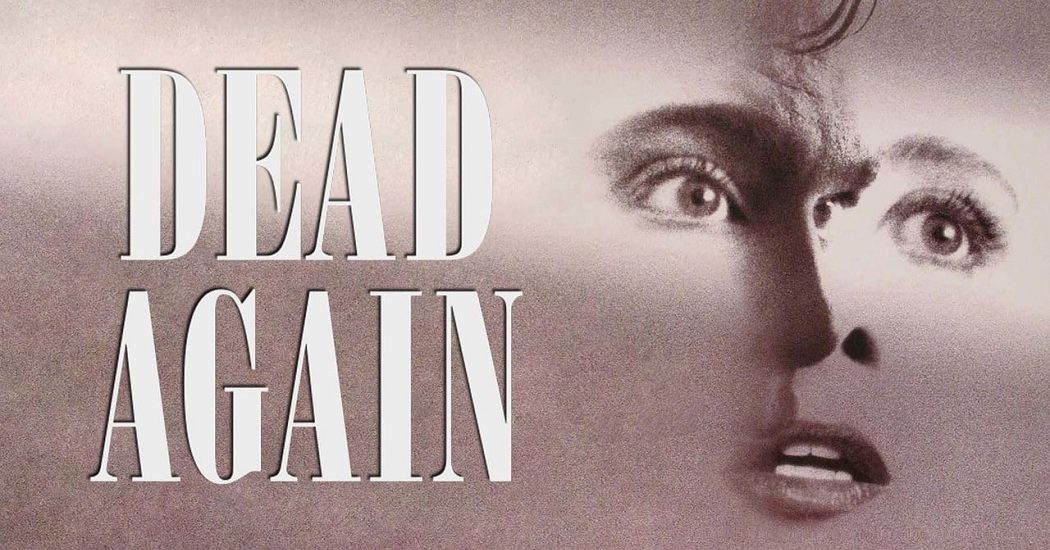 Cinema Fearité presents 'Dead Again'
Cinema Fearité presents Shakespearean actor Kenneth Branagh doing melodratic schlock in 'Dead Again.'
Writer/director/actor Kenneth Branagh is mostly thought of as a highbrow artist, a graduate of the Royal Academy of Dramatic Arts who has adapted both William Shakespeare and Agatha Christie for the silver screen. As an actor, he's received Oscar nominations for his performances in My Week With Marilyn and Henry V. But he's also dabbled in schlock and exploitation, too, just for fun. He made a version of Mary Shelley's Frankenstein, directed Thor for Marvel, and even appeared in the Will Smith vehicle Wild Wild West (and its subsequent music video). But none of this comes close to his 1991 offering, a neo-noir melodramatic mystery about amnesia and reincarnation called Dead Again.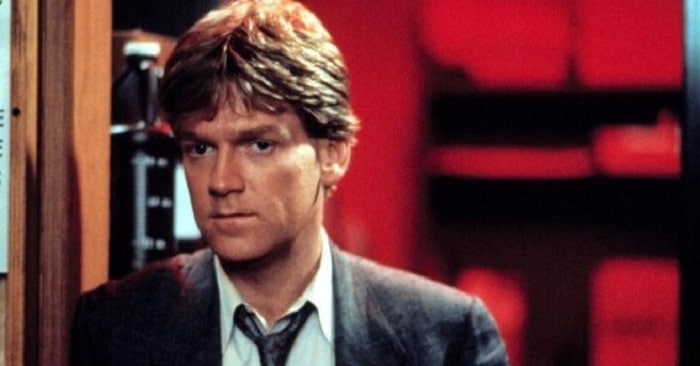 Dead Again is about a private investigator named Mike Church (Branagh) who is asked to help figure out the identity of an amnesiac woman who has been nicknamed Grace (Branagh's then-wife Emma Thompson from Effie Gray). Grace keeps having nightmares about a pianist named Margaret (also Thompson in flashbacks) who is murdered by her husband, a famous composer named Roman Strauss (also Branagh). On a whim, Mike takes Grace to a hypnotist who discovers that Grace and Mike are the reincarnations of the composer and the pianist. This revelation only raises more questions about Grace's identity…and the real circumstances of the forty-year-old murder.
The screenplay for Dead Again was written by Scott Frank, who would go on to write big-time flicks like Minority Report and Logan. The plot is clever, and the story brings out Branagh's flair for the theatrical. It's hardly a straight-up horror movie, but there is enough of the macabre in it for Dead Again to have garnered comparisons to Hitchcock and De Palma, both in its visual aesthetic and the way the storyline unfolds. It's a ghost story without any real ghosts.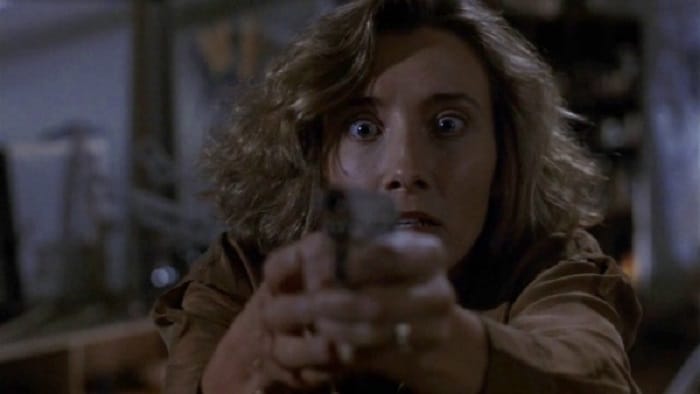 The theatricality of Dead Again is evident in its melodrama. The film is packed with spoken exposition, either as voiceover narration of the flashbacks or though visits with experts who tell Mike and Grace some of the answers for which they're looking. There's also plenty of thinly veiled symbolism and heavy-handed foreshadowing, all of which hits like a ton of bricks once the movie gets to where its going and the audience realizes that it has been fed the answers all along. And, just to make sure that not everything is verbal, the movie is broken up with a hilarious chase/fight scene between Mike and a man who claims to be Grace's husband, complete with sloppy martial arts kicks and an impromptu parkour escape. That's the best thing about Dead Again – Branagh never lets it take itself as seriously as other directors might have, so it's got levity slipped in amongst the suspense.
Also fitting into the melodramatic aspect of the film, there's a strange forced love story in Dead Again, because of course there is. The movie is, after all, about two former lovers who have found each other in a future life. But the love story feels a little too convenient. For an amnesiac, Grace is way too trusting, and much more comfortable with Mike than she should be. For his part, Mike is a hard-boiled P.I. whose heart melts when it comes to Grace. It's a predictable arc, and even if it's out of place, it's sweet, and nothing about Dead Again is really based in reality, so why not?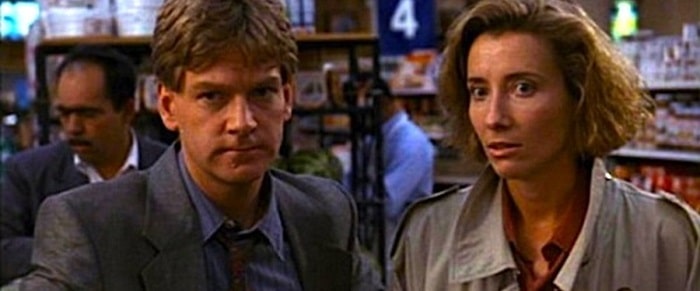 Dead Again is Kenneth Branagh's show, but there are plenty of familiar faces in it that aren't Branagh or Emma Thompson. The legendary Robin Williams (One Hour Photo) shows up as a former psychologist/current grocery store worker who helps Mike make sense of his situation (and to provide more spoken exposition). Wayne Knight (Dennis Nedry from Jurassic Park) pops in as Mike's buddy who helps out with Grace. Andy Garcia (Ocean's Eleven) plays an overly curious journalist in the flashback scenes. Finally, Branagh pal Derek Jacobi (Cinderella) lends his talents as the hypnotist who breaks the movie wide open. The support cast of Dead Again doesn't let the movie become a two person/four character show.
Dead Again was shot by cinematographer Matthew F. Leonetti (Poltergeist, The Butterfly Effect), who faces up the unique challenge of keeping the different timelines separate in the audience's eyes. This is mainly done by giving the flashback scenes a black and white, almost sepia toned look, so that the viewer doesn't have to rely on sets or costumes alone to figure out which scenes are in the past (this monochrome technique was added in post-production after test audiences found the different timelines with the same actors confusing). During the making of Dead Again, Kenneth Branagh was fascinated by long takes, so Leonetti uses uninterrupted shots during select scenes to build tension, most notably in the first hypnosis scene. The fly on the wall camera work coupled with the switching from full color to shadowy black and white gives Dead Again its distinct neo-noir flavor.
Speaking of neo-noir flavor, the music for Dead Again was written by Branagh's composer-of-choice Patrick Doyle, who, in addition to scoring most of Branagh's movies, also did the music for hits like Rise of the Planet of the Apes and Harry Potter and the Goblet of Fire. The past lives story involves a pianist and a composer, so the music there is integral to that story thread. These musical themes also rear their heads in the present-day plotline as well, and Doyle's soundtrack is almost a parody of a romantic mystery, full of suspenseful stings and lavish flourishes. Honestly, the musical score for Dead Again goes right along with the subtle campiness of the rest of the movie.
Kenneth Branagh is a serious actor and director, but he's got a silly side. And, intentional or not, Dead Again is him at his silliest.