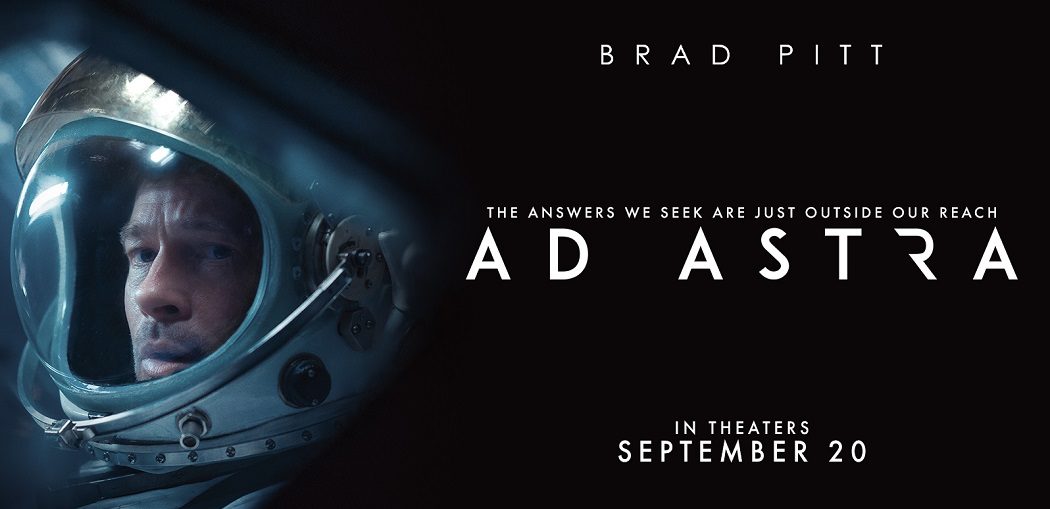 Ad Astra Review
Despite its questionable science, 'Ad Astra' is destined to become a Sci Fi classic.
Release Date: September 20, 2019
Astronaut Roy McBride undertakes a mission across an unforgiving solar system to uncover the truth about his missing father and his doomed expedition that now, 30 years later, threatens the universe.
Director: James Gray
Screenwriters: James Gray, Ethan Gross
Producers: Dede Gardner, James Gray, Anthony Katagas, Jeremy Kleiner, Arnon Milchan, Yariv Milchan, Brad Pitt, Rodrigo Teixeira 
Cast: Brad Pitt (Roy McBride), Tommy Lee Jones (Clifford McBride), Liv Tyler (Eve McBride), Ruth Negga (Helen Lantos), Donald Sutherland (Colonel Pruitt), Loren Dean (Donald Stanford) 
Editors: John Axelrad, Lee Haugen
Cinematographer: Hoyte Van Hoytema 
Production Designer: Kevin Thompson 
Casting Director: Douglas Aibel
Music Score: Max Richter 

There's been a common theme in recent science fiction movies of missions being sent across space to rescue or retrieve lost astronauts. First, we had Interstellar. Then we had The Martian. Now, we've got Ad Astra.
In Ad Astra, the Earth is being hit with mysterious electromagnetic surges that are taking out power and subsequently killing thousands of people. The government believes that the surges may be originating from The Lima Project, a presumed-lost space mission in the orbits of Neptune led by legendary astronaut H. Clifford McBride (The Homesman's Tommy Lee Jones). NASA calls upon Clifford's son, Major Roy McBride (Once Upon a Time…in Hollywood's Brad Pitt), to investigate the whereabouts of The Lima Project and attempt contact with his father.
Making stops on the moon and Mars, Roy embarks on his long journey to find his father, meeting obstacles at every path. The trip is as personal as it is professional for Roy, as he is desperate to find out what happened to his father when contact with The Lima Project was lost 16 years earlier. But as Roy gets closer to the truth, he begins to think that his father may not be missing…he may be hiding.
Director James Gray (The Lost City of Z, The Immigrant) wrote the screenplay for Ad Astra with his friend and frequent conspirator Ethan Gross ("Fringe"), and essentially, it's a complicated setup for a simple story. Most of the exposition involves setting up the world and the situation, so by the time Roy sets out on his journey, the foundation is laid and it's all about the trip. And basically, the story is a less horrific version of Event Horizon. There's enough action to keep things interesting and exciting, but at its root, Ad Astra is more of a cerebral, philosophical movie.
The philosophy is where Ad Astra gets a little long in the tooth. The filmmaking itself is breathtaking, a nearly flawless example of science fiction that will go down in history next to classics like 2001: A Space Odyssey and Solaris. And, like those movies, Ad Astra is drawn out and padded, slow and meditative, almost as if Gray is trying to simulate the tedium of space travel for his audience. It's never boring, but Ad Astra does get bogged down in its own intellect at times.
For as smart of a movie as it is, the science in Ad Astra is a bit suspect. For example, at one point, Roy makes plans to pilot his spacecraft through the vast expanse of space, using the explosion from another craft as his power source. This is after he navigates through a belt of small asteroids while on a spacewalk, using only what looks like a solar panel as protection. Sure, it's the future, so maybe the panels are constructed of some super space polymer and can stand the stress, but Ad Astra is full of questionable bits like this. Much of it is necessary to move the story along, but the eye-rolling internal laughter can be distracting.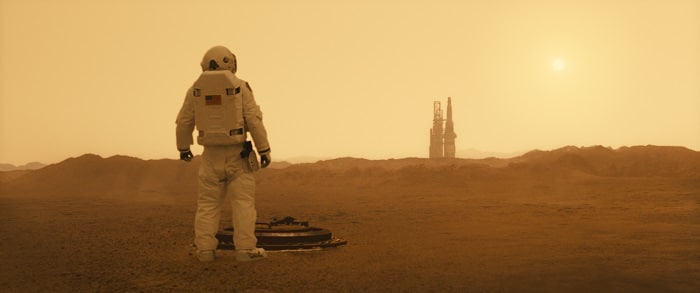 Science aside, Ad Astra is an awe-inspiring film. On a visual level, it's stunning, thanks to the head-spinning effects and some remarkable cinematography from Hoyte Von Hoytema (Dunkirk, Her). On a narrative level, it tells a simple story while exploring deep concepts like the sins of the father and the sacrifice of man for the betterment of mankind. So, Ad Astra is going to appeal to both those who analyze everything and those who just want to see things blow up.

Ad Astra is mainly Brad Pitt's movie, and he is a strong enough presence to carry the film. But he's surrounded by a capable support cast, most of whom only stop by for a scene or two, and some for even less than that. Donald Sutherland (The Hunger Games) shows up as Colonel Pruitt, one of Roy's travelling partners. Although they share no scenes together, Sutherland and Tommy Lee Jones have a Space Cowboys reunion with Loren Dean (Enemy of the State), who pops in as a crew member on a ship upon which Roy is travelling. Liv Tyler (The Strangers) appears (mainly through flashbacks and video messages) as the girl Roy left behind on Earth, a similar role to that which she played in Armageddon. Finally, Academy Award nominee Ruth Negga (who also appeared with Pitt in World War Z) plays an ambassador on Mars who turns into an unlikely ally for Roy. Aside from Pitt, the cast of Ad Astra is basically bit players, but they are big name bit players nonetheless, and every one of them brings their A-game to the table. What they say about small parts and small actors is fully applicable to Ad Astra.

Like any film about space travel, the sound design in Ad Astra is important, and the team of Gary Rydstrom (Jurassic Park), Douglas Murray (War for the Planet of the Apes), and Grant Elder (Unsane) crafts layered audio that consists of both mechanical sound effects and deafening silences. The sound design works hand in hand with the pulsing electronic score from composer Max Richter (The Last Days on Mars, Morgan), creating a sonic landscape that brings the viewer along for the ride with Roy. The sound is subtle enough to not call too much attention to itself, but dense enough to sell the isolation and desolation of Roy's long journey through the solar system. And, best of all, the sound team for Ad Astra knows how to use frequency to rattle seats instead of volume, so the audience feels the louder moments instead of just hearing them. In a perfect world, Ad Astra should be the front runner for the technical sound awards come Oscar season.