Formula One driver Ayrton Senna was a marvel to watch on the track. His instincts spot on, his ability to wow an audience guaranteed, and his off-track demeanor always one of composure and graciousness. Senna was not a proud champion, but a very proud man; one who would go on to break records on the track, as well as fight battles behind the scenes for fair practices and a slow destruction of the political nature of the sport. All the while maintaining a humble and religious existence in his home life, as well as being incredibly generous.
Director Asif Kapadia takes Senna's story from his humble beginnings in Brazil to his star turn on the track in the documentary Senna with great success. Structuring the documentary like a narrative feature, as written by Manish Pandey, it maintains a successful story structure that becomes full of more energy, drama, and feeling than many fictional story's put to film. Told with a linear structure through archival footage (from F1, Senna's family, as well as news coverage), actual voice-over of Senna himself explaining parts of his career and life, as well as still photographs and other voiceover narrative Senna's fascinating story comes to life, without the feel of a stiff documentary.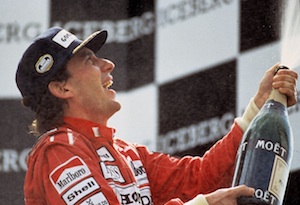 Senna came into Formula One driving quickly, and moved up just as fast to become one of the best on the track. With success comes conflict, and his main rival would be his own onetime teammate, Alain Prost. Kapadia is able to portray the rivalry between these two men to perfection. The tension, the need to overcome each another, as well as the respect they both held for one another despite their issues on and off the track. This is a documentary with a protagonist/antagonist relationship; stripping it of the informational aspect and creating a more well-rounded story. It is the usage of on-board cameras that takes the story of Ayrton Senna to a completely greater level.
The experience of driving a Formule One car, the way that Senna drove one of these cars is something few will, or could ever experience. In order to feel and see what Senna saw the footage from his actual car is used continuously during the documentary. Sitting behind the wheel, with Senna's POV, is an exhilarating experience. The excitement of the race is infectious, and the tragedy also brought to a front after great suspense. For Senna's career may have included great success amidst tension with other drivers and behind the scenes politics but it is the end of his career that comes as most shocking. The on-board camera catches the last moments of Senna's final race, quickly and fluidly cutting at the last moment before his car hits the wall.
A mere 6 inches would have saved Senna's life, and the documentary would be about a great career of a man who has since retired. Instead it is a glorious tale of a man whose life was cut far too short, but made an incredible impact in his short time.
Senna is a remarkable documentary that strips away the conventions of documentary filmmaking to construct a narrative that is engaging, forthright, and impossible to look away from. Senna's life is fascinating, the politics of Formula One racing eye-opening; the entire film is a testament to a great sportsman, and a man who was loved by a country, a family, and people around the world.
Credits:
(England, 2011, 104 mins)
Directed By: Asif Kapadia Executive Producers: Manish Pandey, Kevin MacDonald, Debra Hayward, Liza Chasin
Producers: James Gay-Rees, Tim Bevan, Eric Fellner
Screenwriter: Manish Pandey
Editors: Gregers Sall, Chris Kin
Music: Antonio Pinto