High Life Review
Robert Pattinson takes the lead again in director Claire Denis' 'High Life.'
Release Date: April 19, 2019
A father and his daughter struggle to survive in deep space where they live in isolation.
Director: Claire Denis
Screenwriters: Claire Denis, Jean-Pol Fargeau, Geoff Cox
Producers: Laurence Clerc, Oliver Dungey, Christoph Friedel, D.J. Gugenheim, Andrew Lauren, Klaudia Smieja, Claudia Steffen, Olivier Thery Lapiney 
Cast: Robert Pattinson (Monte), Juliette Binoche (Dr. Dibs), Andre Benjamin (Tcherny), Mia Goth (Boyse), Agata Buzek (Nansen), Lars Eidinger (Chandra), Claire Tran (Mink), Ewan Mitchell (Ettore), Gloria Obianyo (Elektra), Scarlett Lindsey (Willow – Baby), Jessie Ross (Willow – Teenager)
Editor: Guy Lecorne
Cinematographers: Yorick Le Saux, Tomasz Naumiuk
Production Designers: Jagna Dobesz, Olafur Eliasson, Francois-Renaud Labarthe, Mela Melak
Casting Directors: Piotr Bartuszek, Des Hamilton
Music Score: Stuart Staples, Tindersticks

Robert Pattinson has spent most of his post-Twilight career proving that he is more than just a pretty face with smart and gritty movies like The Rover, Cosmopolis, and Good Time. He makes another strong case for his acting talents with High Life.
High Life begins with a man named Monte (Pattinson) hurling through space in a boxy spacecraft with only an infant baby for companionship. Told mostly through flashbacks, the movie then jumps around to explain that Monte is the last survivor of a crew made up of death row inmates that was sent to a black hole. Along the way, one of his fellow prisoners, a doctor named Dibs (Juliette Binoche from The Clouds of Sils Maria), becomes the de-facto leader of the bunch and performs additional fertility experiments on the prisoners as they speed along on their one-way "mission."
It's difficult to talk about High Life without spoiling bits of it, because the timeline jumps around so much and information is revealed to the audience in a slow and specific way. Director Claire Denis (Chocolat, Let the Sunshine In) uses the non-linear structure of the script that she co-wrote with Jean-Pol Fargeau (who also co-wrote Chocolat with Denis) and Geoff Cox (Evolution) to deliberately and methodically let the story unravel, helping the viewer to both feel Monte's isolation and understand exactly what caused it.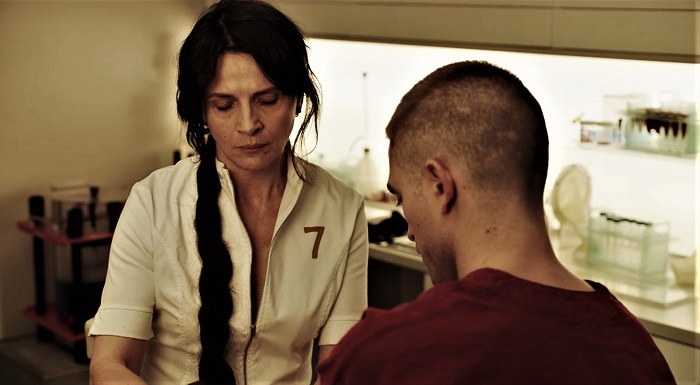 At first, the leaping around through time feels a little jumbled, but as soon as the puzzle pieces start to fall into place, the confusion turns to curiosity, and the audience is fully engaged, if only so that they can figure out what the hell is actually going on. It's not that High Life is hard to follow, it's just a strange and unique narrative, part survival thriller, part horror movie, with just a splash of the majestic wonder of 2001: A Space Odyssey. It's basically Silent Running by way of Event Horizon.
High Life alternates between calm uneasiness and violent chaos, depending upon which characters are on screen (and alive at the time). And Denis navigates the waters of the two ends of the spectrum with precision accuracy. Of course, there are logical flaws in the movie, mainly in the selection of the co-ed crew full of brutal offenders – most of these characters don't even seem like they'd be convicts, let alone death row inmates – but, because it's a futuristic movie, there's an air of believability even with that. In the future, anything is possible.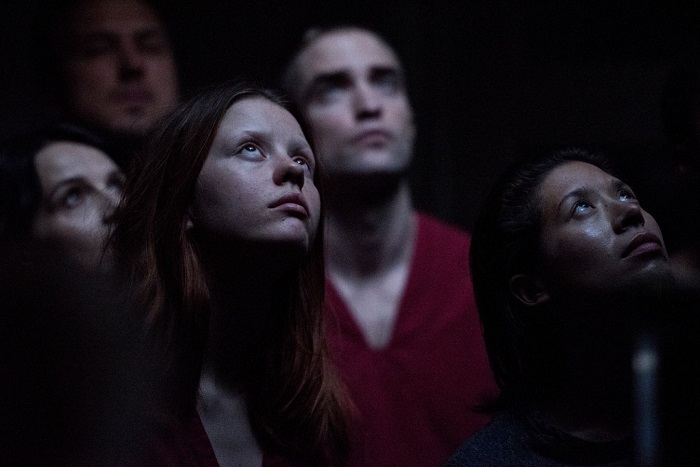 Like most good dystopian science fiction, High Life has a deeper analogous message about the modern prison system, slave labor, and abstract loneliness. The fact that these crew members all chose a one-way ticket to oblivion instead of a death sentence speaks volumes about the desperation of their characters. It's a deep and philosophical movie, one which makes the viewer think a bit while they're trying to keep up with the action. But the introspection does not detract from the overall theme of the movie. The introspection IS the overall theme of the movie.

Robert Pattinson owns High Life. For the most part, it's an ensemble cast which also includes names like Binoche, Mia Goth (Suspiria), André Benjamin (Four Brothers), Lars Eidinger (Personal Shopper), and Agata Buzek (Pearl), but Pattinson is the guy who is in just about every scene. His loneliness allows for some creative exposition (he has to check in with a journal entry every 24 hours for the life support systems on the ship to keep running), but mostly, his isolation is just that – isolation. When there are other people around, they're all death row convicts who chose a suicide mission instead of execution, so few can be trusted in any real capacity. And when Monte is alone, it's even worse. Pattinson shows both sides of the coin – loneliness and companionship – very well.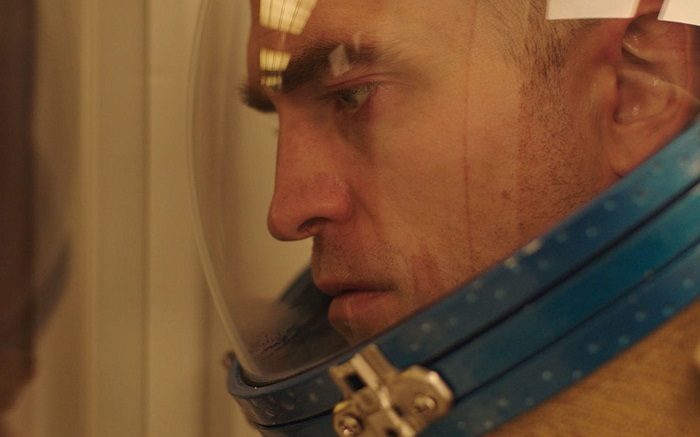 The spaceship in High Life is self-contained, with living quarters, a hospital area, and even a sustainable garden. It's basically a hi-tech prison with the inmates running the asylum. The audience never forgets that it's a spacecraft, however, because of the sound design of Andreas Hildebrandt (Nymphomaniac Vol. I and Vol. II, The Cut). The ship is filled with a wash of industrial and electronic sounds that serve as a constant reminder that the occupants are zipping through the vastness of space towards a black hole. There's the humming of computers, the buzzing of machinery, the drone of the engines, even the awkward silence of space itself. Much of the ambient soundscape is barely noticeable, more subliminal than anything else, just a subtle notice that yes, all of our characters are millions of miles from home, and they're never going back. The sound design in High Life is expertly eerie.