Synopsis: Nymphomaniac: Volume 1 is the story of Joe (Charlotte Gainsbourg), a self-diagnosed nymphomaniac who is discovered badly beaten in an alley by an older bachelor, Seligman (Stellan Skarsgard), who takes her into his home. As he tends to her wounds, she recounts the erotic story of her adolescence and young-adulthood (portrayed in flashback by newcomer Stacy Martin)
Release Date: March 21, 2014     MPAA Rating: PG-13
Genre(s): Drama,
Film Review

As long as he has been making feature films, Director Lars von Trier's movies have been classified into trilogies. Not traditional narrative trilogies a la George Lucas' Star Wars, but conceptual and philosophic trilogies along the lines of Chan-wook Park's Vengeance trilogy. The newest von Trier trilogy, a set which is nicknamed the Depression Trilogy and begins with Antichrist and Melancholia, wraps up with Nymphomaniac. Nymphomaniac is a sprawling epic clocking in at over four hours, so von Trier has decided to release it in two volumes, with the appropriately titled Nymphomaniac: Vol. I coming first.
Nymphomaniac: Vol. I begins with a man named Seligman (Stellan Skarsgard from Thor) finding a badly beaten and bloodied woman named Joe (Charlotte Gainsbourg from Melancholia) in a rain-soaked back alley. Selgiman takes Joe into his home and offers her shelter and sanctuary. Once her wounds have been bandaged and she is safe and warm, Joe starts to tell Seligman the events of her life and how she came to be knocked out in the alley where he found her. Joe talks about her father, her discovery of her sexuality, and her first love, while Seligman relates her stories to everything from psychology to fishing.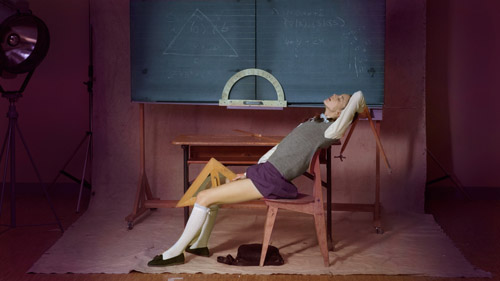 Nymphomaniac: Vol. I is exactly what one would expect from a film about a self-proclaimed sex-addict getting an impromptu therapy session from a complete stranger. Written and directed by Lars von Trier, the film is episodic in nature, with each of Joe's stories telling about a different chapter in her life, yet they are all pulled together by the common theme of her sexuality. Joe's tales go from innocent and naive to experienced and practiced, and the audience gets to watch her grow up fast before its eyes. The more stories Joe tells, the more the viewer connects with her, and the more fascinated they become by her exploits. Having Joe narrate her own life adds to this connection and, by the end, the viewer can't wait to see what happens to her in Nymphomaniac: Vol. II.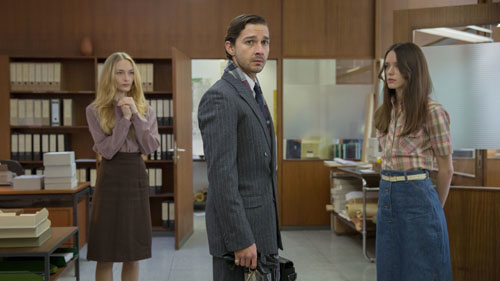 Lars von Trier brings a very distinct vision to the screen with Nymphomaniac: Vol. I. Each chapter has a distinct look and feel to it, as each one represents a different time in Joe's life. The cast aids von Trier immensely by putting forth quality performances, but many of the actors are veterans of the director's films and seem to know exactly what he expects from them. The film is very dialogue or monologue driven with plenty of voiceover, but it never feels like a crutch; on the contrary, the this-is-your-life narrative seems almost essential to the film, as the viewer gets inside Joe's head at the same time that they are seeing her actions. The film is not as exploitative as it would seem; of course, it's extremely sexual, and the sex scenes are shocking, but they are not there to be purely controversial. Joe's intelligent and articulate exposition makes the explicit scenes thoughtful and provocative instead of sleazy and dirty.
There is no way that a film like Nymphomaniac: Vol. I could be released if it were not unrated; the film's content is way beyond an NC-17, but it's too artistic to merit an X. The sex in the film is unsimulated, meaning that there are actual sex acts appearing onscreen, but it is not treated in the same way as pornography. The sex scenes go much further than soft-core "skinimax,", but stop short of full-blown internet porn. There is nothing really arousing about the film, even during the more pleasant sex scenes. It's all just telling a story; the story just happens to have a lot of sex in it. It's not safe for kids and it's not for prudes, but it's not a film that audiences have to be ashamed that they want to see, either. Hold your head up, walk into Nymphomaniac: Vol. I proudly, and enjoy it.

The visual effects in Nymphomaniac: Vol. I are nothing short of genius. The sex is all unsimulated, and the camera goes everywhere, but none of the name actors or actresses actually engages in intercourse. The sex scenes are a clever combination of CG effects, latex prosthetics, and simple editing. For example, for the scenes with Shia LaBeouf and Stacy Martin, from the waist up the audience is seeing LaBeouf and Martin; from the waist down, however, "stunt" body doubles (i.e. real porn stars) are used. The final image is a digital composite which looks like Jerome and Joe are humping. For oral sex scenes, fake body parts are used (think Boogie Nights) so that the actors never actually have any sexual contact. The effects are pretty convincing. Nymphomaniac: Vol. I is the next best thing to a celebrity sex tape. Actually, it's better; there's a story and production value in Nymphomaniac: Vol. I.

At first, it seems that Nymphomaniac: Vol. I is a controversial ploy to attract viewers by attaching big-name stars to a movie about sex. Once the film starts rolling, however, it becomes apparent that the movie is about much more than that. It's extremely character driven, and the chemistry between Stellan Skarsgard and Charlotte Gainsbourg is impeccable. For the flashbacks, the young Joe is played by newcomer Stacy Martin, and she handles the uncomfortable bulk of the film with both confidence and skill. Christian Slater (True Romance) is an unlikely choice for Joe's father, but he pulls it off well. The other huge standout in the cast is Uma Thurman (Pulp Fiction), who turns in an absolutely manic performance as one of Joe's conquests' wives.
Then there's Shia LaBeouf (Transformers). His performance as Jerome, Joe's first love, is so bland and nondescript that one can't help but wonder if that's how von Trier wanted it to be played; the character is not likeable, but is never played as a heel or a cad. He's just…there; someone with whom Joe can take turns hurting and getting hurt. He's simply an object with which Joe can toy around. LaBeouf is the noticeable weak spot in the cast, and it's played in a way that makes one wonder if it's intentional. So, Shia LaBeouf is either amazing or horrible; the jury is still out on which.
Cast and Crew
Director(s): Lars von Trier
Producer(s):
Screenwriter(s): Lars von Trier
Story: 
Cast: Charlotte Gainsbourg (Joe)Stellan Skarsgard (Seligman)Stacy Martin (Young Joe) Shia LaBeouf (Jerome)Christian Slater (Joe's Father)Uma Thurman (Mrs. H)Sophie Kennedy Clark (B)Connie Nelson (Joe's Mother)
Editor(s): Morten Hojbjerg
Cinematographer: Manuel Alberto Claro
Production Designer(s):
Costume Designer: 
Casting Director(s): 
Music Score: 
Music Performed By: 
Country Of Origin: USA