Teen Spirit Review
Elle Fanning sings in director Max Minghella's modern Cinderella story 'Teen Spirit.'
Release Date: April 19, 2019
Violet is a shy teenager who dreams of escaping her small town and pursuing her passion to sing. With the help of an unlikely mentor, she enters a local singing competition that will test her integrity, talent and ambition. Driven by a pop-fueled soundtrack, Teen Spirit is a visceral and stylish spin on the Cinderella story.
Director: Max Minghella
Screenwriters: Max Minghella
Producers: Fred Berger
Cast: Elle Fanning (Violet), Agnieszka Grochowska (Marta), Zlatko Buric (Vlad), Rebecca Hall (Jules), Ruairi O'Connor (Keyan Spears), Clara Rugaard (Roxy)
Editor: Cam McLauchlin
Cinematographer: Autumn Durald
Production Designer: Kave Quinn
Casting Director: Julie Harkin
Music Score: Marius De Vries

Teen Spirit is about a young Polish waitress from the Isle of Wight named Violet (Elle Fanning from The Neon Demon and The Beguiled) who dreams of being a pop singer, despite her only musical experience coming from singing in a choir and at a karaoke bar. She goes to an audition for an "American Idol" type of show called "Teen Spirit" and, with the help from an old ex-opera singing drunk named Vlad (Pusher's Zlatko Buric), she winds up advancing to further rounds and, eventually, earning a spot on the show. But her meteoric rise will test her skills, determination, and integrity.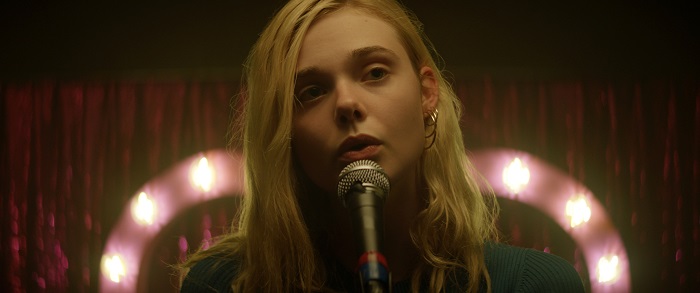 The directorial debut of actor Max Minghella (The Social Network, The Ides of March), what Teen Spirit boils down to is essentially a modernization of the age-old Cinderella story. Violet comes from a broken home that's teetering on the edge of poverty and is given a chance to make something of herself while her entire community rallies behind her. That's a lot of pressure for a teenage girl, especially when she gets a load of her competition and sees that the odds are really stacked against her. Real underdog stuff.
Teen Spirit is a movie about music, and the music segments are good. Minghella has an eye for stylish flair, and all of the performances, even the karaoke bar and audition ones, seem like music videos, with bright lights, silhouetted shadows, and swarming spinning camera work. It's when the fabricated drama rears its head that Teen Spirit loses steam. Subplots about absentee fathers, date-rapey peers, and alcoholic managers seem forced and coerced, leaving the audience begging for the film to just get back to the music.
Max Minghella has a unique knack for slick filmmaking that still shows its rough edges. There is an air of nothing being left to chance in Teen Spirit, with both the good and bad aspects giving the impression that they have been meticulously planned out. Some moments are very well crafted, while others fall a bit short of that lofty goal, but this says more about Minghella's decisions than it does his execution. For better or worse, one gets the feeling that Teen Spirit is exactly the movie that Max Minghella set out to make.
To sum up, from a technical standpoint, Teen Spirit is a solid movie. Max Minghella knows his filmcraft. The weaknesses lie within the script (which Minghella also wrote), with its manufactured conflict and unsuccessful attempts at emotional redemption. Teen Spirit is just another case of style over substance.

As mentioned before, Teen Spirit is edited much like a music video. Editor Cam McLauchlin (The Shape of Water, Crimson Peak) uses quick jump cuts during the more energetic parts of the movie, particularly during the musical and party segments when the disorienting effect becomes a handy storytelling tool. McLauchlin switches to a more continuity-based style when necessary, giving the film time to linger over some of the deep and meaningful, even overly thoughtful shots. Even during the slower and less engaging sections of the narrative, McLauchlin's editing keeps Teen Spirit interesting and, therefore, keeps the audience watching.

Just as one might expect from a movie like Teen Spirit, music drives the narrative. Elle Fanning does her own singing in the film, and she's a competent singer with the same flaws as her character; she hits the right notes, but doesn't have as much passion or energy behind them as Roxy (Clara Rugaard from I Am Mother), her confident rival on the show (Rugaard, like most of the rest of the cast, also does her own singing).
The songs are all current pop songs covered in a way that one would expect them to be on a show like "Teen Spirit." Fanning blasts through tunes by Annie Lennox, Robyn, Tegan and Sara, and Sigrid, while Rugaard belts out Ariana Grande's "Tattooed Heart." All of the contestants also join together with past winner Keyan Spears (Ruairi O'Connor from What Richard Did) for Owl City's "Good Time," but the real show stopper is when a minor character band called The Shades turns in a scorching rendition of The Undertones' "Teenage Kicks." Yes, a forgettable group that only exists to be beaten by Fanning and/or Rugaard shows them both up, even if no one in the movie notices it.
The soundtrack to Teen Spirit is serviceable, but the sonic similarities between the songs when they are all being performed by the same singer really illustrates how generic much of today's pop music can be. Violet's songs all run together after a while.