A good horror movie needs a frightening antagonist to keep the action coming. Whether it's a faceless killer or a wild animal, a good villain is the driving force behind any film, not just horror films. Sometimes, however, an unseen force is a much scarier foe, a phenomenon that has been dealt with over and over again like in the Final Destination
series. Producer David Foster's The Legacy has one of these deadly entities, and is one of the freakiest movies of the seventies.
The Legacy
stars Katharine Ross (from The Graduate
and Butch Cassidy and the Sundance Kid
) as Margaret Walsh, an architect who, along with her boyfriend Pete Danner (Ross' future husband, Sam Elliot from Road House and Tombstone
), has been invited to England for a job by a client that she has never met.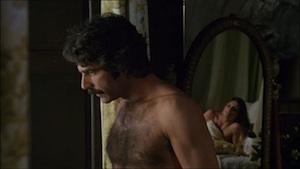 The pair arrives in England and, after traipsing around the country for a while, ends up getting into an accident on their motorcycle with a wealthy man named Jason Mountolive (character actor John Standing from The Elephant Man
and V for Vendetta), who offers to let them stay with him at his mansion while their bike is being repaired. The couple reluctantly agrees, and back at his estate they meet Nurse Adams (Margaret Tyzack from A Clockwork Orange
and 2001: A Space Odyssey
), a creepy woman who takes care of the sickly man.
Margaret and Peter also discover that Mountolive is the client that summoned them to England, and that five other guests have arrived, all of whom are his beneficiaries. The group includes WWII veteran Karl Liebnecht (The Rocky Horror Picture Show
's Charles Gray), modeling agent Barbara Kirstenburg (Hildegard Neil from Antony and Cleopatra,), socialite Maria Gabrieli (Olympic swimmer Marianne Broome), hotel owner Jacques Grandier (Mahler's Lee Montague) and music industry executive Clive Jackson (The Who singer Roger Daltrey).
While Margaret wonders why Mountolive has chosen her to invite to his gathering, Peter explores and gets more and more confused and concerned for their safety. When the guests start to die in mysterious and improbable ways, Margaret and Peter know that they're witnessing something more powerful than anything they've ever seen, and it seems to not want to stop until they are all dead.
For The Legacy, Foster (who would go on to produce John Carpenter's reimagining of The Thing
) tapped Richard Marquand (Return of the Jedi) to direct Hammer Horror legend Jimmy Sangster's screenplay. While not one of Sangster's more memorable scripts, The Legacy is also not just a run-of-the-mill satanic cult story. The plot is a terrifying mix of fearsome occult films like The Omen
and classic whodunits like And Then There Were None
. Not only do Margaret and Peter wonder why they have been brought to the sprawling mansion, but once the guests start to die off, they are charged with figuring out who is doing the killing. Having witnessed the deaths, the audience knows what Margaret and Peter don't; the deaths are not being caused by any of the guests, but by a supernatural being of some sort. It is a mystery that they must solve, but are on completely the wrong track.
The atmosphere of The Legacy
is nothing but spooky. The huge, labyrinthine mansion and its grounds almost become another character, especially when the house seems to be the deity doing the killing. Mountolive's staff is an old and skeletal bunch, looking more like they want to steal souls than turn down beds. And then there's the cat; a cute, bright white kitty that always seems to be around the mayhem, innocently laughing and purring. The combination of elements in The Legacy is a perfect setup for screams.
The actors in The Legacy go a long way towards selling the script, especially during their respective deaths. Marianne Broome's Maria drowns in the indoor swimming pool (an ironic death for an actress who's also an Olympic swimmer),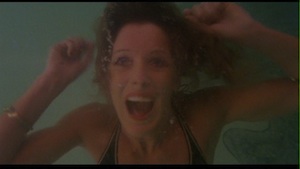 and does such a great job that the audience subconsciously holds its breath with her. Roger Daltrey's Clive chokes so well (on a chicken bone, even though he's eating the ham) that it seems like he's done it before, many times.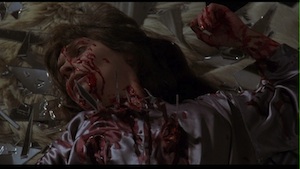 Some of the killings are pretty far-fetched and silly (Hildegard Neil's Barbara gets impaled by pieces of a broken mirror, and looks great doing it), so it becomes the cast's responsibility to really sell it for full effect, and they do not disappoint.
One thing that does disappoint in The Legacy is the music. A score can make or break a horror film, and, unfortunately, The Legacy
's score just doesn't deliver. Done by the experienced Michael J. Lewis (The Unseen, Ffolkes
), it is typical unmemorable film music. From the opening pop song to the final credits, the soundtrack is generic and boring, and sounds more like the score to a straight-forward dramatic film than a hair-raising horror flick. With a little more punch in the soundtrack, The Legacy would go from forgotten gem to fright-time classic.
While it seems tame compared to recent films, The Legacy is a terrifying film. Its smart mix of mystery and horror has fallen off the radar these days, but The Legacy
is a must-see for people who like their horror to keep them guessing.