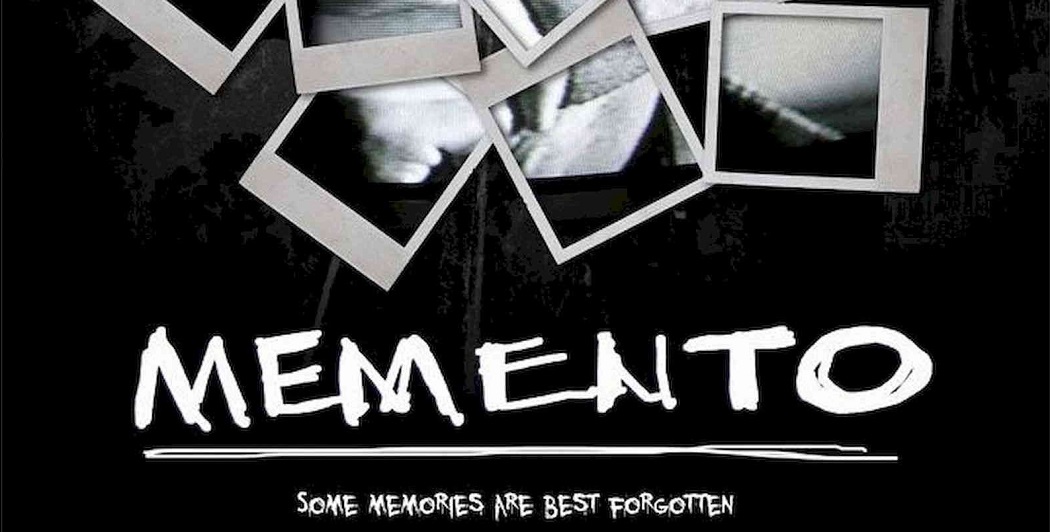 Cinema Fearité presents Memento
Before Dark Knights and loud explosions, Christopher Nolan was making neo-noir mysteries like Memento.
Before Hollywood auteur director Christopher Nolan was warping dreams with Inception, reinventing the superhero movie with the Dark Knight trilogy, or blowing everything up (including the movie's narrative timeline) with Dunkirk, he was making simple noir thrillers. His first movie, Following, gained him a reputation as a whatever-it-takes filmmaker, but his breakthrough second movie is where he really caught the attention of the mainstream (and his first Oscar nominations). That movie is his masterpiece neo-noir mystery thriller Memento.
Memento is about a man named Leonard Shelby (Guy Pearce from The Rover and Prometheus) who has made it his life's mission to avenge the rape and murder of his wife. The only problem is that the same attack that killed his wife also left him with anterograde amnesia, or the inability to form new memories. So, Leonard uses polaroid pictures, copious notetaking, and strategically placed body tattoos with messages like "JOHN G. RAPED AND MURDERED MY WIFE" to help him remember his investigative research.
Along the way, he gets help from a barmaid named Natalie (Pompeii's Carrie-Anne Moss) and a schemer named Teddy (The Identical's Joe Pantoliano) in his quest to track down this elusive John G. Because of his condition, he is forced to trust his allies, even though they both may have ulterior motives for wanting to help him.
Christopher Nolan based his screenplay for Memento on a short story called "Memento Mori" by his brother (and frequent co-writer) Jonathan.  The movie brilliantly unfolds its narrative in two interspersed timelines, one of which takes place in the past and is made up of flashbacks and older memories, and another which is happening in the present but is presented in reverse chronological order. It sounds complicated, and it is, but the fact that the plot makes complete sense to the viewer despite the fact that it is constantly jumping around narratively is a testament to Nolan's strength as a storyteller.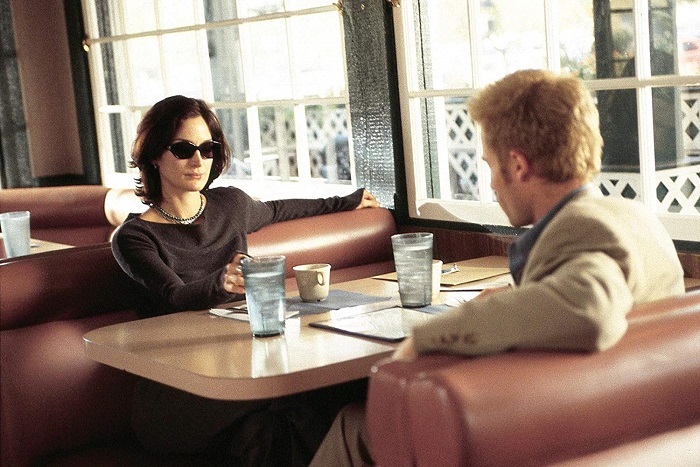 From the very first scene, the viewer knows where Memento is going to end up, so the movie becomes more about how it all gets there. And that information is revealed slowly and meticulously through Leonard's memories from his pre-attack life as an insurance investigator where he dealt with a claim from a man named Sammy Jankis (Stephen Tobolowsky from "Heroes") who suffered from his same anterograde amnesia.
Sammy's story coupled with the backwards timeline of Leonard's present-day plot thread help the viewer to get into the protagonist's head, even if they always know more than he does (because they, of course, can form short-term memories). And, despite the ending of the film being set at the beginning of Leonard's current adventure (if that makes any sense), the conclusion comes with a shocking twist that changes everything that has been presented by the movie up until that point.
For such a complex narrative structure, Memento is a surprisingly economical film. Nolan needed just 25 days to shoot, and instead of relying on eye-popping visuals and ear-bursting audio, the movie leans heavily on its non-linear screenplay and some stellar performances by the cast. Chunks of the dialogue was improvised, including all of the Sammy scenes with Stephen Tobolowsky and most of Guy Pearce's voiceover in-his-head transitions. Of course, the story is methodically plotted out, but there's an air of run-and-gun that floats over the production, too. There are no wasted scenes or lines in Memento. Everything is there for a reason.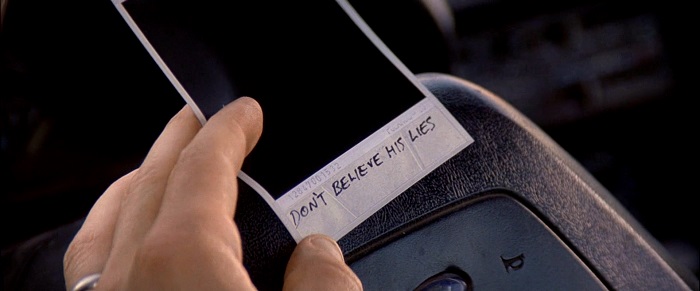 Just because Memento is economical doesn't mean that it looks cheap. Nolan made the most of what he had. Memento marked the first collaboration between Nolan and cinematographer Wally Pfister, a relationship that would continue right up through Nolan's The Dark Knight Rises in 2012. Pfister and Nolan jump between color and black and white film stock, depending upon which side of the story is being told at any given time, so the black and white historical exposition looks like just that – historical exposition.
Even the color segments are grimy and dirty, though, matching the neo noir vibe of the film. Editor Dody Dorn (Fury, I'm Still Here) puts a subtle stamp on the movie as well by putting it all together, mixing the non-traditional timeline with plenty of inserts and closeups, and even a few slick subliminal edits that clue the audience's subconscious in to what's really happening in the film (Dorn earned an Oscar nomination for the effort). It may not always look like it on the surface, but there's a lot going on in neo-noir Memento. Just like Christopher Nolan planned it.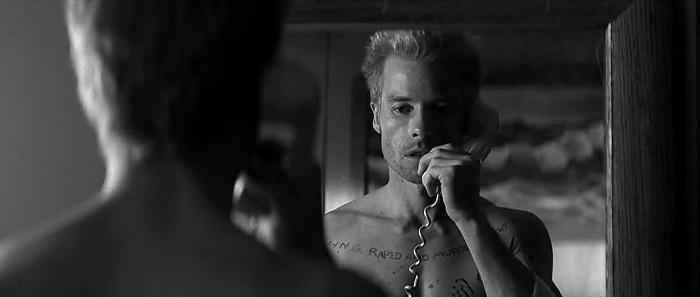 The music for Memento was composed by David Julyan (The Cabin in the Woods) with some rumored help from Michael Kamen (Event Horizon, The Dead Zone). It's an electronic score that doesn't sound overly synthesized, more like Vangelis or Tangerine Dream than Disasterpeace or Junkie XL. There are subtle but noticeable differences between the scores for the color and the black and white sections of the film, with the color being more traditional and moody while the black and white is more cacophonous and dissonant. Memento has one of those scores that is memorable without overpowering the visuals of the movie.
For as well cast as Memento is, it's worth noting that Christopher Nolan originally had a very different idea of what actors should play his characters. Before landing on Guy Pearce, Nolan tried to secure Alec Baldwin, Brad Pitt, Aaron Eckhart, and Charlie Sheen for the role of Leonard Shelby. He also offered the role of Natalie to Ashley Judd, Angelina Jolie, and Famke Janssen before it ultimately went to Carrie-Anne Moss.
Even the part of Teddy was turned down by Denis Leary (whose praises we sang a couple of weeks ago with Judgment Night) before being given to Joe Pantoliano (on Carrie-Anne Moss' recommendation after the two had worked together on The Matrix). It's difficult to imagine Memento with a different cast, but the world came surprisingly close to having a Brangelina version of the movie.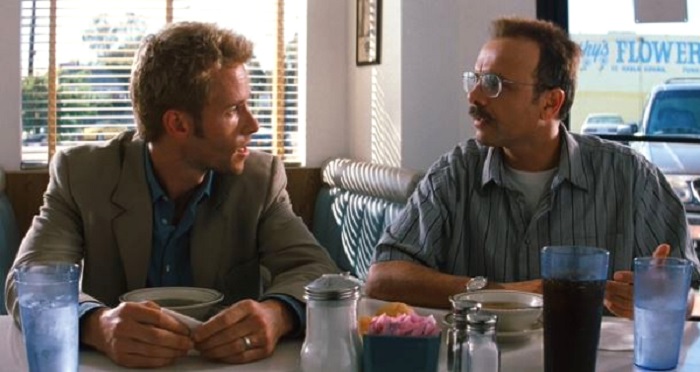 Christopher Nolan would, of course, go on to become one of Hollywood's biggest blockbuster directors, with both the box office receipts and Oscar nominations to back it up. But the first of those Academy Award nominated movies was Memento, a simple revenge mystery told in a way that only Christopher Nolan could have done it.