Synopsis: A lighthouse keeper and his wife living off the coast of Western Australia raise a baby they rescue from an adrift rowboat.
Release Date: September 2, 2016     MPAA Rating: PG-13
Genre(s): Drama, Romance
Film Review

The Light Between Oceans is a tearjerker. It's the type of movie where, if you aren't hearing sobs at least a few times throughout the film, then you are likely in an empty theater, or you're seated in a room full of soulless monsters. Director Derek Cianfrance has never been one to shy away from tough subject matters, but here he finds a delicate balance between the wistfully happy and the unbearably depressing. At times it may feel like the film is trying to force the audience with contrived plot points, but that's rarely an issue. Because The Light Between Oceans has such a strong cast, anchored by leads Michael Fassbender and Alicia Vikander, you're easily drawn into its drama and helplessly affected by it. If you can accept that the film is, by design, meant to make you depressed and leave tears running down your face, then you will come out okay in the end.
The story is a simple one. Tom (Fassbender) is stationed at a lighthouse off the coast of Australia. He is set to spend years alone until a chance meeting with Isabel (Vikander). The two share a connection and eventually Isabel decides to live with Tom, a situation that can only work if the two are wed. Things are mostly blissful until Tom and Isabel try to have a child, and it soon becomes apparent that Isabel might not be able to do so. And then things take a decidedly unexpected turn when a newborn baby appears on a rowboat with a corpse.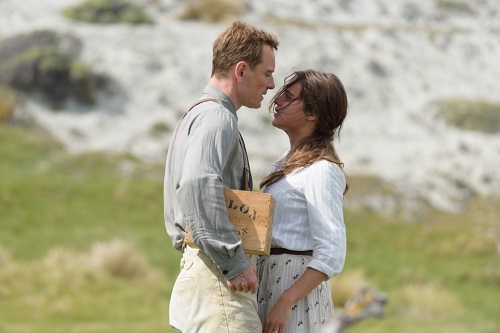 If that synopsis doesn't make it clear, The Light Between Oceans is high drama with a lot of forced contrivances. It's there that the film falls apart the most, with a story that's meant to pull at your heartstrings in very specific ways. Luckily, Vikander and Fassbender's chemistry is so electric that you soon forget how silly their predicament is. You understand why these two care for each other, and you are both happy and concerned when they decided to keep the baby as their secret. And it's all the more heartbreaking when it becomes evident that the secret is also pulling them apart. Credit where credit is due: without Fassbender and Vikander, it's likely that The Light Between Oceans could have come across like a Nicholas Sparks adaptation.
Derek Cianfrance and cinematographer Adam Arkapaw also make the film come alive by taking advantage of the scenery. With the film being called The Light Between Oceans, it seems only appropriate that the cinematography take advantage of the natural light around, and Arkapaw does so to stunning effect. There are some shots in the film that could easily serve as paintings and the movement of the camera always feels so effortless. Technically speaking, the film is a marvel and it wouldn't be surprising to hear its name brought up come awards season.
With strong acting and visuals, The Light Between Oceans is an easy recommendation for those moviegoers looking for a tearjerker. Be warned that the drama feels slightly manufactured, and the themes of the film don't always come through as clearly as they should, but strong leading performances help make up for any deficiencies. The Light Between Oceans is simply a better than average character drama that has more positives than it does negatives.

Coming off her Oscar win for The Danish Girl, Alicia Vikander delivers another stellar performance in The Light Between Oceans. Isabel is a character whose motivations are so clearly misguided that a lesser performance would have turned the audience against her. But Vikander plays the character in such a way that you can't help but feel for her. You can feel her agony as she realizes she may never be a mother, and take joy in the fact that she has finally found an answer. And when things come to a head, you empathize with her and Tom's situation. Isabel could have easily been a character that the audience hates the whole way through, but Vikander plays her with such vulnerability that it's hard not to feel for her.
Right alongside Vikander, Michael Fassbender's is an equally strong performance, but for different reasons. There is a lot that goes unsaid with Tom, and Fassbender is able to communicate that history with very few words. He also makes the love story between Tom and Isabel believable, which is essential for the entire plot. The two have heaps of chemistry, but you can still see Tom questioning Isabel in his mind.
Cast and Crew
Director(s): Derek Cianfrance
Producer(s): Jeffrey Clifford
Screenwriter(s): Derek CianfranceM.L. Stedman
Story: 
Cast: Michael Fassbender (Tom Sherbourne)Alicia Vikander (Isabel Graysmark)Rachel Weisz (Hannah Roennfeldt) Florence CLery (Lucy-Grace)Jack Thompson (Ralph Addicott)Thomas Unger (Bluey Smart)Jane Menelaus (Violet Graysmark)Garry Macdonald (Bill Graysmark)Anthony Hayes (Sergeant Vernon Knuckey)Benedict Hardie (COnstable Harry Garstone)Emily Barclay (Gwen Potts)Bryan Brown (Septimus Potts)
Editor(s): Jim Helton
Cinematographer: Adam Arkapaw
Production Designer(s):
Costume Designer: Erin Benach
Casting Director(s): Nikki BarrettFrancine Maisler
Music Score: Alexandre Desplat
Music Performed By: 
Country Of Origin: UKNew Zealand